Most Trending Updates On Jamb 2018 Computer Based Examination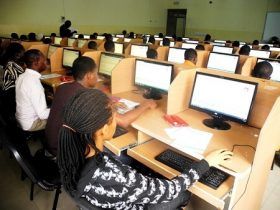 The Long awaited Jamb 2018 CBT Examination has begun in real time. Here, I will be giving you the top 30 Live updates on the ongoing Utme……..
Remember, Jamb 2018 Dates are: Friday March 9th, Saturday March 10th, March 12th Monday, Tuesday March 13th, March 14th, 15th and few days more.
Get Jamb CBT App 2021

» Over 16,000 Jamb Questions Offline
» Competition To Win N30,000
» All Jamb Literature Novels
» Jamb English Novel "The Life Changer"
» Free Video Classes For All Topics


Before I embark on my procedures, I would  like to inform you that Jamb will soon start releasing results for those who wrote Jamb on Friday, Saturday, and very early for Monday, Tuesday, Wednesday, Thursday, Friday March 2018 candidates. Click here for Jamb result updates back to back.
Are you ready? Lets begin with the live News Updates for today:
Different Jamb Expo Reported to be leaked questions have started rolling out. However, I doubt the credibility of the answers spreading across various social media.
Different candidates have started going to their Jamb centers.
There is massive population in various center. Some candidates feel intimidated at the sight of the crowd.
Screening has begun and Students have started entering the examination hall.
There was delay in some of the CBT Centres around Nigeria.
Examination has started now.
No candidate has report issue of faulty computer system so far.
Jamb actually reduced the exam time and number of questions.
Students have started coming out of the hall.
According to those who wrote Jamb mathematics, Indices and logarithm were set.
Jamb actually repeated past questions.
No CCTV Cameras in some centers? Someone just reported this.
Some Jamb 2018 candidates said that the questions were very familiar.
Gas Laws came out in Jamb physics live questions.
For Jamb Chemistry, Acids, Bases And Salts Were hot questions.
For mathematics, permutation and combination came out. Example, in how many ways can the word EXCELLENCE be arranged?
Jamb Use Of English as usual, featured a comprehension passage, cloze test, antonyms and synonyms.
How many questions were set from Jamb IN DEPENDENCE? No update on that yet. But questions came out from it.
When asked, how did the examination go, some candidates reply that the examination was great.
According to report, candidates did not see their result immediately.
"The Questions tough o and no time". Someone Just reported this. However those who said it was simple are more.
So many candidates said that Physics was very simple. Could this be true?
Read light and waves under Physics….. Someone just said this.
Someone says; done with mine too. english, Biology, chemistry and physics biology simplest, mostly from past question. physics very simple frm pq. chemistry 30% pq the rest was new questions was simple sha…… But Guys English hmmm esp. Lexis and antonyms was Fire…
Some centers are not done with first batch candidates.
Second batch Jamb 2018 examination about to begin as first batch candidates have rounded off.
The report on subjects so far has been from Science students. Could it be that art students have not written?
Some candidates still hanging around after the exam, while others are on their way home.
The results would be released soon…….That what candidates were told.
I know many of the questions, but there was no time for me to answer everything….. Someone says.
Jamb 2018 examination continues….
This is the update so far…. More will be passed updated soon. Follow us and don't fail to share your experience.
You may want to click here to follow our Jamb 2018 result updates.
The Best CBT Applications

Get Jamb CBT App, Waec App, Bece App, Ncee App Or Ijmb App.



Win Prizes

: Install Any Flashlearners App to Win Up ₦30,000 While Learning.


FLASHLEARNERS FREE VIDEO TUTORIALS

SUBJECTS: Learn Maths, English, Chemistry, Physics And Social Science Subjects.



EXAMS: 

Prepare For African Exams, International Exams And Scholarships.


RECOMMENDED
WHAT ELSE DO YOU WANT?
Latest posts by Isaac Inegbenehi
(see all)