Apply For SpottR Campus API Challenge 2020
SpottR makes it easy to find Opportunities that are closest to you. The SpottR University API Challenge is the first of its kind pitch Competition for all Universities, Polytechnics, Colleges Of Education, and Innovative Enterprise Students In Nigeria.
Do you have what it takes to stand out in the SpottR University API Challenge? then you have the opportunity to win a piece of the 18million Naira prize pool.
Get Jamb CBT App 2021

» Over 16,000 Jamb Questions Offline
» Competition To Win N30,000
» All Jamb Literature Novels
» Jamb English Novel "The Life Changer"
» Free Video Classes For All Topics


The revolutionary social commerce app – SpottR – has made a call for ideas from students and recent graduates of the Nigerian tertiary institutions that will help boost the app's ecosystem as well as usher commerce into a new era in Nigeria.
The social commerce app which solves the problem of visibility and delivery for businesses, big and small is designed so that new commerce and logistics solutions can easily be plugged in, to make a vast and far-reaching ecosystem via its open-API feature.
The SpottR public API key is a connector port into the SpottR ecosystem. It allows external businesses with their own individual platforms (eg. Websites or apps) to couple with SpottR and to harness the solution that SpottR brings to commerce.
New or existing solutions can easily be added and removed from SpottR without disrupting the operations of the SpottR ecosystem. For instance, there is an increase in logistics businesses in Nigeria is without an equivalent increase in their visibility or distribution.
The SpottR API opens up an opportunity for these businesses to be visible to all merchants and consumers in their cities when coupled with SpottR. Ideators with strong ideas will receive funding and technical support to develop and plug into our ecosystem thereby creating employment for the student ideator. Haven't seen the app yet? Download it via the link below.
https://spottr.page.link/vhSaKFKqszhyt9im8
Requirements For SpottR Campus API Challenge
To participate in the challenge the following is required of any prospective participant;
 He/she must be a student or a recent graduate of any Nigerian tertiary institution.
He/she must have gotten his or her own unique referral code from within the android app
(iOS users are exempted from this requirement for the moment).
How To Apply For SpottR Campus API Challenge
Visit the idea challenge page at hps://thesporapp.com/challenge
Fill the application form found in the page (the application form requires your unique referral code
which can be gotten from within the app)
Check for the mail sent to you and follow the instructions in it; this will guide you.
We are looking to fund the best ideas to join the SpottR ecosystem and so entries will only be considered from campuses with a sizeable pool of ideators who would have sieved through a number of ideas to arrive at the best ones. So we advise you to go ahead and to invite your Padi to your campus group as submitted ideas from any student community will only be considered if the entire community on telegram gets to a minimum number set at 5000 students (alumna can join their Alma Mata).
SpottR Campus API Challenge Prizes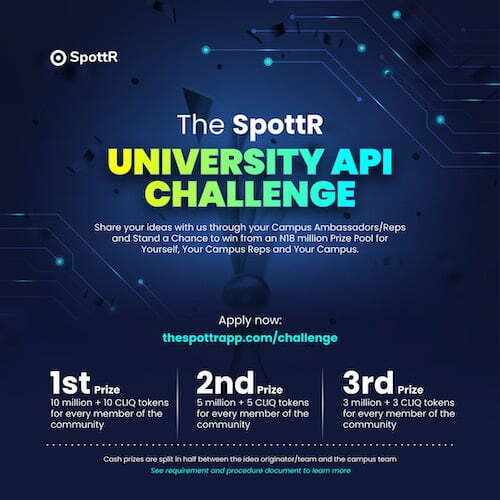 In addition to SpottR's native cryptocurrency – CLIQ Token – There is a dedicated 18million Naira prize pool to the challenge and the reward distribution is designed to foster collaboration and teamwork. It is designed to reward the entire community where the winning ideas emanate from.
1ST PRIZE
10 million Naira (split between the ideator and the community) + 10 Cliq Token for every member of the community.
2ND PRIZE
5 million Naira (split between the ideator and the ideator's community) + 5 Cliq Token for every member of the community.
3RD PRIZE
3 million naira (split between the ideator and the ideator's community) + 3 Cliq Token for every member of the community.
Recommended: 33 types of students in every campus
FREE VIDEO TUTORIALS

SUBJECTS: Learn Maths, English, Chemistry, Physics And Social Science Subjects.



EXAMS: 

Prepare For African Exams, International Exams And Scholarships.


RECOMMENDED
WHAT ELSE DO YOU WANT?
Latest posts by Isaac Inegbenehi
(see all)