A paperless office implements digital solutions to limit the use of paper in the workplace. Many leaders decide to switch from paper to paperless to save money or increase employee productivity. If you hold an executive or managerial role, you might consider leading the transition to a paperless office.
In this article, we define what a paperless office is, give seven reasons for going paperless and provide nine steps to help your workplace make the transition.
What is a paperless office?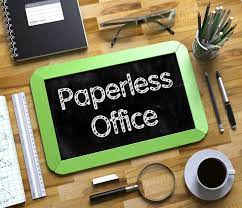 A paperless office, also known as a paper-free office, is a workplace that reduces or eliminates the use of paper in business operations. To transition into a paperless office, the staff converts documents into digital formats to use less paper. Other paperless practices, such as digital communication, electronic signatures and digital record-keeping systems, help the office sustain the reduction of paper usage.
Going paperless may require the office to have access to electronic and digital infrastructure such as high-speed internet or a computer for each employee, and employees who can work digitally. It's important to choose digital solutions that meet the abilities of the staff for a smooth transition.
What are the benefits of a paperless office?
Here are seven benefits of transforming into a paperless office, including:
1. Saving money
When your organization implements paperless options, the company likely saves money on various paper-related costs. For example, you may save money in the following areas:
Storage costs: Typically, digital files don't require any physical storage space. With a decreased need for physical storage such as filing cabinets and file folders, your company might allocate that money towards higher-priority expenses.

Printing costs: The cost of paper and ink may decrease since converting to digital means your employees use less of these resources. If most files and documents exist in a digital format, the total cost of printing in the office may decrease.

Operational costs: Paperless offices may have a more streamlined workflow because of having access to important company information, which can help save time and money.

Data recovery costs: If you lose data, it's typically inexpensive to recover it if you have backup measures in place. This process might also be faster than printing multiple copies of a document.
2. Increasing productivity
Paperless offices may have increased productivity since their employees have digital access to files from their personal work devices, which provides more time for higher-priority tasks, such as communicating with a client. It's common for a digital database to have a search function or a clear index that streamlines locating documents and files. Saving time finding files creates time for employees to focus on high-priority tasks.
3. Saving space
By transforming into a paperless office, companies can save physical space in the office. For example, imagine the office has an entire room dedicated to filing cabinets and a copy machine. Once the company becomes a paperless office, they could remove the cabinets and copier to use the space for another purpose, such as a break or meeting room.
4. Simplifying information sharing
It's easier to share information with clients and colleagues once you've digitized the paperwork. Whether sending a digital contract to a client or sending an annotated PDF to a colleague, sharing digital information can be faster than sharing hard copies. It's important for employers to provide training when switching to a paperless office to ensure that the transition streamlines both internal and external communication.
5. Protecting private information
Your company can protect private information by using digital files. You can choose to secure information using encryption, authentication or another type of data security practice based on your company's needs. Using digital files may help clients feel protected, especially when security measures are in place for their privacy.
6. Helping the environment
If your company reduces or eliminates the use of paper in the office, it can reduce waste and benefit the environment. Since the business won't be using or throwing away as much paper, the office may generate less waste while also using fewer natural resources. Digitizing the office is just one sustainable practice that a workplace might implement to help the environment.
7. Increasing access
A paperless office has the potential to increase your access to work materials. For example, imagine an events coordinator is meeting with a client outside of the office. The coordinator might choose to access the budget proposal from their laptop instead of bringing a printed copy. Although they didn't meet at the office, the events coordinator accessed all the documents needed for the meeting by using their credentials to log into the company database. Additionally, this can benefit team members working at different locations. Using technology, employees can collaborate remotely to accomplish tasks.
Types of paperless solutions
As a company transitions from paper to paperless, its employees can choose which types of electronic tools are most helpful to use. Here are a few examples of paperless solutions:
PDFs: A PDF is a digital document that authorized users can edit, revise and send to others electronically. For example, you might send your coworker a PDF version of a proposal to edit and annotate before you decide to submit it to the project manager.

E-forms: Similar to a PDF, an e-form is an electronic document that people can sign. You might use an e-form to send your client a contract that requires their signature.

Databases: A database is an electronic storage space for all your company files. The type of database you choose depends on the size and security level of your company.

Email or instant messaging: Instead of using print correspondence, a paperless option is to move all communications to email or another instant messaging platform. For example, email promotions to your clients and use an instant messaging platform to make internal communications more efficient.
How to transform into a paperless office
If you plan to implement a paperless office, consider following these steps to transform your workplace:
1. Take the initiative
When management takes initiative while implementing a new process, employees may better understand, accept and learn how to continue their work under the new procedures. If you're the operational manager at your company, you can take the responsibility of leading the transition from paper to paperless. One way to begin the process is to create a plan and form a team to help transform the office. Implementing a large, office-wide change may be easiest when the entire staff is supportive.
2. Create excitement within the team
It's important to create excitement within the team so that the entire office staff participates in the transition. You might discuss the operational benefits of a paperless office so they understand the reasoning for the switch. To generate excitement, you can show them the software and programs the office plans to implement by organizing a product demonstration. Try to address any relevant issues or questions transparently to minimize confusion.
3. Organize your paper documents and files
Before you add new documents to your databases, organize all your current paper documents and files. This task can take some time, but it makes the digital files much easier to work with. For example, you might go through each drawer of your company's filing cabinet, recycle outdated documents and alphabetize the files you need to keep.
4. Choose electronic software
While your team organizes paper documents, choose electronic software programs to implement in place of tangible filing systems. Try to select programs that best fit the specific needs of your company. For example, if you run a real estate business, look for electronic programs that allow real estate agents to send and sign contracts, organize client files and see any updates about their listed properties.
5. Digitize paper-based documents
After selecting various electronic software programs and databases, digitize your paper documents. During this phase of the transition, begin uploading the digital files onto your new programs. While it may take time to upload files, work carefully to ensure the proper transfer of each document. You can try to fix any bugs in the system as you digitize your office's paperwork.
As you transition your documents into a digital format, dispose of the paper versions of your documents. When disposing of old documents, be thorough in destroying any documents containing sensitive information. For example, use a paper shredder to destroy documents containing personal details of your team members or clients. Recycle the paper to reduce waste.
6. Implement training
Implement training to teach your employees how to use the new programs. For example, set up one-on-one sessions with each employee on your team as needed to equip them for the change. Another option is to have departmental training so all members of your team can learn the new system together. Consider selecting a software program that's simple to use to assist with the transition.
7. Secure documents
Ensure that your documents are secure. Some software programs have built-in security systems. Your employees may need individual credentials to access their specific documents. It's crucial to secure your documents to protect client confidentiality. For example, use passwords and encryption to secure sensitive information like your clients' payment details or the personal information of your team members. Make sure to follow any industry-specific security regulations when using electronic documents, such as following all standards for keeping patient information secure if you work in health care.
8. Alert clients of the change
As your office undergoes the transition from paper to paperless, communicate openly with clients about the change. It's ideal to alert them ahead of time so they know what to expect. For example, explain how your company plans to protect its documents and personal details. If a client feels unsure, try to explain the benefits of a paperless office or show them the features of the digital programs the office plans to use.
In some cases, you may offer the option to continue paper communications and record-keeping for clients. Allowing clients to opt out of electronic communications gives them the flexibility to choose their preferred method of communication. If you make this an option, have a system for managing the paper files of these clients. While your office may not be fully paperless if you provide this option, it can still reduce the amount of paper in your office while also providing choices to your clients.
9. Continue improving the process
As your office becomes fully paperless or implements more paperless practices, you may find opportunities to improve your processes. Consider distributing a survey to gather feedback from your employees about the change. Try to use their feedback to make adjustments to the operations of the paperless office to continue improving the workplace.
I hope you fidn this article helpful.