If you're interested in trees and the factors that go into cultivating them, you might consider a career in arboriculture. As a career field, arboriculture is both a science and an art, requiring study, research-based knowledge and physical practice to do well. To get started in an arboricultural career, it's important first to understand what your options are. In this article, we define arboriculture, look at some careers in this field that may interest
What is arboriculture?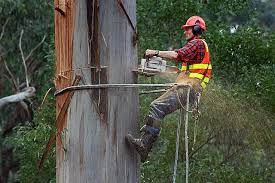 Arboriculture refers to the cultivation, tending and management of trees, shrubs, vines and other woody plants. The word itself stems from the Latin term "arbor"—meaning tree—and the word "culture," which is the act of growing or breeding something for a particular reason. As a science, arboriculture studies how woody plants grow and respond to various stimuli and factors. As a practice, it aims to apply the science of arboriculture to optimize the growth of these plants for functional or aesthetic ends. Professionals in the field of arboriculture can facilitate plant growth or preserve plant life through techniques such as:
Selecting specific trees

Applying chemicals to deter pests and diseases

Introducing beneficial insects

Applying fertilizer

Supporting trees with weak structures with cabling or bracing

Pruning or shaping

Diagnosing plant diseases

Treating sick plants or removing them
7 careers in arboriculture
There are numerous roles involved in the cultivation and management of woody plants such as trees, shrubs and vines. Here are seven options you might consider for a career in or related to arboriculture. For the most up-to-date salaries, please click on the links below:
1. Grounds person
National average salary: $34,033 per year
Primary duties: A grounds person, also known as a tree or arborist grounds person, works with a tree care crew on the ground and provides support as needed. People starting out in the field of arboriculture often began as grounds people. Their duties include using machinery such as chainsaws, hedge trimmers, wood chippers and hand tools to perform pruning duties and helping with rigging systems by holding the ropes and lines. Other duties may include placing safety indicators such as signs and cones, operating vehicles associated with a tree care operation and performing other duties as needed by the crew.
2. Plant health care technician
National average salary: $40,300 per year
Primary duties: A plant health care technician is responsible for managing the health of plants in an urban environment. As woody plants in cities grow outside of their ideal environment, it's important to monitor them for signs of diseases and pests, which could spread to other plants. A plant health technician's duties include identifying and examining plants, diagnosing any problems or threats to their health and developing a system of treatment that can resolve the issues they find. These treatments may include applications of pesticide, fertilization of the soil, removing girdling roots and enhancing root growth.
3. Tree surgeon
National average salary: $44,052 per year
Primary duties: A tree surgeon works to diagnose and maintain the health of trees. Like a medical surgeon, they examine and diagnose problems and take measures to resolve these issues. For example, upon finding issues concerning pests or the soil, they may apply pesticides or replant a tree in a different location to foster growth. To deal with a diseased or dead tree, they may fell the tree and remove the stump to isolate the problem and protect surrounding structures and plants.
4. Tree climber
National average salary: $52,153 per year
Primary duties: A tree climber ascends trees to perform various functions. The range of their duties is broad, as homeowners and municipal agencies hire them to perform various duties, such as applying pesticides to the top parts of trees, rescuing animals or people from top limbs or removing limbs to facilitate healthy tree growth or prevent damage to surrounding structures. In the field of arboriculture, a tree climber may also be known as a climbing arborist, a role that involves climbing trees for tasks such as removing deadwood, thinning the crown, reducing branch weight and setting up rigging systems.
5. Forester
National average salary: $63,182 per year
Primary duties: A forester manages the land and land quality of wooded areas such as forests and parks. The job involves responsibilities in various areas, including conservation, wildlife protection, disease and fire prevention and tree growth management. Their duties may include clearing land, overseeing forest regeneration and the planting of new trees, implementing measures to prevent or suppress wildfires and identifying methods of timber removal that minimize the environmental impact.
6. Arborist representative
National average salary: $64,913 per year
Primary duties: An arborist representative is a type of sales representative. Their job primarily entails seeking out and meeting with potential clients to discuss the need for tree care services. An arborist representative is often knowledgeable about the functional component of arboriculture and can explain how their crew's services can benefit clients. They may exercise communication skills to describe arboricultural procedures and effects, evaluate clients' residential or commercial landscapes, send work orders to their crew, review their crew's performance and work to maintain relationships with clients.
7. Landscape architect
National average salary: $65,696 per year
Primary duties: A landscape architect designs open spaces, particularly those that involve the placement of natural objects such as trees, shrubs and flowers. Their goal is to beautify an area while maintaining its harmony with the surrounding environment. They commonly manage the activities that go into the physical appearance of various settings, including gardens, lawns, public parks, campuses and areas surrounding commercial buildings. Some of the primary duties of the job are discussing design specifications with clients, hiring contractors, assessing land conditions and using computer-aided design software to create landscape plans.
Requirements for a career in arboriculture
The specific requirements for a career in arboriculture may vary depending on the position and the employer, but some common qualities may improve your chances of entry. Consider the following qualifications and attributes to improve your chances of landing an arboricultural career:
Education
Many careers in arboriculture require at least an associate degree in a relevant discipline, and many employers prefer candidates with a bachelor's degree or higher. Some common degree subjects for entry in the field are arboriculture, horticulture forestry or urban forestry, environmental conservation, plant science and biology. Academic programs in these subjects may include coursework on topics such as tree anatomy, biotic diseases, soil science, surveying, land management, ecology, dendrology and various practices for managing plant growth.
Licensure
In most states, licensure isn't necessary for a career in arboriculture, and on-the-job training is sufficient. Only seven states require licenses for arborists:
California

Connecticut

Hawaii

Louisiana

Maine

Maryland

Rhode Island
For the above states, the licensing requirements vary. Some require candidates to have several years of supervised experience in addition to a college education, while others may require only the payment of a fee and passing of an exam. To learn about the specific licensing requirements in these states, visit the website of the relevant state agencies.
Certification
Most professions in arboriculture don't require professional certification, but having one can improve your chances of employment by validating your knowledge and skills. Here are some professional organizations that offer certifications in arboriculture or related fields:
International Society of Arboriculture (ISA): The ISA offers six professional certifications for arborists—Certified Arborist, Certified Arborist Utility Specialist, Certified Arborist Municipal Specialist, Certified Tree Worker Climber Specialist, Certified Tree Worker Aerial Lift Specialist and Board-Certified Master Arborist. In general, these certifications require applicants to have a college degree and a certain amount of professional experience.

Tree Care Industry Association (TCIA): The TCIA offers the Certified Treecare Safety Professional certification, which validates expertise on the aspect of job safety in tree care. There are various eligibility requirements for this certification, which also requires participation in workshops, passing of an exam and payment of a fee.

Society of American Foresters (SAF): The SAF offers the Certified Forester and Candidate Certified Forester certifications, the latter being for candidates with less than five years of professional experience. Both require applicants to possess a college degree, complete a specific number of credit hours and pursue continuing education to maintain certification.
you and discuss some of the requirements for entry.
I hope you fidn this article helpful.