A barista is a person who prepares coffee orders and serves drinks to customers, often at a coffee shop. To complete many of a barista's duties, you're required to use and understand a variety of barista tools. Knowing the different tools a barista uses can help you impress prospective employers and ensure you perform your job successfully. In this article, we explain what a barista does, list the tools a barista uses and answer frequently asked questions about the role.
What does a barista do?
A barista performs many coffee-making and customer service duties throughout their shift. They use their knowledge of coffee and interpersonal skills to complete their tasks. Here are some common duties for a barista:
Create and serve hot and cold beverages like coffee, tea or specialty drinks

Clean work areas, utensils, coffee equipment and seating areas

Explain menu items to customers and answer questions

Take customer orders and operate cash registers to complete transactions

Deliver superior customer service and quick drink delivery
8 Barista Tools And How To Use Them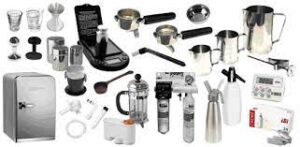 Baristas use a wide variety of tools to complete their duties. Using these tools can help you grow your experience and skills in this profession. Here are some common tools a barista uses:
1. Espresso machine
An espresso machine allows you to brew highly concentrated black coffee. During this process, the machine forces pressurized hot water through finely grounded coffee. Some types of drinks you can make using an espresso machine include:
Macchiato

Cafe latte

Cappuccino

Mocha

Affogato

Americano
2. Frothing steam pitcher
Baristas use a frothing steam pitcher to create any drink that requires milk. A frothing stream pitcher helps you create a milk foam to top off a cup of coffee. You can also use this type of pitcher to create an assortment of latte art. Frothing pitchers are stainless steel and feature a handle and pouring spout. A narrow spout can offer control when pouring latte art, such as a heart or rose. You can also find frothing pitchers in different sizes, depending on the amount of milk you want to froth.
3. Foam frothing spoon
After creating foam from a steam pitcher, you can use a foam frothing spoon to control how much foam you pour over a cup of coffee. Using a frothing spoon can prevent spilling that may occur when pouring the foam into a cup of coffee. This type of spoon features a flat tip that makes it easier to scoop only foam from a steaming pitcher.
4. Thermometer
When making espresso, it's important to consider the brewing temperature, along with that of the milk froth. If your espresso machine doesn't come with a proportional-integral-derivative, use a thermometer to measure espresso as it leaves the brew head.
When making a drink that requires steamed milk, it's important for the milk to reach the ideal temperature of about 149 degrees Fahrenheit. To reach this temperature, consider using a frothing thermometer for complete accuracy. A frothing thermometer can also help you avoid burning the milk while ensuring a caramelized milk finish that can elevate the flavor of any coffee.
5. Commercial coffee maker
This type of coffee maker lets you brew a standard cup of coffee. After filling it with water and coffee grounds, a coffee maker filters hot water through a basket holding coffee grounds. After filtering, black coffee enters the coffee pot. You can use this black coffee for a standard cup of coffee or for other drinks such as an iced coffee or latte.
6. Tamper
Baristas use tampers to brew espresso, whether in a machine or through a stovetop espresso maker. A tamper lets you pack loosely dosed coffee grounds so they're tightly pressed, ensuring a quality espresso shot. You can also adjust the length of a tamper depending on the espresso dosage.
7. Scale
A scale helps you achieve a consistent and accurately measured espresso shot. In terms of measurement, a scale helps you determine the amount of beans you use for one shot. If you use a quality grinder with a doser, you may not need a scale.
8. Coffee grinder
Baristas use a coffee grinder to grind fresh coffee beans before the brewing process. A coffee grinder lets you grind as much coffee as needed, whether for an espresso shot or a large batch of coffee. Many coffee grinders have conical burrs that let you select the size of your coffee grounds.
Frequently asked questions about baristas
Here are some common questions and answers about baristas:
What type of salary does a barista earn?
Baristas earn a national average salary of $29,974 per year. Your salary as a barista may vary based on your employer, your geographic location and your level of expertise. In addition to a salary, a barista may earn compensation via customer tips and various employee benefits. Some employee benefits may include an employee discount, a flexible schedule and commuter assistance. Keep in mind that employee benefits depend on your employer.
What are the job requirements for becoming a barista?
While employers may have different job requirements for their baristas, many hire baristas with a high school diploma or GED. Many employers also prefer candidates with retail, hospitality or customer service experience. In terms of your abilities, it's important to have the following skills:
Communication

Multitasking

Mathematics

Problem-solving
What is the job outlook for a barista?
While the U.S. Bureau of Labor Statistics (BLS) doesn't have employment information for baristas, it has data for food and beverage serving and related employees. According to the BLS, these employees can expect a job outlook of 17% from 2020 to 2030—a rate that's much faster than the average for all other jobs in the workforce. The BLS also expects about 1,032,100 job openings for these employees each year from 2020 to 2030.
I hope you fidn this article helpful.