Many people view joining the United States Navy as a way to serve their country. While this is often a major benefit of enlisting, there are many other benefits that come with joining. If you're interested in military service as a career path, it can be helpful to learn more about the benefits it may provide now and in the future.
In this guide, we discuss the benefits of joining the U.S. Navy along with a process you can follow if you wish to enlist.
What is the US Navy?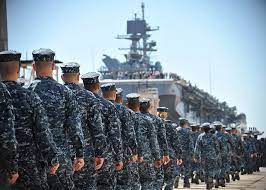 The U.S. Navy is one of the six military branches of the U.S. Armed Forces. The U.S. Navy is a seaborne branch of the military that operates primarily on the high seas and maintains a presence at select ports around the world. Sailors of the U.S. Navy are an integral part of the United States' national safety and security forces that respond to domestic and international issues. The country's other military branches are the:
Army

Marine Corps

Space Force

Air Force

Coast Guard
Benefits of joining the Navy
Joining the U.S. Navy comes with benefits that can have a positive impact on many aspects of your life. Below are a few of the many benefits you may receive once enlisted:
Educational benefits
Members of the U.S. Navy have access to education opportunities offered through several G.I. Bill programs. The G.I. Bill helps military members pay for college, graduate programs and non-traditional training programs, such as welding school. These benefits can enable veterans to receive funds to cover some or all of the costs of their college experience. These benefits may even extend to their family members.
Additionally, the benefits provided by the G.I. Bill through joining the U.S. Navy can provide student loan forgiveness to those who already have student loan debt. The U.S. Navy's Loan Repayment Program (LRP) can assist with paying back student loans up to $65,000.
To be eligible for this program, you must receive a minimum score of 50 on your Armed Forces Qualifications Test. The U.S. Navy has programs that also pay the greater of $1,500 or 33.3% of your outstanding loan debt each year of enlistment.
College credit
During your time as a service member, you complete training in a number of courses. Many colleges and universities allow the credits from these courses to transfer to a college degree. This means that if you decide to attend college after your time in the U.S. Navy, you may be able to graduate with an associate or bachelor's degree faster because you've already completed some of the required courses. This also makes your college degree more affordable since you can take fewer college courses.
Future employment opportunities
Many employers like to see military experience when looking at resumes. Military training provides veterans with skills such as leadership, decision-making, communication, attention to detail and a strong work ethic, which can be beneficial in many career paths.
Enlisting in the Navy may also provide specific training based on your role within the military, which you can then use to obtain a job later in your career. For example, an Electronics Technician (ET) in the U.S. Navy may have an easier time finding an IT job with their experience and training.
Monetary benefits
When you enlist in the U.S. Navy, you can earn up to $50,000 in an immediate enlistment bonus in addition to your base pay. The amount you are eligible for depends on the job specialty you perform and on how in demand that job is.
For example, a job as an Information Systems Technician on reserve duty can give you a $5,000 bonus. Positions within the U.S. Navy are largely determined by your physical fitness exams and several other exam scores. Therefore, higher scores can lead to higher bonuses.
Home loans
Both veterans and active-duty service members of the military can submit an application for a Veteran Affairs (VA) loan. If you qualify for a VA loan, you may be able to purchase a home with no money down and a better loan rate than the average home buyer. Becoming eligible for a VA loan requires meeting a minimum number of active-duty days.
Insurance benefits
Members of the U.S. Navy have access to special life insurance policy options, which may help you protect your family and loved ones. There are also veteran health care programs that provide health insurance benefits upon leaving the service for both you and your dependents. This can make it easier to pursue medical care during active duty, reserve duty or after enlistment.
Retirement benefits
After joining the U.S. Navy, service members can immediately start saving for retirement using a thrift savings plan (TSP). A TSP is similar to a 401(k) used in the private sector. In some cases, such as after completing 20 years of service, sailors may also be eligible for a military pension, providing them with a stable income upon retirement.
Travel
Joining the U.S. Navy gives you a chance to travel and visit Navy ports all over the world. These can include those in Japan, South Korea, Hawaii, throughout the Mediterranean Sea and around the coast of Africa. Where you visit depends on where your station is and the type of job you have.
How to join the US Navy
Here are some steps you can follow to join the U.S. Navy:
1. Talk to a recruiter
Find a recruiter in your local area and meet with them. The recruiter is there to answer any questions you may have about enlisting and to provide you with additional details about the enlistment process.
Enlistment requires at least a high school diploma or General Education Development (GED) equivalent. There are recruitment offices all throughout the United States. You can also request additional information online through the Navy's official site if there is no recruiting office near you.
2. Pass the Armed Services Vocational Aptitude Battery (ASVAB) test
The ASVAB is a multi-aptitude test that anyone wishing to join the armed services must take. This exam ASVAB tests candidates on four key areas, including word knowledge, paragraph comprehension, mathematics knowledge and arithmetic reasoning.
The results of your exam help the recruiter determine what type of job would be best for you. The minimum ASVAB score is typically 31, but the U.S. Navy sometimes permits enlistment for those earning a 26 or higher.
3. Complete a physical exam
Along with the ASVAB, joining the U.S. Navy also requires passing a physical exam. The physical exam checks for any medical conditions that may preclude you from joining the military. You must also pass the Physical Readiness Test, which includes a 1.5-mile run, situps and pushups. They give this test regularly throughout enlistment to ensure you remain in a strong enough physical condition.
4. Speak with a career counselor
Meet with a U.S. Navy career counselor to discuss your exam results and potential job fits. This career counselor can provide you with more information about the types of jobs available, what you would do in that role, what the opportunities for advancement are and where your station might be. Together with your career counselor, you can choose a job that is a good fit for you.
5. Attend boot camp
Upon being sworn in, you will receive orders for Recruit Training Command, more commonly known as boot camp. During boot camp, you will begin your naval career. You'll receive your Navy-issued clothing, attend training classes, work on your physical conditioning and start gaining direct experience. Upon graduating from boot camp after 8 weeks, you are officially a sailor in the U.S. Navy.
I hope you fidn this article helpeful.