If you're a company director or pursuing a career as one, there is a set of core skills you need to meet the demands of the role. Industry experience and a commitment to continuous education and training can help you develop the skills you need for a director's role. Many of these skills focus on optimizing the collective performance of an organization and delivering results to achieve success. In this article, we define the role of a director, discuss essential skills directors need to succeed in this position and provide tips on improving these skills.
What are directors?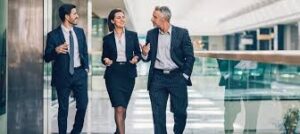 Directors typically hold a senior position in a company or organization overseeing all business operations, including monitoring the workflow of their organization and managing employees. They're responsible for making strategic decisions that add to the growth potential of a company and for providing the guidance and motivation to drive maximum performance and results.
Skills for directors
The core set of skills company directors need to perform the responsibilities of the role include:
1. Management skills
Effectively overseeing and delegating tasks helps to maximize time, resources and productivity. Company directors need to have a thorough understanding of the strengths of each employee and department to assign tasks and set achievable goals. Strong managerial skills include providing your company with the training and resources they need to meet their goals. Strong management skills also include the ability to prioritize tasks to yield optimal performance promptly.
2. Written and verbal communication skills
As a director, you are often in constant communication with others in leadership roles and employees across the company. Strong written and verbal communication skills can be critical when training new employees, discussing business strategies and providing directions on tasks. Communicating not only helps to build rapport with your team but also ensures everyone understands the company's short- and long-term goals and what's expected of them.
3. Strategic decision-making skills
Company directors make critical decisions that impact the current state and future of an organization. Strategic decision-making includes evaluating your organization's objectives and assessing potential risks that come with each decision. Making well-informed and strategic decisions can lead to opportunities for growth and continued success. If something about a certain process isn't producing the desired results, a company director must be able to act decisively and make prompt decisions accordingly.
4. Analytical skills
Extracting meaningful insight from information, intelligence or data about your company and industry can help guide you to strategic decision-making that can lead to growth. A company director should be able to interpret and recognize what information is most relevant to their business objectives. Strong analytical skills can also play a key role in coming up with creative solutions to any challenges the organization may be facing.
5. Adaptability
A company director should be adaptable so they can respond to changes in the workplace and within their industry efficiently. Directors not only plan but also expect potential challenges that may lead to necessary changes. Being able to adjust quickly to those changes can help to maintain a productive workflow.
6. Creativity
Having a creative mindset can drive productivity and lead to success within an organization. Company directors who exhibit and encourage creativity constantly strive to find fresh ways to improve and streamline processes, seek future opportunities for growth and find creative solutions to various challenges. Innovative thinking can also reshape business models that can lead to meaningful change and provide your company with a competitive advantage.
7. Empathy
Empathy, especially in a leadership role, can be critical in improving communication, strengthening workplace relationships and maintaining job satisfaction among employees. Empathy shows the ability to understand the experiences, perspectives and feelings of others, which can make people in the organization feel cared for and valued. Fostering a supportive environment through empathy can lead to greater collaboration and improve productivity. Taking the time to better understand the needs of your employees may allow you to provide the support and resources they may need to work through any challenges they may be facing.
8. Visionary leadership
Visionary leadership involves clearly stating goals, outlining strategic plans for achieving those goals and providing the resources to deliver results. When company directors display visionary leadership skills, they can unite their organization under common goals, which may help increase employee engagement, productivity and even generate better outcomes more efficiently. Providing teams with a clear sense of direction can empower employees to make impactful contributions to the success of the organization.
Improving director skills
A company director can develop many skills they need through experience and continuous training and educational opportunities. Here are some tips on improving your skill set:
1. Gain hands-on experience
Gaining hands-on experience is one of the best ways to develop your skill set as a director. Gaining prior experience in similar leadership or managerial positions can provide you with key insight on how to oversee business operations and manage a large team of employees effectively. You can gain an understanding of what approaches and strategies may work best for you. Tracking your progress and reflecting on how you approach situations can help you achieve your desired leadership style.
2. Take courses or attend workshops
There are industry-specific and general leadership courses and workshops available for developing your skill set as a director. You can research the availability of programs offered locally or find online programs that target leadership development. Educational opportunities may also allow you to share experiences with your peers and learn from established professionals who can provide you with practical and actionable advice.
3. Be open to feedback
Being open to feedback and constructive criticism is one way to gain valuable insight into ways to improve your skills. If you receive feedback from supervisors, managers or coworkers, consider the ways you can apply that feedback in your performance in the future. You can provide opportunities for your organization to provide feedback on your performance and make any necessary adjustments accordingly.
I hope you fidn this article helpful.