Succession management is the process of determining which candidates to place into certain positions when current employees at a company leave. Knowing how to engage in succession management can be beneficial in almost any industry, as it can help company leaders choose the best candidates for a job. If you work in human resources or a leadership position, it might be helpful to learn about succession management strategies that you can implement in your workplace. In this article, we consider what succession management is and why it's important and explore a list of eight strategies for using it.
What is succession management?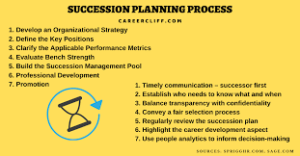 Succession management involves finding qualified candidates to fill positions that open when existing employees leave a company. When taking part in succession management, company leaders can review the talent they currently have to identify candidates who might succeed in a particular position and offer them a promotion. They can also take applications from external candidates who don't work for the business but who have extensive experience or specific industry knowledge that might make them the most qualified person for the job.
Succession management typically considers many factors, such as the duties of a position, the level of leadership a position requires and the talents of previous employees that a management team might want to replicate.
Why is succession management important?
Succession management can be important for many reasons, such as the fact that it can help a company reach its goals. This can occur because succession management often leads to placing qualified candidates in leadership positions, which can enhance a company's operations and increase its chances of meeting goals. Taking part in succession management can also be important because it can allow a company to consider the leadership scenarios it might encounter in the near future, which can help company leaders prepare for unforeseen situations, like employee turnover or changes in the market.
The process of succession management can also give a company the opportunity to review important data, like employee performance and satisfaction, that can guide it to new ways to improve.
8 strategies for effective succession management
Here are eight strategies you can use when taking part in succession management:
1. Develop a plan to use during any instance of succession
One strategy for effective succession management is to develop a plan that you can use each time a company has to fill a position. While each situation and job that a company might need to fill can differ, having a standard for succession can make the process simple and provide a basic course of action for whoever leads the efforts. For example, a company might implement a plan that instructs hiring managers to review existing employees for open positions before looking for external candidates and provides a list of outstanding employees that company leaders can add to throughout the year.
2. Consider the company's specific needs and goals
Thinking about a company's needs and goals can be a very effective strategy for succession management because it can help leaders determine what they might prioritize when filling a newly vacated position. For example, if a company has a goal of increasing sales numbers, and members of the sales team leave their jobs, leaders at the company might focus on finding candidates with excellent sales performance to take their place. Companies can also consider factors like who their competitors are, which markets they operate in, and what skills might be most valuable in a particular position.
3. Identify positions that require specific talent
One of the key elements of succession management is knowing which jobs in a company typically require employees with specific expertise to complete them. This can help a leadership team to create a list of jobs that they can implement their succession management plan for when vacated. For example, if a company has several departments but completes most projects through the graphic design department, it might benefit from having succession plans in place for high-level graphic design positions.
When identifying these types of positions, a company can consider characteristics like the skills a candidate might need to perform a job's duties or the previous training a candidate might need to succeed in the field.
4. Create a succession management pool
A succession management pool is a list of employees who are qualified to receive promotions to positions that might need specific people to fill them after being vacated. When creating a succession management pool, company leaders can identify candidates within the company who are especially well-rounded, who have certain technical skills and who have training in particular concepts or practices that a position performs.
One way to build an effective succession management pool is to review the key positions that a company might need specific talent for and then identify current employees who exhibit the traits that each key position requires. Company leaders can then reference this list whenever someone leaves a key position for immediate recommendations for candidates they can promote.
5. Continuously assess employee performance
Paying attention to employee performance can be helpful in succession management because it can help company leaders identify candidates they might be able to add to the succession pool. It can also be crucial to evaluate employee performance regularly throughout each year, as employees might improve over time or take part in additional training or professional development. There are many ways to keep track of employee performance, such as reviewing company data and interviewing employees about their duties.
6. Offer opportunities for professional development
Another way to plan for succession management is to ensure that employees within a company have the ability to take over important job titles. While creating a succession pool can identify the employees who currently are prepared to take on key positions, it can also be helpful to help employees who might not have the necessary experience or qualifications yet by offering changes to take part in professional development. This can increase the number of employees in a company who can perform high-level job duties and strengthen its overall workforce.
7. Communicate your strategy for promoting internal employees
While receiving a promotion is typically exciting, it can also be helpful to employees to understand why they're being promoted and what they can do to remain in good standing in their new positions. Because of this, it can be beneficial to develop a strategy for informing employees about succession management and promotions. For example, a department head might meet with specific candidates to inform them that they're being considered for a new position and provide instructions for how they can maintain their positive reputation, such as continuing to improve their performance.
8. Consider succession management during the hiring process
While succession management most often involves promoting employees who already work at a particular company, a business can also start the process when hiring new employees. For example, when hiring for lower-level positions, company leaders can review their needs and goals to identify skills and points of expertise that employees can use in their new jobs and potential future promotions. This can help ensure that a company hires new employees who are qualified and prepared to advance their careers over time, which can also increase the number of people that company leaders might add to the succession management pool.
I hope you find this article helpful.