If you enjoy working outdoors or with animals, managing or helping maintain a farm may be the right career choice for you. You may find farm opportunities in many fields, including animal health care, agriculture and construction. Learning more about what kinds of jobs you can get on a farm can help you find the career path that's right for you. In this article, we list different jobs you can pursue on a farm and summarize their duties and salaries.
8 types of jobs on a farm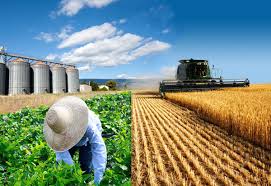 There are many kinds of jobs you can find working on a farm. Here are eight types of opportunities you might pursue. For the most up-to-date salary information from Indeed, visit indeed.com/salaries:
1. Farm apprentice
National average salary: $30,690 per year
Primary duties: Farm apprentices are new hires who learn how to care for and maintain a farm site on a part-time basis. While they may have permanent positions on the farm, a farming apprentice may also be an agricultural student working while studying toward their degree. Farm apprentices learn how to maintain farm buildings, animals, crops, and watering structures to keep a farm fully functional. This may lead to future opportunities on a farm, depending on the goals of the apprentice and available positions.
2. Horse groomer
National average salary: $30,915 per year
Primary duties: Horse groomers manage the daily care and cleanup of a horse. They may manage entire stables on a farm, ensuring horses stay fed, groomed, enriched and cleaned. Horse groomers wash and brush horses daily. They clean their pens and offer enrichment for them in designated farm areas where the horses can run and graze freely. These professionals may also collaborate with other animal caretakers, such as veterinarians and coaches.
3. Orchard worker
National average salary: $33,641 per year
Primary duties: Orchard employees are personnel on a farm who maintain plant life in the gardens or fields of a farm. They may work with farmhands to replenish fields, gather supplies, transfer food into storage and maintain plants across the farm. Orchard employees may work with a diverse range of plant life while on a farm, such as trees, bushes, crops and fruit-bearing bushes. They're responsible for maintaining the plant life year-round. Orchard employees may even stay on farm grounds for a year or more while working.
4. Equestrian coach
National average salary: $37,128 per year
Primary duties: An equestrian coach, or horse trainer, is a professional who trains horses to prepare them for shows or races. They work with the horses to ensure they're physically healthy and ready for aspects of races and shows, such as jumping and making tight turns. Horse coaches understand how to instruct, ride and guide a horse through obstacles and racecourses. They can also train others to ride a horse. If a farm is a horse breeding farm or a riding farm, horse coaches may work on the property as a tutor or instructor.
They may also have a critical role in the upkeep and health of the horses they train. They may work with breeders and farmhands to plan the horse's schedule and keep the horse working toward a specific diet plan or breeding cycle.
5. Animal technician
National average salary: $38,851 per year
Primary duties: Animal care technicians monitor animals to track and treat any health issues. They may work on a farm to feed, groom and manage the care of the farm animals. Animal technicians may work with dogs, cats, chickens, ducks, cattle and horses to help them live safely outdoors or in outdoor enclosures. Animal technicians also have the responsibility of cleaning, enriching and medically checking pets and farm animals. This means they investigate an animal's environment and feeding conditions to help ensure it doesn't have prolonged exposure to disease or an unhealthy living space.
6. Farm manager
National average salary: $47,574 per year
Primary duties: Farm managers help administrate a farm. They manage tasks such as crop production, market evaluation and decay mitigation. Farm managers oversee all parts of crop production, which includes the condition of the market for each crop and planting rotation. They're responsible for purchasing any supplies that the farm needs. This can include seeds, equipment for machinery and food for animals. As farm leaders, they're responsible for instructing farm hands-on maintenance needs and maintaining employee schedules.
7. Farmhand
National average salary: $59,364 per year
Primary duties: Farmhands are responsible for maintaining a farm. This can include transferring cattle, training animals, refueling machines, cleaning animal pens, replenishing food stocks and plowing fields. If there are any repair needs on a farm, a farmhand is typically the one to make them. This can include fences, sections of a barn or even the farm owner's home.
8. Architect
National average salary: $106,775 per year
Primary duties: Architects are construction experts who help organize building teams to construct a project. They understand how to evaluate and create building blueprints using a combination of art, science and design tactics. If a farmer wants a section of their home, barn or animal sheds rebuilt, they may hire an architect to both quote, plan and manage the building for them. They may even develop 3D model scripts to help everyone involved with the project visualize both the building and what materials the construction may use.
Job outlook for jobs on a farm
The job outlook for positions you can find on a farm varies in popularity and projected estimates. Many jobs have high increase predictions, some having as much as 30% or more growth estimations within the next 10 years. All job outlooks from the Bureau of Labor Statistics for the farm occupations below are from 2020 to 2030:
Farm apprentice: 2% increase

Horse groomer: 33% increase

Orchard worker: 2% increase

Equestrian coach: 16% increase

Animal technician: 15% increase

Farm manager: No increase or decrease

Farmhand: 2% increase

Architect: 3% increase
I hope you find this article helpful.