An interview is your chance to give a hiring manager a better idea of your experiences and skills related to their role. Throughout the interview, they may ask you to provide specific examples that highlight your capabilities. This is why it's important to prepare different stories you can share that apply to the job you want. In this article, we explain what stories for interviews are and why they are important, along with several types of stories you can share.
What are the stories for interviews?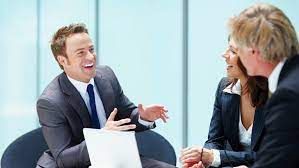 Stories for interviews are personal experiences you can share with a hiring manager to show you are qualified for their position. Often, hiring managers ask you to share various examples of your previous professional experiences. By having several stories prepared, you can feel confident when answering different interview questions. Stories can help you illustrate the good work you've done in the past and prove you have the right background for the job.
Why should you tell stories for interviews?
Stories for interviews help you prove that you are a qualified candidate. They are a way you can immerse a hiring manager into your interview answer and share relevant details that may show you have the right credentials for their role. Telling stories is a good way to stand out among other applicants, especially if you can present your story in an interesting and memorable way.
Types of stories to use for interviews
Here are different kinds of stories you can prepare for your next interview:
The time you met a goal
Show employers you are a goal-oriented candidate by having this kind of story ready for your next interview. When discussing a goal you met, explain the steps you took to reach it. Share why you set this goal for yourself, describing what skills it helped you develop. When preparing this story, think of ways you can relate it to the job you want. Show that you can set SMART goals, meaning they are specific, measurable, attainable, relevant and time-bound.
The time you made an error
"Tell me about a time you made a mistake" is a common interview question. That's why it's so important to think of a time you made an error at work and explain what you did to fix it. Your response needs to show that you are capable of problem-solving and critical thinking. You also want to show employers you can admit your faults and be accountable for your actions. Use this story to show that you learned from your mistakes and won't make them again.
The time you helped someone else
Show that you are a helpful employee by coming up with a few stories about times you helped others succeed. Some examples include a time you were a mentor, collaborated on a project, took on more responsibilities, donated your time or helped someone overcome a problem. This kind of story shows you can be selfless and supportive in the workplace.
The time you collaborated with others
Being able to work with others is an essential skill for many jobs. By showing employers that you have experience collaborating in a team setting, you can prove that you have the teamwork skills they need in a candidate. When sharing this story, use the STAR method. This means you explain the situation, the tasks your group needed to accomplish, the specific actions you took and the result of your work. When choosing a situation to discuss, make sure your team is successful by working together.
The time you overcame an obstacle
The ability to overcome unique challenges and obstacles is an admirable trait for a job candidate to have. This type of story shows you have experienced difficulties in your life, developing strategies to think through problems and come up with solutions. Overcoming an obstacle also shows that you have a sense of independence and perseverance. When choosing a story, try to come up with a challenge you overcame in your career to show you can do the same in the future.
The time you acted as a leader
When applying for a manager or supervisor position, it's likely that an employer asks you about your leadership skills. They may even inquire about a specific time you acted as a leader. When thinking of a story to share, reflect on the different times you led your team to success. Consider discussing any challenges you experienced and how you used your leadership skills to overcome them. For instance, you could tell an employer about a time you had to train a new employee. You could even share about a time you helped your team meet their goals and expectations.
The time you dealt with a conflict
There are many roles where you work closely with others. Employers hiring for these roles might ask interview questions that assess your ability to get along with others, even if you disagree with them. Share a time when you had a conflict with another coworker or manager. Clearly define the situation, explaining what the disagreement was about and how you handled it. When choosing a story, think of a time you worked to compromise with the other person rather than trying to get your way. Explain how you used effective communication and problem-solving to come to a mutual understanding.
The time you learned something about yourself
Employers ask various questions to learn more about your personality. That's why it's important to prepare some stories that show who you are as a person, rather than just a professional. Consider talking about subjects like traveling abroad, attending college, volunteering and other enriching life experiences. The purpose of these stories is to show employers you are an interesting and well-rounded person. Come up with a story where you discovered something about yourself, sharing details that can leave a lasting impression.
I hope you find this article helpful.