Supervisors are important members of any company since they're responsible for managing employees and ensuring their work meets the company's objectives. An effective supervisor can motivate employees and help them advance in their careers. If you're interested in becoming a more supportive supervisor, it's beneficial to know the most effective methods.
In this article, we share several ways that supervisors can provide better support for employees at work.
How supervisors can provide support for employees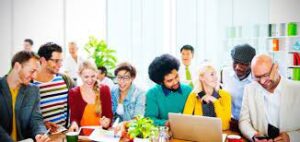 Here are some tips for supporting employees at work:
1. Learn to listen
Listening is a skill that can benefit employees at all levels in a company, and active listening means you truly hear what someone is communicating, rather than preparing your next comment while the speaker is still talking. When an employee has a legitimate concern, take the time to listen to their entire point before you formulate a response. Once they've finished, you can research the facts and opinions and offer a dignified, supportive response. When you acknowledge your employees' feelings as valid and listen to their concerns, you're letting them know they're valued.
Most times, a supervisor acts as the intermediary between upper management and employees, so learning to listen can also help you better articulate problems and employee concerns to your managers. To develop your listening skills, you can study other leaders, find additional resources such as websites and books and integrate your own best practices for ensuring you listen to those you lead.
2. Motivate and inspire
When you motivate and inspire, you're making personal connections with people and providing an example of moral behavior and skills. Inspiration through action and example can motivate employees to follow your lead, teaching them better techniques and interpersonal skills to excel in their positions. You can also help the improve their mental health, work-life balance and personal lives. Finally, you may motivate them to engage in professional development to improve their skills.
Consider hosting monthly motivational meetings with employees where you focus solely on their strengths. Encouraging them to work on the skills and tasks they excel at is a great way to boost their confidence and increase their motivation. Honest, productive conversations can inspire employees to reach beyond their initial goals and improve their overall skill set.
3. Communicate
Communication goes beyond simply having a conversation and includes using positive body language, setting clear expectations, being honest and helping employees reach upper management. Supervisors are mindful of their body language and choose their words carefully. Words can have a major impact on employees and the overall morale of the company, and good communication ensures everyone understands their role within the organization.
Nonverbal communication is one of many tools that can help you make a good impression in interviews and in your professional life. However, candidate assessments should be based on skills and qualifications, and workplaces should strive to be inclusive and understanding of individual differences in communication styles.
4. Provide feedback
Feedback is an effective tool for supervisors to use for motivation. Giving feedback requires good communication and a thorough understanding of an employee's performance and who they are as a person. Monthly progress meetings can help employees understand how to meet expectations and how far they are from reaching their goals. Goals also help keep employees engaged with their work and focused on constant improvement.
Honest feedback is one way to reach an employee. Consider hosting monthly one-on-one meetings with each team member and opening with a comment about their work. Start with I-statements, rather than you-statements, and ask questions to gather information from the employee. For example, you can ask "What can you tell me about how yesterday's meeting went?", or you can make it "us versus the problem" by asking, for example, "How can we work together to meet deadlines?"
5. Be available
A supervisor who's available can act as a confidante for their employees. Supervisors can set clear office hours and relay them to the team and include an email address or phone number for questions or concerns during the workday. Keeping yourself available lets the team know that you're there for them and ready to listen. It helps build trust among employees through better communication, which can also encourage newer team members to come to you sooner.
You can also create weekly one-on-one meetings to encourage meaningful communication, which helps the spread of information and needs. For example, you may set one-on-one meetings and have a specific set of questions to answer each week, including feedback and ways for both you and the employee to improve.
6. Focus on employee development
Making employee development a priority can benefit supervisors and employees alike. When employees excel and reach their goals or improve their skills, they become a more valuable asset to the company. The supervisor facilitates that improvement via honest feedback and a supportive environment. Employee development can include:
Increasing job-related skills

Offering education and training opportunities

Improving teamwork

Improving punctuality

Developing honesty, respect and communication skills

Developing strengths

Planning the employee for future roles

Helping others with mental health issues

Encouraging hard work, while balancing self-care
7. Reward achievements
Rewards can help inspire employees to thrive in their careers. A reward can come in many forms, including monetary raises, paid time off or more opportunities for growth. Rewards can also be helpful motivators for improvement. For example, a supervisor may engage in sharing thanks for specific employees each week. they may also create handwritten notes for each employee, praising them for specific tasks they've done well and helping improve job satisfaction for many people.
When employees reach important milestones in their careers, it's important to take notice and let them know you're paying attention. A simple congratulation can help inspire confidence and give them the motivation to continue to improve. For example, an employee who reaches annual milestones with a company deserves recognition, which you can provide via an instant message or a note during a weekly update email.
8. Recognize strengths and weaknesses
A supervisor with analytical skills can look at employee strengths and weaknesses to identify problem areas and strengthen a company's core values. Consider asking your employees what they think their strengths and weaknesses are and compare those answers with your own observations. Once you identify a strength, you can assign tasks that play to those strengths and address weaknesses. You can also encourage employees to engage in personality tests, such as Myers-Briggs or DISC, to learn about their personality.
For example, if you have an employee who's great at working with customers but doesn't work well with a team, you can assign them to a customer satisfaction team. This helps them learn how to cooperate within a team and allows them to use their customer interaction skills effectively.
Why should a supervisor provide support for employees?
As a leader, supporting employees is a top priority because you can help employees reach their personal goals and improve their skills. As a middle-management employee, a supervisor answers to higher management and oversees other employees. This is a leadership role that plays an important part in company morale and employee confidence. When supervisors provide moral, emotional, and professional support, they can help facilitate employee growth.
Nonverbal communication is one of many tools that can help you make a good impression in interviews and in your professional life. Candidate assessments based on skills and qualifications are important, though workplaces correctly strive to be inclusive and understand individual differences in communication styles.
I hope you find this article helpful.