Giving positive feedback is one way you can help improve your company's culture. Along with boosting good feelings among staff, giving praise can help your coworkers understand their strengths. Whether you're a manager or an employee, people can benefit from your positive feedback.
In this article, we share the importance of giving praise at work along with 85 different ways to say "great job."
Why is it important to give praise at work?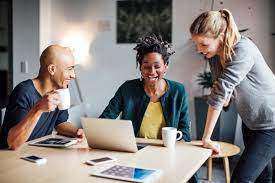 Giving praise at work is important for the following reasons:
Improve employee morale
When you give praise at work, you're contributing to a positive work environment. This kind of positivity can help others feel good about themselves and boost their morale. This can lead to higher employee retention rates, which contribute to a more successful and enjoyable workplace.
Increase feelings of belonging
Giving your colleagues praise can help them feel like they are adding value to the workplace. This can increase inclusivity and promote a more welcoming atmosphere for all employees. When a new person starts, make an effort to praise their work. This can help them feel more comfortable in their new role and gain the confidence they need to continue to do well with your company.
Boost productivity and motivation
When your colleagues learn that they are doing good work, they may feel more eager to continue their responsibilities. Positive feedback can also increase employee loyalty, meaning that employees are more willing to do what's best for their team and the company as a whole. This can help you build a more productive and motivated team.
Build better relationships
Telling your team members "great job" may help them feel more favorably about working with you. By recognizing their good work, they may do so in return, which can strengthen your professional connection. Simply saying nice things also shows your team members that you value their contributions and respect them as colleagues.
Help coworkers realize their strengths
Giving positive feedback can help your colleagues understand their strengths and skills. This feedback can help them continue doing the work they do best. It can also encourage them to continue to develop certain skills and try new things.
85 ways to say "great job"
While saying "great job" is a nice form of feedback, it's useful to have other ways you can praise your team members. Here are 85 different ways to recognize your colleagues' good work:
"Nice work!"

"Excellent job on that project."

"Thanks for helping out."

"Wow, that's impressive work."

"Congratulations on a job well done."

"Outstanding work!"

"You are a fast learner."

"You're so good at what you do."

"I don't know what we would do without you."

"I'm so proud of your effort."

"You truly make a difference here."

"Your work is incredible."

"Your work is going to leave a lasting impression on our clients."

"This is great. Can I share your work with our top executives?"

"Your progress is truly inspiring."

"I really like this."

"How did you do this so fast?"

"Good idea. I wouldn't have thought of it that way!"

"You need to show our manager this."

"You have really grown as a professional."

"Terrific job!"

"Now this is good work."

"Can I add this to our training materials?"

"Are you willing to present this to our team?"

"You're doing this right."

"I'm so thankful to have you on my team."

"You are such a wonderful person to work with every day."

"I really enjoyed looking through your work."

"I'm excited to see what you will do next."

"Your contributions are noticed."

"Thank you for inspiring me with your amazing work."

"I'm grateful to call you my colleague."

"You are essential to our team."

"How did you think of this? Incredible!"

"I would love to learn more about your thought process on this."

"This proves you are ready for more here."

"Your effort makes me proud."

"I knew you had it in you."

"See, I knew you could do it!"

"I never doubted you for a moment."

"Your level of expertise is impressive."

"Wow, you are so skilled!"

"Look at those skills!"

"This is insanely good."

"I can tell your practice was well worth it."

"You're going to go on to great things."

"What an amazing success!"

"This is what excellence looks like."

"I can tell this means a lot to you."

"Beautiful work."

"You were awesome today."

"This is what I like to see."

"If you do this every time, we are going to meet our goals."

"You deserve a raise!"

"Your extra effort makes me so happy."

"This is delightful."

"It's clear that you pay attention to detail."

"Your work matters to me."

"Let's go with your idea."

"Interesting insight. Tell me more!"

"Your work ethic is admirable."

"Our new hires see you as a role model."

"I hope to be as good as you one day."

"You handled that challenge like a true professional."

"Your perspective is essential to this project."

"You always deliver the best results."

"This is true craftsmanship."

"Fantastic!"

"You're making a real difference in our field."

"Your standards make our team better."

"I'm using this as an example of a great project."

"You could lead this company one day."

"Your work is so thoughtful and well done."

"This may have been a lot, but you truly made the best of it."

"I can see you are passionate about your work."

"I envy your work ethic."

"This is why I love working with you."

"You're such a forward thinker."

"This is so innovative!"

"Smart thinking. I'm glad I asked for your help."

"You always have the best input."

"Your opinions help our team so much."

"This is going to 'wow' our clients."

"I'm never going to forget this."

"You just keep getting better at this."
Frequently asked questions
What are some ways to give praise without saying "Great job?"

Giving a gift or officially recognizing someone with an award can make a great job acknowledgment even more special aside from saying "great job" or something similar. A few other ways to show appreciation for hard work include:

Thank someone with a gift basket.

Acknowledge the person's accomplishments in a department email.

Send a handwritten note of appreciation.

Offer more responsibility for upcoming projects.

Treat them to lunch.

Send a quick thank-you email.
How do you congratulate someone on an award?

Congratulating a colleague after they win an award can improve employee morale and build better professional relationships. You can also tell a colleague they did a great job with a handwritten note or quick email regarding their accomplishment. Adding a personal touch can make the award and recognition even more meaningful. Include details related to the award, such as how you know they worked extra hours or overcame a fear of public speaking to achieve it.
What do you say when someone praises you?

Colleagues and team leaders may praise you after a job well done. Thank the person for expressing praise, and let them know how much it means to you. If you want to go more in-depth with your response, you can discuss important aspects of the project you enjoyed.

If you receive praise in the form of an award, you might share your recognition with others who helped you. Specifically, mention anyone who contributed to the project or who was integral to overcoming challenges to complete the work.
I hope you find this article helpful.