Although being a dentist can be a rewarding career, dentists may consider pursuing an alternative job to better fit their career goals, work preferences, and lifestyle needs. Dentists are highly qualified professionals who may use their education and experience to transition into a related field like education, public health, product development, research, or administration. Learning about alternative careers for dentists can help you find the right job for your skills and occupational goals. In this article, we cover nine alternative careers in dentistry that you can pursue, with tips on how to change your dental career.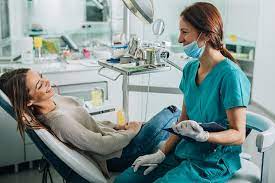 Alternative careers in dentistry
Here are some alternative careers to which you can apply for your dentistry degree. For the most up-to-date Indeed salaries, please click on the links below:
1. Insurance coordinator
National average salary: $39,032 per year
Primary duties: An insurance coordinator works with patients, healthcare providers, and insurance agencies to resolve payments and coordinate claims. They're responsible for researching insurance plans, documenting insurance plan details, processing and submitting claims, contacting patients about financial balances, and answering insurance-related questions. Insurance coordinators play an important role in ensuring that patients, practitioners, and insurance providers make and receive correct payments on time. Most of these professionals have skills in computer software usage and knowledge of common insurance policies. Dentists with experience working with insurance companies may transition into this career because of their knowledge of insurance policies.
2. Patient administration specialist
National average salary: $48,849 per year
Primary duties: Patient administration specialists perform clerical duties such as processing client paperwork and compiling reports. Their work involves collecting paperwork from patients, ensuring patients accurately fill out paperwork, entering patient data into databases, and creating data reports for medical providers. In some positions, patient administrators may also process paperwork related to patient admission to a hospital or clinic and their discharge details. This job requires strong clerical skills, such as organization and computer literacy. Dentists looking to transition into an administrative role where they can apply their knowledge of patient documentation and support services may enjoy this position.
3. Professor
National average salary: $53,274 per year
Primary duties: Dentists with a passion for educating and training aspiring dental professionals may consider becoming a professor. Dental professors work for higher education institutions like universities and dental schools to teach students looking to become dentists. Their responsibilities include preparing lesson plans, delivering lectures, coordinating clinical practices, answering student questions, and guiding students through their education. Some professors may also perform independent research studies. They conduct research, publish their findings in academic journals, and present their research at professional conferences. This can be a great alternative career option for dentists looking to advance their careers.
4. Health care manager
National average salary: $64,924 per year
Primary duties: Healthcare managers oversee the management of a health care facility, like a clinic or hospital. They study the most recent laws and regulations and ensure that their facility complies with all standards of health care provision. These professionals manage budgets, identify staffing needs, coordinate between practitioners and executives, and develop systems that ensure their facility operates effectively. They may also determine their facility's technology needs and choose IT systems that best support their establishment's operations. Dentists may qualify for this role at institutions that offer dental care, though they may need additional training in health care management.
5. Medical writer
National average salary: $70,073 per year
Primary duties: Medical writers are qualified professionals who craft scientific documents for the medical field. They often write documents that explain laws and regulations determined by government agencies, but they can also publish documents on medical research or general interest pieces. Some medical writers specialize in writing instruction manuals for using medical equipment or how to take prescription medications. These professionals know how to adapt messages for different audiences to suit their comprehension needs. Many medical writers have experience working as health care professionals, such as doctors, nurses, and dentists. This career may have part-time and freelance options.
6. Health care consultant
National average salary: $76,797 per year
Primary duties: A health care consultant is an analyst who collaborates with a medical facility to understand its goals, strengths, and weaknesses. They use their knowledge of healthcare systems to assess an institution's current operations and expansion goals to recommend strategies for growth. These professionals also study legal policies and regulations to ensure that facilities remain up-to-date on the most recent operational standards. Healthcare consultants typically work with executives and administrators to understand how a facility's directors want to expand their establishments. They conduct research, prepare reports, and meet with directors to recommend strategies for reaching their goals.
7. Medical sales executive
National average salary: $76,979 per year
Primary duties: Medical sales executives oversee companies that provide medical equipment to health care practitioners. A medical sales executive determines what products their company offers, establishes pricing strategies, and develops sales strategies that help them meet their profit goals. Depending on their place of employment, they may specialize in working with a particular type of equipment or within a certain area of health care. For example, a medical sales executive may work with a company that specializes in selling dental tools and X-ray equipment. Having experience working as a dentist may benefit those working as dental equipment sales professionals.
8. Research scientist
National average salary: $82,476 per year
Primary duties: A research scientist conducts studies that contribute new knowledge to their field of study. Depending on their level of qualification, some scientists design studies and implement them to gather data and draw conclusions about the subject of their research. Other research associates work under the direction of a senior researcher or principal researcher. These scientists follow the senior researcher's experimental design to conduct studies, collect and analyze data and prepare reports for the lead researcher to interpret. For dentists with a passion for scientific research, transitioning into a research career can be a great option.
9. Product development engineer
National average salary: $87,779 per year
Primary duties: Product development engineers design new products for various commercial sectors, such as the dental and healthcare industries. Professionals working in dental product development create products that solve problems in dentistry. They may develop equipment that helps dental professionals perform their work better, or they may create products that support the oral health of patients. For example, a product development engineer may create a new type of dental adhesive for bonding braces to a patient's teeth. Since experienced dentists understand the types of products and equipment that most benefit their practices, they can make excellent product development engineers.
Tips for changing careers in dentistry
Here are some tips that can help you find the right alternative career for you:
Consider your professional interests
If you're thinking about changing careers in dentistry, reflect on your occupational goals and interests. For example, consider your work environment preferences. If you enjoy working directly with patients, you may prefer a job as an insurance coordinator or patient administrator. These positions allow you to continue working with patients, providing support and information without the clinical responsibilities of a dentist position. Other professionals may enjoy careers where they work in administrative roles or as educators or researchers. These roles can support the effective management of healthcare institutions and the development of emerging and current professionals.
Knowing your professional interests can help you find the right career for you. When you know what kind of workplace best suits your skills and work style preferences, you may find a job that you find satisfying and rewarding. As you reflect on your professional interests, consider making a list of the things you like most and least about your current job. Identify what kind of work you find most engaging and think about what your ideal job would involve. This exercise can help you identify your preferred qualities in an alternative career.
Account for your personal goals and needs
In addition to considering your professional interests, think about your personal goals and lifestyle needs. If you change careers, you may take a different salary, which can impact your financial goals. Accounting for this salary difference can help you transition successfully into your new career. Additionally, some careers may require you to work different hours from your dentist job. For example, some college professors teach night classes and medical writers often have the flexibility to create their own schedules. Some professions may also have remote work options. Consider these factors to find the right career for your lifestyle preferences.
Determine any additional career requirements
Dentists need to finish dental school and earn their practitioner licenses before they can work in the field, but these credentials may not qualify dentists for some related roles. For example, healthcare administrators and managers often pursue certifications or graduate degrees to gain the right skills for their roles. Management degrees and certification programs typically take one to two years to complete. Knowing this requirement and preparing to earn these credentials can help you plan your career transition. Other positions may not require formal credentials, but taking opportunities to gain experience may benefit your job search
Expand your professional network
If you're looking to pursue an alternative career, consider making contacts with professionals already established in your field of interest. Expanding your professional network helps you meet those with experience working in the role you wish to pursue. These contacts may allow you to find job opportunities, learn more about your chosen career field and pursue professional development to gain skills in your new roles. To expand your network, consider attending conferences, joining a professional organization or taking classes related to your area of interest.
Create a pros and cons list
As you consider whether changing careers is the best option for you, make a pros and cons list to evaluate your options. Making a pros and cons list allows you to write down all the advantages and disadvantages of changing careers so you can easily assess them. Writing this list can help you express your reasons for wanting to change careers while also providing insight into the advantages of your current career. These details help you determine whether a career change is right for you, and it may offer a deeper understanding of your occupational goals, preferences, and interests.
I hope you find this article helpful.