Hospitality skills help you make others feel at ease and provide excellent customer service in all circumstances. To succeed in the hospitality industry, you need to have a strong set of soft skills and the ability to learn any technical skills that apply to your particular workplace. Even in jobs that are not focused on serving guests, hospitality skills can contribute to a positive company culture and help you build business relationships.
In this article, we explain what hospitality skills are, how to develop them, and what steps to take to display your hospitality skills when applying for jobs.
What are hospitality skills?
Hospitality skills are all of the behaviors, tools, and knowledge that allow service industry professionals to develop a positive relationship between guests and the companies that host them. Having hospitality skills allows you to have positive interpersonal communications with others and organize your activities to help fulfill others' needs. Hospitality skills are an essential qualification for working at a front desk, guest services department, restaurant, spa, hotel, and other places where visitors expect to have their needs taken care of.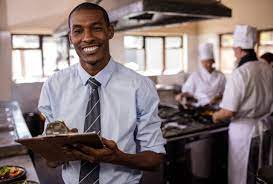 Examples of hospitality skills
You can excel in a hospitality role by developing a range of skills to help you communicate effectively with others, stay organized, and cultivate a welcoming atmosphere at your workplace. Many situations require you to use multiple hospitality skills at once, enabling you to respond to nuanced situations. Some of the top skills you can practice to grow your hospitality competencies are:
1. Attention to detail
Attention to detail involves noticing all of the small factors that contribute to a guest's satisfaction. Places that provide high-end service differentiate themselves from competitors because they anticipate all of the details of a customer's experience.
2. Patience
Being patient is a key skill in any customer service or hospitality position. Hospitality professionals need to be able to dedicate themselves to resolving an issue despite consistent challenges or frustrating feedback from guests. Coordinating guest needs and troubleshooting problems can take a significant amount of time, making patience and stamina an important skill for avoiding burnout.
3. Professionalism
Showing professionalism by recognizing and respecting guests' boundaries is another hospitality skill that you develop over time. Something as simple as knowing what to wear or using the appropriate tone of voice for a certain situation can have a big impact on your professionalism.
4. Multitasking
Hospitality professionals oversee large groups of guests at once and still have to treat each individual as if there were their only priority. Being able to multitask allows you to help every customer feel important while accomplishing your goals. People with strong multitasking skills can easily handle interruptions and readjust their priorities to respond to urgent situations without impacting their general workflow.
5. Positivity
The ability to maintain a positive and outgoing attitude despite your surroundings is an in-demand skill for hospitality jobs. Customers expect to be treated kindly at all times, and someone who can remain positive can have an impact on the behavior of their entire team.
6. Empathy
Being able to understand others' feelings using empathy and compassion is essential for recognizing the underlying issues guests face and resolving them in the most appropriate way. Everyone has a unique personality and perspective, and being empathetic allows you to understand how everyone likes to be treated and personalize their accommodations to suit their needs.
7. Problem-solving
Problem-solving is one of the central parts of working in hospitality because you have to be able to identify the problems guests are having, create a plan of action to resolve them, and follow through with guests afterward to ensure their satisfaction.
8. Flexibility
Unexpected and last-minute events happen frequently in hospitality jobs, so you must be able to respond to changing situations through flexibility. Strong flexibility skills require you to be adaptable and understand how to prioritize and communicate with others as you shift from one task to the next.
9. Teamwork
Teamwork skills help you collaborate with your team to give guests a positive experience at all stages of their stay at your business. Working efficiently as a team allows you to accomplish more than you would have been able to as individuals, giving guests consistent 24/7 care and attention.
How to improve hospitality skills
Some people are naturally suited for the hospitality industry, but anyone can grow their hospitality skills through practice, self-reflection, and discipline. In the workplace, you can demonstrate excellent hospitality by using these techniques:
Read customer feedback
Many employers in the hospitality field collect customer feedback through surveys or suggestion cards. Approach your manager and ask to read any feedback that applies to you so that you can make adjustments. Feedback helps you identify key areas of improvement and understand what you are already doing well, allowing you to give guests the best service possible.
Practice a customer-oriented mindset
Before helping a customer, practice empathizing with their situation and thinking about their perspective. You may have to work with rude or passive-aggressive customers, and keeping a customer-oriented mindset can prevent you from getting too frustrated to provide great service. Understanding someone else's point of view gives you insight into their behavior, allowing you to personalize a solution to their problems.
Create a checklist
Hospitality roles have to balance several priorities at once, and a checklist can be extremely helpful in staying organized. Create a general checklist to guide your regular workflow and update it at the start of each shift. Making it a habit to follow your checklist can help you internalize the most important activities until they become natural to you.
Try out different roles
Help out your colleagues in different departments to grow your hospitality skills in different contexts. Most hospitality skills are transferrable to new situations, and challenging yourself with new tasks can help you become more competent in your main position.
Hospitality skills in the workplace
The exact hospitality skills you use in the workplace will depend on your specific roles and responsibilities. For example, hotel managers and housekeepers are both key roles in the hospitality industry, but they emphasize different skills when providing excellent service. Regardless of the position you have, there are several best practices for demonstrating hospitality to customers and clients. When you're at work, take advantage of your hospitality skills by keeping a few tips in mind:
Communicate with coworkers
Providing exceptional hospitality to guests requires a range of positions to work together efficiently as a team. Communicating with your coworkers about their expectations, the status of different tasks, and what you plan to do each day will help everyone stay on track. Being in constant communication with others ensures that no one accidentally overlooks small details or forgets to help a guest in the midst of a busy day.
Work ahead of schedule
Most hospitality positions involve serving a high volume of customers with their needs throughout the day, and you may not be able to predict all of their requests when planning out your priorities. Schedule time into your day that you can dedicate to handling unexpected issues. Working to get ahead of schedule every day gives you breathing room if a guest needs extra help, a task takes longer than expected or others on your team need help.
Be consistent and reliable
Be realistic about the promises you make at work so that you can consistently fulfill people's expectations. Hospitality professionals know that guests rely on them to have a great experience and work hard to be a reliable resource for help. Treat all guests with the same standard of respect and aim to resolve issues yourself or help guests find the right person who can help them, regardless of whether it is your responsibility.
Keep a positive attitude
Being friendly and personable goes a long way in the hospitality industry. Keep a smile on your face even in frustrating situations to make guests feel at ease. Positivity helps guests trust your ability to resolve their issues and be optimistic about any problems they are facing.
Always be on time
Time management is extremely important in any hospitality job. Guests don't like to be kept waiting when they expect service at a particular time, and lateness can cause your coworkers to rearrange their schedule to cover for your responsibilities, reducing the quality of service they are able to provide. Make an extra effort to be early to your obligations so that even if something comes up, you will still be on time. Making guests wait can cause irritability and frustration, so being on time will make your interactions more pleasant for both you and your guests.
Pay attention to body language
Learn the nuances of guest behavior by trying to interpret their body language during interactions. You can also use body language to predict guest needs before being approached. For example, someone wringing their hands, shifting their weight, and looking around in the lobby could need help from staff but isn't sure who to ask. Responding to someone's body language before they verbalize their needs can help guests feel cared for and allow them to relax.
How to highlight hospitality skills
Because the hospitality industry is highly focused on service and presentation, each part of the job application process involves emphasizing your hospitality skills. To highlight your hospitality skills to employers and make your application stand out, follow these suggestions:
In a resume
When applying for a position in the hospitality industry, your resume should indicate your ability to provide excellent customer service and work in a fast-paced environment. In the experience section of your resume, clearly state all of the different responsibilities you held in each position to show your versatility and ability to multi-task. If you have relevant statistics on how you impacted your workplace, like customer satisfaction rates or performance rankings, include them to give a potential employer quantitative evidence of your hospitality skills. List any hospitality certifications you have, such as food and beverage handler licensing.
In a cover letter
In your cover letter, you will have the opportunity to be more in-depth about why you want to work in the hospitality field. A great way to showcase your hospitality skills in your cover letter is to describe experiences you have had where you demonstrated excellence in a hospitality situation, such as being able to diffuse conflict or coordinating a particularly complex schedule. Explain the actions you took, the effect of your behaviors, and how that experience helped grow your passion for hospitality as a career to show how your motivation drives the development of your hospitality skills.
In a job interview
Making a good impression on your future employer in the job interview is a key part of earning a position in the hospitality industry because many hospitality jobs are front-facing and rely on employees who have a friendly, professional demeanor. Carefully select a professional interview outfit in neutral colors, paying attention to details like matching color shades and pressing out wrinkles. Arrive at the interview ahead of time to show your employer that you will show up on time and complete all tasks according to schedule.
During the interview, try to smile naturally to show that you are able to keep a positive demeanor when interacting with customers. Pay attention to your body language and avoid fidgeting to show that you are able to maintain your composure and show poise even under stress. Thank your interviewer for their time as the interview ends, and be sure to follow up with a thank-you note or email to show that you have the initiative and drive to go above and beyond for the position.
I hope you find this article helpful.