Choosing the career that's best for you and your unique needs can require careful thought, research, and deliberation. If you're considering a career as a dental assistant, it's helpful to read about what you can expect from the position. By learning about the benefits and realities of the role, you can make an informed choice about whether pursuing a profession in dentistry is the right choice for your skills, personality, and career goals. In this article, we explain what a dental assistant is and provide nine reasons to consider pursuing a career as a dental assistant.
What is a Dental Assistant?
A dental assistant is a health care professional who helps dentists care for patient's teeth, mouth, and gums. Dental assistants can qualify for their positions by completing training programs that teach them important skills for assisting dentists and patients. While individual responsibilities can vary, here are some job functions dental assistants typically handle: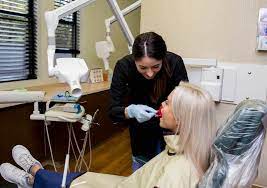 Help prepare patients for cleanings and procedures

Sterilize equipment and tools

Listen to and assist dentists during patient appointments

Perform patient X-rays

Help patients after procedures or cleanings

Advise patients on dental hygiene practices and relay treatment recommendations

Ask patients about their dental habits or concerns

Communicate important patient information to dentists.
Reasons to become a dental assistant
If you're considering a career as a dental assistant, here are some reasons to consider the profession:
1. The job outlook is good
One enticing reason to consider becoming a dental assistant is the ample opportunities you're likely to find for the position. According to the Bureau of Labor and Statistics, the job outlook for dental assistants is 11%, which is faster than average for all job positions. Over the 10-year period from 2020 to 2030, the BLS reports that the occupation can expect to see about 44,000 new jobs a year.
2. You can help others
Another reason to consider becoming a dental assistant is for the impact you can have on people's lives. Maintaining healthy teeth and gums can improve your patient's health, confidence, and hygiene. By helping them keep their teeth clean and free of disease or injury, you can encourage them to prioritize their dental health and develop good habits.
3. There are opportunities for professional development
Working as a dental assistant can be a great way to determine if you're passionate about the field. For those who enjoy working in dentistry, you can pursue further studies to qualify for a career as a dental hygienist or a dental office manager. These roles can have an even higher earning potential and offer more opportunities for assistants.
4. Dental assistants often have predictable schedules
Most dental offices operate with set schedules. Many dental assistants work eight-hour shifts on weekdays. Unlike other health professions, most assistants won't receive emergency calls or after-hours requests. The predictability can make it easier for them to maintain other responsibilities like childcare or other positions.
5. You can live and work where you like
Because the demand and job outlook for dental assistants are high, it's probable you can find a position almost anywhere you want to work. Almost every town in the country has a dental clinic, from small remote towns to larger cities. No matter where you go, you're likely to have access to opportunities that allow you to live where you like.
6. You can get licensed in less than a year
While the program you choose might take more or less time, most dental assistant training programs take between nine and 11 months to complete. Many programs offer flexible hours and options for remote learning, meaning you can balance other commitments while training to become a dental assistant. The relatively short educational requirements can allow you to find worthwhile opportunities and start working after comparatively minimal time in an accredited program.
7. Most opportunities offer decent pay and benefits
Depending on your earning goals, working as a dental assistant can be relatively lucrative, especially compared to the comparatively minimal training costs for the position. Dental assistants earn an average salary of $62,719 per year. Depending on their experience, employer, and location, their actual salary expectations can vary. Many positions also offer benefits like health care, paid time off, and 401(k) plans. Working as a dental assistant can be a great way to find reliable employment and benefits with career opportunities that don't require a college education.
8. It's interesting
Dental assistants can expect to have something new to look forward to every day. Their jobs allow them to interact with patients and other members of the patient's care team, making work more social and interesting. Those interested in dental health and hygiene, get to see a range of procedures and conditions, exposing them to new knowledge and skills.
While training to become a dental assistant, you can learn about the different tools dentists use, proper sanitization and sterilization processes, and how to be helpful to the dentist you're assisting. These useful skills can help you offer the best possible care to patients and can expose you to many exciting new facts and ideas.
9. You can work in pleasant work environments
Most dental assistants work in dental offices alongside dentists, other assistants, and office staff members. If you like relatively small teams that allow you to develop positive working relationships, dentistry can represent a pleasant setting. For those who don't find desk or computer work appealing, working as a dental assistant also allows you to be mobile and social throughout the day. As an additional bonus, dress codes typically require assistants to wear medical scrubs and supportive shoes, which can be more comfortable than traditional office business attire.
I hope you find this article helpful.