Adekunle Ajasin University Courses And Admission Requirement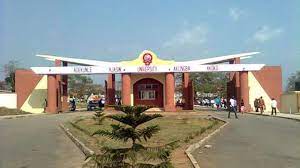 Adekunle Ajasin University, Akungba-Akoko (AAUAA) is a Nigerian university, owned and operated by the Ondo State Government.
Adekunle Ajasin University was first established as Obafemi Awolowo University in March 1982 by the then government of the old Ondo State, headed by the late Chief Michael Adekunle Ajasin. The immediately succeeding military government of Navy Commodore Michael Bamidele Otiko changed its name to Ondo State University in 1985. Its relocation to Akungba Akoko in the new Ondo State became imperative in 1999, following the creation of a new state out of the old Ondo State three (3) years earlier in October 1996.
The bill backing the relocation was signed into law by the then Governor of the State, Chief Adebayo Adefarati, in November 1999, and that prompted the movement of a crop of workers from the old site in Ado-Ekiti to Akungba Akoko on 1 December 1999. The bill for yet another name change, this time to Adekunle Ajasin University, in order to immortalize the late Governor Ajasin, was signed into law by Governor Adefarati in 2004 following the demise of the former governor Ajasin.
The Adekunle Ajasin University has an estimated student population of about 23,456 students spread across its seven (7) faculties.
Adekunle Ajasin University is fully accredited and recognized by the National University Commission (NUC) of Nigeria.
Would you like to know a list of AAUAA courses and their requirements you can enroll in? Below is a list of all NUC-accredited AAUA courses and requirements you need to look out for.
AAUA Courses And Requirements
AAUA Admission Requirements
AAUA Courses And Requirements
Below is a list of all AAUA Courses and their requirements, kindly click on any of the courses you wish to apply for to see the UTME subject, Direct Entry, and O'Level requirements for the course.
Accounting
Adult Education
Agricultural Economics and Extension
Agronomy
Animal and Environmental Biology
Animal Science
Architecture
Arts Education
Banking and Finance
Biochemistry
Business Administration
Chemical Sciences
Commercial and Industrial Law
Computer Science
Criminology and Security Studies
Earth Sciences
Economics
Educational Management
English Studies
Estate Management
Fisheries and Aquaculture
Forestry and Wildlife Management
Geography and Planning Science
Guidance and Counselling
History and International Studies
Human Kinetics
Health Education
Industrial Chemistry
International Law
Jurisprudence and International Law
Linguistics and Languages
Mass Communication
Mathematic Sciences
Microbiology
Performing Arts
Philosophy
Physical and Health Education
Physics and Electronics
Plant Science and Biotechnology
Political Science and Public Administration
Private and Property Law
Public Law
Pure and Applied Psychology
Quantity Surveying
Religion and African Culture
Science Education
Social Science Education
Sociology
Urban and Regional Planning
Vocational and Technical Education
AAUA Admission Requirements
Below are the admission requirements for UTME to AAUA:
Interested applicants are expected to acquire at least, 5 (five) Credit passes in five different subjects (English and Mathematics inclusive) in their O'level result (s). This could be WAEC/NECO/GCE/ or any equivalent result.
Interested applicants must have attained the age of 16 at the time admission is offered.
Candidates must purchase the AAUA POST-UTME Form and perform excellently well in the examination to be offered admission.
UTME candidates must make Adekunle Ajasin University their first choice of institution. Adekunle Ajasin University does not admit candidates which makes them a second choice of institution.
To participate in Adekunle Ajasin University Post-UTME screening, candidates must have scored at least, 190 in the JAMB UTME examination.
Candidates must meet the stipulated cutoff mark for their courses and departments to be offered admission.
If you have found your desired course, you can enroll in the Adekunle Ajasin University Bachelor's degree program either through the Unified Tertiary Matriculation Examination (UTME), by Direct Entry, or through the Pre-degree Programme.
Basically, the purpose of the entry requirement is to ensure that those admitted have the necessary preparedness to scale through the program. There is a compulsory screening test for all eligible candidates.
In summary, this article has provided all the NUC-accredited AAUA courses, admission requirements, and some valuable information for prospective applicants. Has this article provided an answer(s) to your query? if yes, leave a comment in the comment box to express your satisfaction or ask any question you have and we will reply to you as soon as possible.
I hope you find this article helpful.