The Fully Funded ACI Foundation International Scholarship in the USA is open to all internationals who want to pursue master's, bachelor's, or Ph.D. degrees. It is a prestigious endeavor aimed at advancing the field of concrete technology and its global impact. Offered by the American Concrete Institute (ACI) Foundation, these fellowships support exceptional graduate students from around the world in pursuing their studies and research in concrete-related disciplines. These fellowships cover a diverse spectrum of fields, including structural engineering, construction materials, and concrete durability. They provide financial assistance that eases the burden of academic expenses, allowing recipients to focus on their research and contribute to the advancement of concrete technology.
Fully Funded ACI Foundation International Scholarship In USA 2024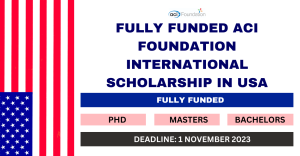 DEADLINE
1 November 2023
STUDY IN
United States Of America
STUDY LEVEL
Bachelor, Masters, PhD, Undergraduate
SUBJECTS
Subjects offered by the university
FUNDING TYPE
Fully Funded Scholarships
Scholarship Eligibility
The eligibility criteria for the Fully Funded ACI Foundation International Scholarship in the USA are stated below:
1. ACI Foundation fellowships can be awarded to international students; however, you must attend an institution in the U.S., Canada, or Mexico during the award cycle.
2. Some of the fellowships expect the awardee to complete a 10- to 12-week internship during the summer of 2024.
3. Those applicants chosen as a finalist for an ACI Foundation fellowship will be notified by February 5, 2024, and must be available to attend an interview with the Scholarship Council on Sunday, March 24, 2024, at the spring ACI Concrete Convention. ACI Foundation will pay for the flight, hotel, and registration, and will include a travel stipend.
4. All applicants must be proficient in the English language. If English is not your native language, you can upload a copy of your TOEFL score to your application. This is optional and not required.
5. The educational stipend is paid in two equal installments over the course of one year directly to the student to cover expenses related to tuition, room and board, books, student fees, etc. Receipt of stipends is contingent upon attendance at scheduled ACI Concrete Conventions during the award cycle.
6. Fellowship awardees are expected to submit a written report near the end of their fellowship period describing the value of the fellowship to their personal development and to their preparation for their chosen career after graduation.
Scholarship Benefits
The benefits of the Fully Funded ACI Foundation International Scholarship in the USA are stated below:
1. $10,000 USD educational stipend for tuition, residence, books, and materials;
2. Appropriate recognition in Concrete International magazine and on the Foundation website;
3. Paid travel expenses and attendance fees to two ACI conventions (must be used during the award year). Fellowship finalists must attend the Spring ACI Convention to be interviewed.
4. Matched with an industry mentor.
I hope you find this article helpful.