The Fully Funded Ashinaga Undergraduate Program Scholarship offers scholarships to students from select African countries to study for undergraduate degrees at the world's leading universities in countries such as Japan, the US, the UK, etc.
The scholarship aims to provide aiming to provide higher education to 20 brilliant students from Sub-Saharan African countries each year, some of which are among the poorest in the world, and encourage them to become leading professionals in their own countries.
Fully Funded Ashinaga Undergraduate Program Scholarship 2024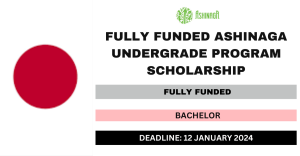 DEADLINE
12 January 2024
STUDY LEVEL
Bachelor, Undergraduate
SUBJECTS
Subjects offered by the university
FUNDING TYPE
Fully Funded Scholarships
Scholarship Eligibility
The eligibility criteria for the Fully Funded Ashinaga Undergraduate Program Scholarship are:
1. Have lost one or both parents.
2. Have completed secondary school and received the results of their national secondary school examination (technical and vocational degrees not accepted) within the last two years (any date after 1st August 2021, including all of 2022 and 2023) or will have completed secondary school and received final exam results before February 9th, 2024.
3. Be born after 1st September 2001.
4. Not having the means to attend university abroad without external financial support.
5. Be proficient in English, French , or Portuguese.
6. Be regularly ranked in the top 10% of their class during their last 2 or 3 years of secondary school.
7. Be able to participate in the two Ashinaga preparatory programs, over the course of one year, before attending university.
8. Be committed to returning home, or to Sub-Saharan Africa, and contributing to society in Sub-Saharan Africa after graduating from university.
9. Have no dependents who could interfere with academic progress.
10. Have a good enough health condition to be able to study abroad.
Scholarship Benefits
The Fully Funded Ashinaga Undergraduate Program Scholarship provides a full scholarship that covers the cost of tuition, accommodation (during the terms and vacation), insurance, and flight, and provides a monthly stipend that covers food and necessary academic costs.
READ ALSO: CROWN POLYTECHNIC POST-UTME FORM
Others
Eligible Countries: Angola, Benin, Botswana, Burkina Faso, Burundi, Cabo Verde, CAR, Cameroon, Chad, Comoros, Côte d'Ivoire, Djibouti, DRC, Ethiopia, Equatorial Guinea, Eritrea, Gabon, Ghana, Guinea Bissau, Guinea Conakry, Kenya, Kingdom of eSwatini, Lesotho, Liberia, Madagascar, Malawi, Mali, Mauritania, Mauritius, Mozambique, Namibia, Niger, Nigeria, Republic of Congo, Rwanda, São Tomé and Príncipe, Senegal, Sierra Leone, Somalia, South Africa, South Sudan, Seychelles, Sudan, Tanzania, The Gambia, Togo, Uganda, Zambia , and Zimbabwe.
I hope you find this article helpful.