The Asian Development Bank Paid Internship offers an exciting opportunity for graduate students to intern with the bank in 2024. The internship program provides successful candidates with the chance to work on multiple projects and gain valuable experience in the Asian development sector. Interns will have the opportunity to work on research projects, policy analysis, and other activities related to the bank's operations. In addition, interns will have the chance to attend workshops and seminars and network with other professionals working in the field. The Asian Development Bank is an equal-opportunity employer, and we encourage applications from all qualified candidates.
Asian Development Bank Paid Internship 2024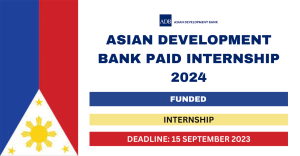 DEADLINE
15 September 2023
STUDY IN
All
PROVIDER
Asian Development Bank
STUDY LEVEL
Internship
SUBJECTS
Subjects offered by the university
FUNDING TYPE
Fully Funded Scholarships
Scholarship Eligibility
The eligibility criteria for the Asian Development Bank Paid Internship are stated below:
1. Applicant should be enrolled in a Master's- or PhD-level program at a school in one of the ADB member countries,
2. Applicants should be engaged in academic study in a field directly related to ADB's trade.
3. The candidate must hold an excellent command of the English language.
4. Must have professional experience relevant to the internship assignment.
Scholarship Benefits
The benefits of the Asian Development Bank Paid Internship are:
1. A stipend for living expenses
2. Airfare Ticket
3. Work in a broader international development organization;
4. Work opportunities with experienced professionals from over 50 different countries;
5. Achieve a deeper understanding of development finance and the impact of the work.
6. Contribute to ADB's business through research outputs.
Others
How to Apply
1. Check eligibility criteria on the ADB website.
2. Prepare required documents (resume, cover letter, etc.).
3. Candidates must apply online using the ADB Career and Employment System (ACES).
4. Prepare yourself to answer the essay questions.
5. An essay and a curriculum vitae must be uploaded to the ADB form.
6. Submit your ADB application before the deadline.
7. Wait for a response and potential interview.
I hope you find this article helpful.