The Baptist College of Theology in Obinze-Owerri, an esteemed affiliate of both the Nigerian Baptist Theological Seminary in Ogbomosho and the University of Port Harcourt (UNIPORT), formally invites the general public, as well as the institution's governing council, management, staff, and students, to partake in its 56th Matriculation Ceremony.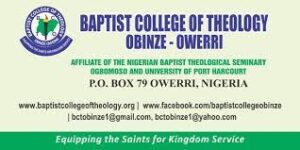 The Crucial Details
Date and Time of the Ceremony
The momentous occasion is slated for Friday, the 22nd of September, 2023. Commencement of the event is scheduled for 10 a.m. sharp, and attendees are advised to arrive punctually to fully participate in this landmark event.
Venue for the Ceremony
The ceremony will be graciously hosted at the First Baptist Church located in Obinze. The selection of this venue underscores the institution's long-standing relationship with its faith-based community.
The Significance of Matriculation at the Baptist College of Theology, Obinze-Owerri
Matriculation ceremonies serve as an official welcome into the academic community. For Baptist College of Theology, Obinze-Owerri, this event not only inaugurates the academic journey for new students but also reinforces the institution's commitment to academic excellence aligned with spiritual principles. In this ceremony, new students take the matriculation oath, thereby officially becoming a part of this illustrious institution and its rich history of scholarship and faith.
Why You Should Attend: The Importance of Community Participation
The college earnestly welcomes not just the students but also the governing council, management, staff, and the general public to witness and partake in this important ceremony. Your presence not only adds prestige to the event but also strengthens the bonds within this faith-based academic community.
Final Reminders for Attendees
It is crucial for all invited attendees to respect the formal nature of the ceremony. Please dress appropriately and maintain decorum fitting for an occasion of this significance.
By attending this monumental event, one not only celebrates the initiation of new students into higher learning but also participates in a tradition that upholds the values of faith, scholarship, and community.
In summary, this comprehensive guide provides you with all the pertinent information you need to attend and appreciate the 56th Matriculation Ceremony of the Baptist College of Theology, Obinze-Owerri. It is a privileged moment that marks the intersection of academic vigor and spiritual enrichment—a celebration not to be missed.
I hope you find this article helpful.