If you're interested in taking to the skies or helping others enjoy safe, smooth flights, then you might consider earning an aviation bachelor's degree. Professionals with aviation training tend to hold exciting jobs and earn above-average salaries.
Aviation is a diverse field with a range of career opportunities, so you may want to take a look at where an online degree in aviation could lead you.
Online Aviation Degrees
There are programs that allow you to train online for a career in aviation and aeronautics. Whether you want to work in airport management, airplane maintenance, or flight services, you can take online courses to develop your expertise in your chosen field.
Studying aviation online at the best aviation colleges can involve exploring concepts related to science, business, mechanics, security, and law.
Aviation curriculum often includes courses on:
Flight safety
Weather and Aviation
Navigation systems
Aviation leadership principles.
Many students focus on a particular concentration area. Concentration options typically include:
Aviation management
Aircraft maintenance
Flight
To prepare you for a certain career path, your coursework may focus primarily on your area of interest. For some specialties, you may be required to earn a pilot's license. While many aviation principles can be studied online, becoming licensed requires spending time in the cockpit of a real plane.
You may need to qualify for your license before enrollment or go through training at a local site that's approved by your college program. Studies in aviation maintenance may require hands-on training at a local facility as well. Some schools require applicants to have an airframe and powerplant mechanic certificate.
Getting an aviation degree can help prepare you for other certifications that are required for various roles. The Federal Aviation Administration (FAA) oversees many of the certificate programs in this field.
Common aviation careers include airline pilot, air traffic controller, and airplane mechanic. Professionals in the field who are interested in business tend to pursue roles in aviation management. Managers coordinate the personnel, operations, and finances of flight-related organizations, such as airports, airlines, and airplane manufacturers.
Aviation Careers & Salaries
Aviation studies can lead to a variety of jobs related to airports, aircraft, and flight. Some students with an aviation major want to become pilots. The two main types of pilots are airline pilots and commercial pilots.
Airline pilots and copilots are employed by airlines, and they run flights according to set schedules. Pilots may transport people or cargo. Many work for major airlines, but there are also government jobs for airline pilots.
Commercial pilots provide flight services as needed. They may be corporate, charter, tour, or medical pilots. They can also offer agricultural services, such as spraying fields.
According to the Bureau of Labor Statistics, jobs in transportation and material moving pay a median annual salary of $34,080, but jobs related to flight and aircraft often pay higher.
| | |
| --- | --- |
| Careers | Annual Median Salaries |
| Chief Executives | $185,950 |
| Airline Pilots, Copilots, and Flight Engineers | $160,970 |
| Air Traffic Controllers | $130,420 |
| General and Operations Managers | $103,650 |
| Commercial Pilots | $93,300 |
| Avionics Technicians | $67,840 |
| Aircraft Mechanics and Service Technicians | $66,440 |
| Flight Attendants | $59,050 |
| Airfield Operations Specialists | $51,330 |
| Transportation Security Screeners | $44,300 |
Some of the above jobs may require additional training or certification beyond a bachelor's degree in aviation. Graduates who want to take to the skies in a different capacity may consider careers as flight attendants. This job involves working closely with pilots and helping keep passengers safe and secure.
Another branch of aviation to consider is aircraft repair and maintenance. Aircraft technicians usually focus on planes' mechanical and electrical systems. Avionics technicians deal with electronic instruments.
There are also a number of aviation jobs associated with airports. For example, transportation security screeners make sure that people and materials passing through the airport comply with Transportation Security Administration (TSA) standards.
Air traffic controllers provide instructions to pilots during takeoff and landing, and they also pay attention to airplanes' in-flight progress. Airfield operations specialists work closely with air traffic controllers and maintenance staff.
Airports also depend on a variety of managers. Professionals in airport management may head up various departments or individual airlines' operations. Airports often have chief executives as well. Aircraft manufacturers also hire managers.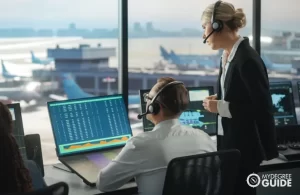 Aviation Curriculum & Courses
During your time in college, you may study aviation business, flight principles, airplane maintenance, and airport operations. Here are examples of courses you may come across in your studies:
Aerodynamics: Aircraft must be aerodynamic, so this class will focus on the scientific principles that allow aircraft to take flight and remain stable.
Airport Security: Strict rules govern aviation safety and security practices, so this class covers the regulations and how to comply with them.
Aviation Administration: This course provides an overview of marketing, facility operations, and other business principles related to aviation management.
Aviation Regulations: During your time in this class, you'll explore the laws and rules related to flight and talk about what it's like to work in complicated, high-stress environments.
Corporate Flight: This course addresses business and operations principles for students who want to provide on-demand flight services for corporate clients.
International Aviation Business: Many flights cross national borders, so this course covers essential principles for coordinating operations in other countries.
Leadership for Aviation: In this class, you'll learn to promote teamwork, safety, and efficiency in aviation settings, and you'll discuss case studies related to these principles.
Navigation: Modern aviation involves various navigation tools in the aircraft and the control tower, and this course will teach you how to use some of them.
Safety Principles: Everyone involved in aviation plays a role in making sure flights are safe, so this course will discuss methods for reducing accidents.
Turbine Engines: You'll study turbine engine theory in this class and become more familiar with the operations and maintenance of these engines.
There's usually overlap among specialties, but your curriculum list will likely depend on what branch of aviation you choose to study.
How to Choose an Online Aviation Program
Not all online bachelor's degrees in aviation are the same, so it's strategic to compare and contrast program characteristics to help you find the best program for your needs.
Accreditation. The most respected college degrees come from schools that have the approval of one of the country's regional accrediting agencies.
Certification opportunities. Completing select aviation programs may qualify you to take a certification exam for becoming a flight attendant, an airline pilot, or an air traffic controller.
Format. Online college programs use a variety of formats, such as at-your-own-pace classes, hybrid campus-online programs, accelerated course schedules, and synchronous live classes. It's helpful to determine your ideal online format.
Prerequisites. Some programs require students to already hold a pilot's license or a mechanic certificate. Others provide a pathway to earn the necessary certificates during your studies.
Price. Many students count tuition costs as one of the top factors in where they go to school. While it's important to consider your budget, financial aid may help bring a pricier school within reach.
Specializations. If there's a particular branch of aviation that interests you, you can choose a school that offers a program for that particular concentration. For example, if you want a career in aircraft service, a degree in aviation maintenance might make more sense than a general aviation management program.
An admissions counselor can help you learn more about the characteristics of the aviation program that you're considering.
Admissions Requirements
Getting into an aviation program is similar to applying for other bachelor's degree programs, but there may be additional requirements, too.
High school transcripts. These official forms show your previous coursework and grades.
Mechanic certificate. Some studies require students to possess a mechanic certificate that covers airframe and powerplant skills.
Pilot's license. You may have to be FAA approved as a pilot either before beginning college or by a certain point in your program.
Standardized test scores (if required). This isn't a universal requirement, but some colleges request SAT or ACT scores.
The admissions requirements can depend on which aviation specialty you plan to study.
Accreditation
Your academic plans may change part way through your studies. If you decide to go to another school or switch programs, it's helpful to be able to transfer as many of your previous credits as you can. To increase the possibility of a smooth transfer, it's beneficial to attend a regionally accredited college.
Accredited colleges have been evaluated and approved by an accrediting agency. This shows that they meet industry standards for a good education. Regional accreditation is the most highly respected form of accreditation in the US. Employers appreciate and recognize accredited degrees, too.
Financial Aid and Scholarships
If you qualify, financial aid opportunities might allow you to attend a school that would otherwise be out of your price range. Financial aid for aviation programs can include loans, grants, scholarships, and workplace-based assistance.
Government student aid programs include grants and loans. In addition to federal assistance, your state may provide opportunities as well. You can get started by filling out the Free Application for Federal Student Aid (FAFSA).
Scholarships are financial awards that can cover a portion of your schooling costs. Some scholarships are given directly by schools. Others come from outside organizations, such as industry groups and philanthropic associations.
Employers sometimes encourage their employees to get more education, and they may provide tuition grants to help make it happen.
Can You Get an Aviation Degree Online?
Yes, online study for an aviation degree is possible! Getting an online degree, such as an online aviation management degree, can be a flexible approach to preparing or advancing your aviation career. You'll typically study business concepts, aviation regulations, safety concerns, airplane mechanics, and the scientific principles that govern flight.
Some aviation-related training—such as earning a mechanic certificate or qualifying for a pilot's license—may need to be completed through in-person instruction. Your college may ask you to get that training before you begin your program or to take additional lessons at an approved site.
READ ALSO: BEST ONLINE ART HISTORY DEGREES 
Do You Need a College Degree to Be a Pilot?
You can get a pilot's license without going to college. Also, a degree is not required for earning your FAA Airline Transport Pilot certificate. Having a degree can reduce the number of flight hours that you'll need for qualification, though.
Even though college isn't a must for obtaining the proper credentials, major airlines often prefer candidates who have a bachelor's degree in the field. Plus, earning a degree can expand the opportunities available to you. With a degree, it may be easier to transition from being a pilot to working in aviation management.
What Can You Do with an Aviation Degree?
Some aviation majors pursue careers as pilots. The median annual salary for pilots who work in scheduled air transportation is $173,780 (Bureau of Labor Statistics).
Pilots may also provide charter or on-demand services in the manufacturing, medical, tourism, or agricultural fields. Some graduates look for jobs in maintenance. There are roles for aircraft and avionics equipment mechanics and technicians. These jobs pay a median annual salary of $66,680.
This degree can also help you train for aviation management. Managers can oversee airport facilities, airline operations, or airplane development and manufacturing.
How Long Does It Take to Get a Bachelor's Degree in Aviation Online?
In general, a bachelor's degree is considered a 4-year college program with full-time study.
Some online schools offer accelerated course schedules that allow you to finish a full degree in less time. Accelerated programs in aviation can take about 3.5 years of full-time, year-round study.
Having professional experience as a pilot may count as transfer credit. Depending on how much experience you bring into the program, you might be able to finish your college studies in less time.
How Much Is a Bachelor's Degree in Aviation?
Tuition varies from school to school, but you can expect to pay between $300 and $600 per credit hour for an online degree in aviation. Some schools offer lower rates for in-state residents, and others have the same tuition rates for all enrollees.
Your total tuition will be based on the cost per credit hour and the number of credit hours you need to earn. There may be additional fees to factor in as well.
If you qualify, financial aid can help reduce your overall costs. Your package might include federal grants, institutional aid, or private scholarships. Some students get employer tuition support, too.
What's the Difference Between Aeronautics vs. Aviation?
The terms "aeronautics" and "aviation" are often used interchangeably, but there are differences between the two. Here's a general overview of the two fields:
Aeronautics
Aviation

Focuses on the science of flight
Addresses principles like propulsion and aerodynamics
Useful for aircraft design and manufacturing

Encompasses a variety of topics within the field of flight
Includes studies in safety, business management, and transportation law
Useful for airport operations
Some schools offer degrees that cover principles from both aeronautics and aviation.
What's the Difference Between Aerospace vs. Aviation?
Aerospace and aviation are similar fields, but they're not quite the same. Here are some things to know about how they compare:
Aerospace
Aviation

Addresses flight within the atmosphere and in outer space
Studies usually focus on engineering principles, including math and science
Includes jobs in aeronautical and astronautical engineering

Addresses flight within the Earth's atmosphere
Studies may cover business, flight, safety, and government regulations
Includes jobs related to airport operations, aircraft maintenance, and piloting
Your interests and career goals can help determine which field is best for you.
Is an Aviation Degree Worth It?
Yes, an aviation degree is worth it for many students. The Bureau of Labor Statistics predicts growth for many aviation jobs. For instance, it's projected that pilot positions will grow 5% over the next ten years.
The predicted growth rate for equipment mechanics and technicians is 5% as well. While you don't need a college degree to become a pilot, a bachelor's can help qualify you to fly for a competitive airline or enter aviation management.
Universities Offering Online Bachelor's in Aviation/Aeronautics Degree Programs
Methodology: The following school list is in alphabetical order. To be included, a college or university must be regionally accredited and offer degree programs online or in a hybrid format.
Eastern New Mexico University
Eastern New Mexico University offers two different tracks for those interested in a bachelor's degree in aviation.
Options are a Bachelor of Arts in Aviation Science or a Bachelor of Science in Aviation Science. Both degree programs require students to complete 120 credits. Applicants must apply online with official transcripts and SAT or ACT scores.
Eastern New Mexico University is accredited by the Higher Learning Commission.
Embry-Riddle Aeronautical University
Embry-Riddle Aeronautical University offers a number of different bachelor's degrees related to aviation.
Some options are a BS in Aeronautics, a BS in Aviation Business Administration, and a BS in Aviation Maintenance. Each program requires students to complete 120 credit hours to graduate. Applicants must submit official transcripts with their applications.
Embry-Riddle Aeronautical University is accredited by the Southern Association of Colleges and Schools Commission on Colleges.
Florida Institute of Technology offers a Bachelor of Arts in Aviation Management. The online program offers a Florida Tech exam for students with aviation experience to earn credits for their knowledge and experiences. Each course is 8 weeks long. Applicants must submit an online application with high school transcripts.
Florida Institute of Technology is accredited by the Southern Association of Colleges and Schools Commission on Colleges.
Hampton University offers a Bachelor of Science in Aviation Management. To graduate, students must complete 122 credit hours. Those interested in the program must submit an online application with a high school diploma or equivalent and transcripts from any post-secondary institutions attended.
Hampton University is accredited by the Southern Association of Colleges and Schools Commission on Colleges.
LeTourneau University offers an online Bachelor of Science in Aviation Management. Students may choose to add one of four concentrations, including Aircraft Dispatch and Maintenance, to their degree. Applicants must apply online and submit transcripts from high school and any post-secondary institutions attended.
LeTourneau University is accredited by the Southern Association of Colleges and Schools Commission on Colleges.
Liberty University offers a Bachelor of Science in Aviation. Each online class is 8 weeks long. To graduate, students must obtain 120 credit hours. The program typically takes 3.5 years to complete. Applicants must submit an online application with transcripts from any schools attended.
Liberty University is accredited by the Southern Association of Colleges and Schools Commission on Colleges.
Lynn University offers an online program for a Bachelor's in Aviation Management.
The program can typically be completed in 4 years and allows students who are interested to gain onsite flight training. The program has 3 different start dates throughout the year. Applicants need to submit an online application with a personal statement and official transcripts.
Lynn University is accredited by the Southern Association of Colleges and Schools Commission on Colleges.
Middle Georgia State University offers a Bachelor of Science in Aviation Science and Management. Each course is 8 weeks long, and students need to complete 120 credits to graduate. Applicants must have a high school GPA of 2.0 or higher and must have completed 17 required high school curriculum units.
Middle Georgia State University is accredited by the Southern Association of Colleges and Schools Commission on Colleges.
The University of Nebraska—Omaha offers an online Aviation Studies option in their Bachelor of Multidisciplinary Studies program.
Students must complete 120 credit hours, with 30 dedicated to aviation. Applicants must have a GPA of 3.0 or higher and a minimum ACT score of 20 or the SAT equivalent and must be in the upper half of their graduating high school class.
UNO is accredited by the Higher Learning Commission.
Utah Valley University offers multiple bachelor's degrees related to aviation. Options include a Bachelor of Science in Aviation Management and a Bachelor of Science in Aerospace Technology Management.
Students must complete 120-123 credit hours to graduate. Admission requirements vary from program to program, but all require students to have a high school GPA of 2.5 or higher.
Utah Valley University is accredited by the Northwest Commission on Colleges and Universities.
Getting Your Aviation Degree Online
Whether you want to be a pilot, an aircraft mechanic, or an airport manager, you can benefit from studying aviation at the college level.
Having a college degree in this field can help prepare you for industry certifications and provide advanced training for career advancement.
Through online classes, you can learn more about transportation safety, airline marketing, flight principles, and other important aviation concepts. If you've already completed in-person flight or mechanic training, online coursework can round out your studies.
The sooner you find an accredited online aviation program that matches your career goals, the sooner you can start working toward a college degree in aviation.
I hope you find this article helpful.