Christian psychology degree programs can help you acquire foundational counseling and therapy skills informed by Christian practices. This degree can offer a practical way to pursue meaningful, service-oriented careers that can also be spiritually fulfilling.
A degree in Christian psychology could be a particularly good fit if you're currently working or aspiring to work in ministry.
Those with plans to work in secular settings might also find that training in Christian psychology offers some unique learning perspectives and rewards.
Online Christian Psychology Degree Programs
Typically, a Christian psychology degree program allows you to learn foundational principles and concepts in psychology guided by faith-based moral and spiritual perspectives.
This kind of training can help you prepare to use your skills in both secular and Christian settings. Many students who pursue a degree in Christian psychology are interested in developing effective counseling skills.
Course offerings will vary by school, but you'll typically find opportunities to learn about a range of specialized counseling skills that integrate biblical teachings and perspectives. Course topics will often include:
Marriage and family counseling
Pastoral counseling
Life Coaching
Addiction and recovery counseling
Crisis or grief counseling
Generally, this kind of program can be a way to deepen your own faith while exploring intersecting topics in psychology. At the same time, you can develop a range of practical professional skills, too, most often related to counseling.
Christian Psychology Careers & Salaries
Many Christian psychology majors go on to pursue additional education to become either a Christian therapist or a secular therapist with Christian knowledge, perspectives, or insights. Others may go on to pursue roles as pastors or counselors in church ministry.
Students who are service- and leadership-oriented might discover they want to pursue related careers. Related work can include managing a community nonprofit, working in education as a teacher, counselor, or school administrator, or working in specialized treatment facilities.
According to the Bureau of Labor Statistics, there are many service-oriented careers that pay attractive salaries.
| | |
| --- | --- |
| Careers | Annual Median Salaries |
| Psychologists | $82,180 |
| Social and Community Service Managers | $69,600 |
| Training and Development Specialists | $62,700 |
| School and Career Counselors and Advisors | $58,120 |
| Probation Officers and Correctional Treatment Specialists | $55,690 |
| Social Workers | $51,760 |
| Marriage and Family Therapists | $51,340 |
| Substance Abuse, Behavioral Disorder, and Mental Health Counselors, Hospitals | $50,460 |
| Substance Abuse, Behavioral Disorder, and Mental Health Counselors, Individual and Family Services | $47,580 |
| Rehabilitation Counselors | $37,530 |
A number of these roles—such as marriage and family therapist and school counselor—require a master's degree and professional licensing. Becoming a licensed psychologist typically requires a doctorate.
With a passion for helping others, a bachelor's in Christian psychology, and the guidance of time-tested, faith-based principles and perspectives, you could prepare for a range of challenging and rewarding career paths.
Christian Psychology Curriculum & Courses
If you're wondering what a Christian psychology curriculum might involve, it's beneficial to compare schools and programs since offerings will vary. Here's a sample of the kinds of courses that you're likely to encounter:
Psychology and Christianity: You'll learn about Christian perspectives on psychology and about the moral and spiritual dimensions of the human experience.
Developmental Psychology and Spirituality: This course provides a solid foundation in the cognitive, emotional, and spiritual experiences that typically relate to distinct growth stages.
Christian Counseling: You'll learn about effective counseling methods, the development of counseling plans and goals, and core principles and methods of Christian approaches to counseling.
Abnormal Psychology: You'll learn about a range of disorders, assessment methods, and approaches to therapeutic counseling. You'll also explore links between certain disorders and an individual's moral and spiritual condition.
Crisis Counseling and Pastoral Care: This course provides practical training and approaches for responding to individuals or families dealing with death, divorce, or serious or terminal illness. It examines the psychology of emotional loss, shock, and grief.
Marriage and Family Counseling: You'll develop a deeper understanding of the dynamics of family life and relationships, and you'll learn methods for helping families better understand interdependence, intimacy, and conflict in marriage and family settings.
Christian Counseling and Children: This course explores child and adolescent counseling. It also covers parenting topics, challenges, and approaches, with an emphasis on personality development and the moral, spiritual, cognitive, and emotional growth of children and adolescents.
Social Psychology: This course examines how human behaviors and beliefs are impacted by group norms and internalized social norms.
Clinical Psychology: You'll learn how psychologists manage patient care in clinical settings, including treatment methods, ethical guidelines, and the coordination of overlapping care plans and diagnoses.
Research Design: In addition to an overview of the scientific method, you'll analyze a range of seminal research investigations in the field of psychology, and you'll get supervised practice developing your own research design.
Course designs and concentrations will vary by program, but they'll typically cover fundamental psychology theories and concepts as well as effective and practical counseling methods. Christian psychology will also include faith-based principles and insights to supplement, enrich, and reorient the core tenets of experimental psychology.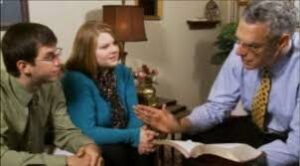 Admissions Requirements
Admissions for an online bachelor will vary by program. Common requirements include:
SAT or ACT scores (only some schools require them)
High school diploma
Satisfactory GPA
Personal statement
As you explore schools and programs, comparing admissions requirements may help you pick the program that best fits your needs and goals.
Accreditation
By applying to schools with regional accreditation, you're helping to ensure that your prospective school and curriculum meet acceptable academic standards.
Getting your degree at an accredited school can increase the odds that your course credits will be eligible to transfer if needed. Accreditation can also be a precondition for some forms of financial aid. Regional accreditation may be required if you apply for professional licensing in your field as well.
The Council for Higher Education Accreditation (CHEA) provides information about accreditation and finding accredited schools.
Financial Aid and Scholarships
Many people need to secure financial assistance in order to pursue a degree. Aid can come in many forms, including need-based scholarships, federal and state aid, or student loans. It can help you keep moving forward with your educational goals if you don't have the resources to cover all the upfront costs.
Terms of financial aid plans can vary, so it's strategic to review any offers. You can start the process by filling out the Free Application for Federal Student Aid (FAFSA). The FAFSA helps determine your eligibility for various need-based financial aid options.
What Can You Do with a Christian Psychology Degree?
A Christian psychology degree could enable you to deepen your faith perspectives while enhancing your understanding of human psychology and social psychology.
This kind of degree could benefit both experienced or aspiring faith leaders as well as those planning to work in more secular settings. Many professionals use a Christian psychology degree to pursue careers in counseling roles.
Careers in counseling include marriage and family therapists, rehabilitation or crisis counselor, substance abuse counselor, behavioral disorder counselor, mental health counselors, training and development specialist, and school counselor.
Some roles require additional education and training. For instance, marriage and family therapists are generally required to hold a master's degree and an active state license. According to the Bureau of Labor Statistics, a number of these careers are also projected to have above-average job growth over the next ten years.
What Does a Christian Psychologist Do?
Religious psychologists may utilize their skills and knowledge in many of the same ways that secular psychologists do. They can help counsel people who are struggling with life difficulties or individual behaviors that restrict their well-being, achievements, and relationships.
Christian psychologists may work in secular settings, including clinical settings, rehabilitation facilities, and correctional centers. They may also work in church settings or in public or faith-based schools.
A faith-oriented psychologist typically applies biblical teachings, perspectives, and convictions to their understanding of human experience. A Christian approach to psychology might also involve unique treatment concepts, goals, and methods.
Becoming a licensed, clinical psychologist generally requires a doctorate and professional licensing. A Christian psychology bachelor's degree can help build a foundation for counseling positions or for further study.
How Long Does It Take to Get a Degree in Christian Psychology Online?
Bachelor's degree programs typically take 4 years to complete with full-time study and a traditional semester schedule. When you compare online programs, you may find some schools that offer more accelerated timelines that could help you finish in less time. This is the case whether it's an accelerated Christian psychology degree or an accelerated theology degree online.
If you're currently employed or have family commitments, getting a psychology degree online with remote and asynchronous learning options can offer flexible, part-time study options. It may take longer to complete your degree with part-time enrollment.
What's the Difference Between Earning a Psychology Degree From a Christian College vs. a Regular College?
You can find similar courses and teaching methods at both a regular college and a Christian college, but there can be significant differences, too.
Regular Psychology Degree
Christian Psychology Degree

Includes studies based on historical developments in psychological theory, research, and experimentation
Will not validate spiritual or biblical perspectives or teachings
May still include academic references to faith-based concepts and influences
Will not typically endorse faith-based views or religious programming

Includes the study of regular psychological concepts
Will also validate faith-based spiritual and moral perspectives
May frame all psychological teaching with faith-based definitions of psychology
Will openly foster critical discussion rooted in faith-based views and beliefs
You'll learn many similar concepts in both Christian and regular psychology programs. At a Christian college, though, your classes might integrate psychology concepts and inquiry with faith-based moral and spiritual beliefs.
Is a Christian Psychology Degree Worth It?
Yes, a Christian psychology degree is worth it for many students. Learning about psychology in a Christian psychology program involves some unique moral and spiritual perspectives you might not get elsewhere. This could enrich your approach to the many kinds of counseling or community service careers you might pursue down the road.
The Bureau of Labor Statistics projects 12% job growth for community and social service occupations over the next ten years. In addition, substance abuse, behavioral disorder, and mental health counselors are expected to experience 25% growth over the same period.
A Christian psychology degree can be a strategic choice for many professionals seeking fulfilling work in a ministry or professional setting.
Universities Offering Online Bachelors in Christian Psychology Degree Programs
Methodology: The following school list is in alphabetical order. To be included, a college or university must be regionally accredited and offer degree programs online or in a hybrid format.
Biola University offers a Bachelor of Science in Applied Psychology. The program offers online classes that are 7 weeks long. To graduate, students must complete 120 credit hours. Those interested in the program must have a high school GPA of 3.0 or more than 15 transferable college credits with a GPA of 2.5.
Biola University is accredited by the WASC Senior College and University Commission.
Central Christian College of Kansas offers an online Bachelor of Science in Christian Psychology. Students are expected to complete one 6-week course at a time. Those interested in the program may apply online or through an appointment with an enrollment advisor. No transcripts or application fees are required.
Central Christian College of Kansas is accredited by the Higher Learning Commission.
Cornerstone University offers a Bachelor of Science in Psychology. The program is designed for adult learners and requires 46 credit hours to graduate. To be eligible for the program, applicants must submit official college or military transcripts from a program in which they've earned at least 56 transferable credits.
Cornerstone University is accredited by The Higher Learning Commission.
Crown College offers both a Bachelor of Science in Psychology and a Bachelor of Science in Christian Counseling.
The courses in both programs can be taken online and are 8 weeks long. The programs are designed to allow students to add a minor to their degree. Crown College offers rolling admission, allowing applicants to apply at any point.
Crown College is accredited by the Higher Learning Commission.
Faulkner University offers an online Bachelor of Science in Counseling Psychology. To graduate, students must complete 121 credit hours, including 18 credit hours dedicated to Christian Literacy. Those interested in the program must have a high school diploma or equivalent and ACT or SAT scores.
Faulkner University is accredited by the Southern Association of Colleges and Schools Commission on Colleges.
Grace College offers a Bachelor of Science in Psychology. This 60-credit hour program is designed to allow students to complete their psychology bachelor's degrees online. To be eligible for the program, applicants must have 60 transferable credits from another institution with an average grade of C- or higher.
Grace College and Theological Seminary are accredited by the Higher Learning Commission.
Greenville University offers an online Bachelor of Science in Psychology. To graduate, students must complete 120 credit hours. A maximum of 90 qualifying credits may be transferred into the program. Those interested in the program must have a GPA of 2.0 or higher. Official transcripts from all previously attended schools must be submitted.
Greenville University is accredited by the Higher Learning Commission.
Huntington University offers a Bachelor's in Psychology. The program is designed for those interested in finishing their psychology degree. Classes are 5 weeks long and offered online. Those interested in the program must apply online and submit official transcripts from their high school and any colleges or universities attended.
Huntington University is accredited by the Higher Learning Commission.
Mid-America Christian University offers a Bachelor of Science in Psychology. The program is offered completely online and allows students to complete internships to gain work experience. Applicants may apply online through the school's website. The enrollment team may be contacted by phone or email.
MACU is accredited by the Higher Learning Commission.
San Diego Christian College offers a Bachelor of Arts in Psychology. Students may choose to add a concentration in Biblical Counseling or Organizational Psychology. A minor in Biblical Worldview is built into the program. Applicants must have a high school GPA of 2.75 or higher and appropriate ACT or SAT scores.
San Diego Christian College is accredited by the Senior Commission of the Western Association of Schools and Colleges.
Getting Your Christian Psychology Degree Online
Similar to earning a Christian counseling degree online, getting a Christian psychology degree online can allow you to explore the human psyche while preparing for compassion-focused careers in caring services or in faith-based ministries.
Online learning options typically offer more flexible schedules so that you can better balance your studies with additional work or life responsibilities.
With many online options to choose from, getting started may be easier than you think. Comparing accredited schools and finding programs that align with your goals and preferences is a strategic first step. Why not get started today?
I hope you find this article helpful.