The Fully Funded Eastern Mediterranean University Scholarship in Turkey is open to all internationals worldwide. This scholarship is offered for master's and PhD studies.
Quality education is being offered by Eastern Mediterranean University through 108 undergraduate and school programs and 96 postgraduate and doctoral degree programs provided by 12 faculties, 5 schools, and Foreign Languages and English Preparatory School. While studying at this university, candidates can get a chance to learn a second foreign language, exchange student programs, and rich social sports. Students are being prepared for their international careers.
Fully Funded Eastern Mediterranean University Scholarship In Turkey 2024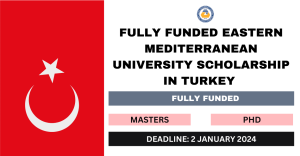 DEADLINE
2 January 2024
PROVIDER
Eastern Mediterranean University
STUDY LEVEL
Masters, PhD, Postgraduate
SUBJECTS
Subjects offered by the university
FUNDING TYPE
Partial Scholarships, Fully Funded Scholarships
Scholarship Eligibility
The eligibility criteria for the Fully Funded Eastern Mediterranean University Scholarship in Turkey are stated below:
1. Required Language: English
2. Eligible Countries: All world countries
3. English Language Requirement: For master's programs that are taught in English and all Ph.D. programs (in English and Turkish), evidence of English language ability is required. If you do not have a valid English language qualification that meets the EMU requirements your level will be assessed by examination at EMU. Based on this assessment, one of the following will apply:
a) You will study English courses together with graduate program courses.
b) You will study intensive English courses first (with no graduate program courses) before you start your graduate program.
c) You will be exempt from the English Language Support Program and begin your postgraduate study directly.
READ ALSO: MOUNTAIN TOP UNIVERSITY POST-UTME FORM
Scholarship Benefits
The benefits of the Fully Funded Eastern Mediterranean University Scholarship in Turkey are:
1. Each Ph.D. program can grant either one 100% or two 50% tuition fee scholarships to new international students and Turkish nationals (separately) who hold a minimum Bachelor's Degree CGPA of 3.00 out of 4.00 or equivalent.
2. Each master's program can grant one 100% scholarship and two 50% scholarships to Turkish nationals who will enroll in the program for the first time with a minimum Bachelor's Degree CGPA of 3.00 out of 4.00 or equivalent.
Others
How to Apply
Please follow the below steps to win the Eastern Mediterranean University Scholarship:
(1) Fill the application form.
(2) A list of documents needed for application is given below:
Attested photocopies of diplomas received from a university or equivalent institutions (i.e. 4 years of study bachelor's degree). English translations of these documents are necessary if they are in any language other than English.
An official transcript of all university-level (Bachelor / Master) courses taken. A comparative mark/grade table if the CGPA on the transcript is not out of 4.00.
Three letters of reference (not required for EMU graduates).
Give details of any application(s) for a grant/scholarship that you have made (add documents).
Documentation of scores received for English and academic proficiency exams/tests. This is not valid for the programs in which the medium of instruction is Turkish. Native speakers should indicate their place of birth and citizenship. All others should provide documents of any one of the below given English Proficiency Tests.
Give details of any grants/scholarships that you have already been awarded (valid for your studentship at EMU) (add documents).
A photocopy of your passport or I.D. card.
Statement of Purpose / Intention (Please submit on a separate sheet: Your purpose in applying to the program chosen, explaining your motivation as well as the areas of specialization which would be of interest to you within the discipline).
Program-specific documents: Architecture (Ph.D. & Master): Portfolio.
A passport-sized (approx. 6 cm x 5 cm) photograph.
Proposal (for PhD program applications).
I hope you find this article helpful.