A Guide To Eastern Polytechnic's HND Admission Process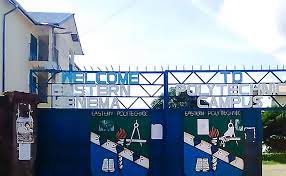 Eastern Polytechnic (EASTPOLY) is approved by the Federal Ministry of Education and Accredited by the National Board For Technical Education) (In Partnership with ESTAM University, Cotonou, Benin Republic).
Eastern Polytechnic has opened its doors to potential students seeking to further their education with Higher National Diploma (HND) programs. The institution has officially announced the commencement of its 2023/2024 HND admission process. With a plethora of courses available and a conducive academic environment, Eastern Polytechnic offers students an excellent platform to enhance their learning journey.
| | |
| --- | --- |
| 📣 Admission Alert | Eastern Polytechnic's HND admission form for 2023/2024 is now on sale. |
| 🎯 Candidate Qualification | Suitable candidates are invited to apply. |
| 🏢 Available Courses | Courses include Accountancy, Computer Science, Public Administration, and more. |
| 💻 Application Process | Apply online with a screening fee of N2,500 at the provided link. |
| 📍 Physical Location | For more information, visit the Port Harcourt Take-Off Campus. |
| 📑 Required Documents | Passport photos, birth certificate, L.G.A. identification, etc. |
| ⏰ Submission | Completed forms and supporting documents are to be returned to the institution. |
| 📚 Academic Session | Admission is ongoing for the 2023/2024 academic session. |
This blog post delves deep into the process of obtaining the HND admission form, the variety of courses available, and the essential documentation required.
An Array of HND Courses at Eastern Polytechnic
Eastern Polytechnic offers a diverse range of HND courses, providing prospective students with numerous options to suit their career ambitions. These courses include:
Accountancy
Computer Science
Public Administration
Mass Communication
Electrical/Electronics Engineering Technology
Computer Engineering Technology
Business Administration & Management
Science Laboratory Technology
Public Health
Mechanical Engineering
Office Technology & Management
How to Apply for Eastern Polytechnic's HND Admission
Eager candidates seeking to apply for Eastern Polytechnic's HND courses can follow the procedure detailed below:
A non-refundable screening fee of N2,500 is required.
Interested candidates should visit the online admission form portal at https://easternpolytechnic.org/online-admission-form/.
Follow the instructions on the portal, fill out all necessary information, and submit the form.
For any inquiries or further information, candidates can visit Eastern Polytechnic's Port Harcourt Take-Off Campus at:
#34 Ogboroama Street,
Off #15 Igwuruta Road, Rumuokwurusi,
P.O. Box 12667, Port Harcourt,
Rivers State, Nigeria.
Documentation Needed for Completed Forms
Upon completion and return of the application forms, candidates are required to bring the following items:
Four passport photographs.
Age Declaration/Birth Certificate.
Identification Letter from your Local Government Area or State of Origin.
Photocopies of relevant academic certificates such as SSCE, GCE, NECO, NABTEB, etc.
In summary, Eastern Polytechnic provides an exciting opportunity for prospective students aiming for an HND qualification. With a wide variety of programs and a straightforward application process, the institution sets a favorable stage for academic advancement. Aspirants are encouraged to apply, ensuring they have all the requisite documentation to hand. Always remember to rely on official channels for accurate information to avoid being misled. Here's to your successful application and an enriching academic journey at Eastern Polytechnic.
I hope you find this article helpful.