Take the next step in your career by joining ELICOS Pathways Scholarships at Edith Cowan University for the academic session 2023/2024. The educational program aims to encourage international candidates who want to pursue an undergraduate or master's degree at Edith Cowan University.
ELICOS Pathways Scholarships 2023/2024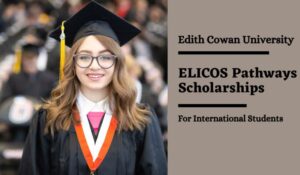 Edith Cowan University is a public university located in Australia, and it is ranked in the top 175 universities in the world for Engineering and Technology. The primary mission and goal of ECU is to improve people's lives and contribute to the betterment of society via education and research. Edith Cowan University is focused on teaching and research that is driven by engagement and partnerships with people in the many areas it was set up to serve. It is based on the ideals of honesty, respect, rational inquiry, and doing the best you can. It has changed over the years into a modern, lively university that has done some pretty amazing things.
Application Deadline: January 10, 2024
Brief Description
University or Organization: Edith Cowan University
Department: NA
Course Level: Undergraduate  or master's degree program
Award: Cost of five weeks of ELICOS for students
Access Mode: Online
Numbers of Awards: NA
Nationality: International
Scholarship can be taken in Australia
Eligibility 
Eligible Countries: Be a citizen of one of the following countries:

Latin America
Europe
China
Hong Kong
Mongolia
Japan
South Korea
Taiwan
Indonesia
Malaysia
Mauritius
Vietnam
Cambodia
Laos
Thailand

Eligible Course or Subjects: Scholarships are awarded to study the undergraduate degree program in any of the subjects offered by the university.
Eligibility Criteria: To be eligible for the scholarship applicant must meet the following eligibility criteria:
Be an international student (not an Australian Citizen, Australian Permanent Resident, or New Zealand Citizen);
Study onshore at ECU Joondalup, ECU Mount Lawley or ECU South West (Bunbury) Campus;
Between 2023 and 2024, be issued an offer to study an undergraduate or master's degree;
Have not been issued a CoE (Confirmation of Enrolment) relating to any ECU course before 01 January 2023;
Meet ECU's academic entry requirements for the course and commence study onshore at ECU, Western Australia in Semester Two, 2023, November 2023, 2024 (Summer School), or in Semester One or Two, 2024.
READ ALSO: MARSHALL SCHOLARSHIPS FOR AMERICANS IN THE UK 2023/2024
How to Apply
How to apply: To apply for the scholarship, applicants must be admitted to take admission in an undergraduate or postgraduate degree program at Edith Cowan University via the ECU Online Application Portal. After taking admission applicants can apply through a participating ELICOS college.
Supporting Documents: Applicant must submit a 300-word research abstract and a 2-page research proposal, information about work, academic history and qualifications, and references from any publications or conference papers.
Admission Requirements: To apply for the scholarship students must have an IELTS score of at least 6.0 with no band less than 5.5; or TOEFL (iBT) 70, with no score less than 17; or PTE-A 57 with no communicative skill less than 50; or OET with a minimum C in all components. For more information about admission requirements, students will check out the admission page through this given link: https://www.edithcowancollege.edu.au/admissions-requirements.
Language Requirement: Applicants whose first language is not English are usually required to provide evidence of proficiency in English at the higher level required by the University.
Benefits
This Scholarship will cover the cost of five weeks of ELICOS for students who packaged their ELICOS with an ECU bachelor's or master's degree.
I hope you find this article helpful.