Federal Polytechnic Bali, located in Taraba State, has officially begun the sale of application forms for admission into its prestigious Higher National Diploma (HND) programmes for the 2023/2024 academic session. Discover below the offered courses, requisite qualifications, and the detailed application process for acquiring a Federal Poly Bali HND form.
Federal Poly Bali HND Admission Form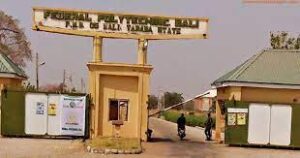 | | |
| --- | --- |
| 🎓 Institution | Federal Polytechnic Bali, Taraba State |
| 🗓️ Session | 2023/2024 |
| 📘 Programmes | HND in various fields |
| 📜 Requirements | National Diploma, 5 credits including English Language and Mathematics |
| 🖊️ Application | Via online portal, N3500 screening fee + N1000 ICT charges |
| 🌐 Portal | https://fedpobali.net/ |
| 🎒 Courses | Accountancy, Computer Science, etc. |
| 🚀 How to Apply | Sign up, generate RRR, pay fees, complete online application |
Invitation to Apply
Qualified candidates are warmly invited to apply for admission into the Federal Polytechnic Bali, Taraba State, Higher National Diploma (HND) Programmes for the forthcoming academic session of 2023/2024.
Admission Prerequisites
Prospective candidates must hold a recognised National Diploma and have obtained a minimum of 5 credits in pertinent subjects, which must include English Language and Mathematics, to be considered eligible for the HND programmes.
READ ALSO: NAFCONS POST-UTME FORM
Available HND Courses at Federal Polytechnic Bali
HND in Accountancy
HND in Computer Science
HND in Crop Production Technology
HND in Office Technology and Management
HND in Science Laboratory Technology (SLT) with Biochemistry Option
HND in Science Laboratory Technology (SLT) with Chemistry Option
Application Procedure for Federal Polytechnic Bali HND Form
All interested candidates are instructed to register for a new account with the Federal Polytechnic Bali portal and generate their Remita Retrieval Reference (RRR). Subsequently, a payment of Three Thousand Five Hundred Naira (N3500) as a screening fee and One Thousand Naira (N1000) as ICT charges is to be made. This can be done using any available method, either through an ATM card or any bank nationwide. After completing the payment, applicants are required to log in to their portal and finalise their online application.
In summary, the Federal Polytechnic Bali offers an array of specialised HND programmes, enabling aspiring students to advance their academic and professional pursuits. This is an invaluable opportunity for those looking to enrich their knowledge and skills in a reputable institution known for its commitment to educational excellence. Aspiring candidates are urged to adhere to the outlined procedures and qualifications to secure their placement in this esteemed polytechnic for the 2023/2024 academic session.
Applicants are encouraged to complete their applications promptly to avoid any potential inconveniences. The application process is designed to be user-friendly, and comprehensive guidelines are provided on the official website to assist prospective students throughout their application journey.
I hope you find this article helpful.