Are you among those who applied for a National Diploma (ND) full-time programme at the Federal Polytechnic, Bali, you're likely on the edge of your seat waiting for news. The 2023/2024 academic session is on the horizon, and the first step to launching this new experience is finding your name on the admission list. Let's dive into how you can check your status and what steps to take once you discover you're one of the chosen few.
Federal Polytechnic, Bali ND Admission List 2023/2024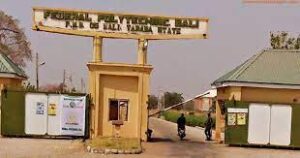 Checking Your Admission Status
The management at Federal Polytechnic, Bali has streamlined the process for you to check if you've been selected for the coming academic year.
On-Campus Notice Board: Your First Port of Call
Make your way to the NOTICE BOARD at the school premises. This is the starting point for many students. Here, the names of prospective students granted provisional admission are posted for all to see.
Online Verification: The Digital Gateway
However, you're not limited to an in-person check. The world of digital convenience allows you to check your status online. Here's a step-by-step guide:
Step 1: Access the JAMB Portal
Start by navigating to the JAMB admission status-checking portal.
Step 2: Log In
Enter your JAMB profile details, such as your username and password.
Step 3: Check Admission Status
Locate the Check Admission Status tab and provide your exam year and registration number in the required fields.
Step 4: Final Step
Click on Check Admission Status to unveil your Federal Polytechnic, Bali admission status.
RECOMMENDED: ABSU ADMISSION LIST 2023/2024
If Your Name is Not Yet Out
If you don't see your name just yet, don't lose hope. Admissions are ongoing, and it's essential to keep a regular check on the JAMB site for updates on your status.
Next Steps After Admission
Accept or Reject Your Offer
For those who've made it, the next immediate action is to log in to your JAMB Central Admission Processing System (CAPS) and either ACCEPT or REJECT your admission. This is a crucial step, as it formally secures your spot in the programme.
Print Your JAMB Admission Letter
Once you've accepted, remember to print out your JAMB admission letter, an essential document for your enrolment process.
Course Correction
Sometimes, there might be a twist in the road; if you're offered a course different from your initial choice, the JAMB portal also allows you to apply for a change of course.
I hope you find this article helpful.