Federal University Dutse (FUD) is a Federal Government owned University established in 2011. The university was located in Dutse the capital of Jigawa State Nigeria. Federal University Dutse offers various undergraduate and postgraduate programs. The university held its first convocation ceremony on January 16, 2016.
We have put together a complete list of all the postgraduate Diplomas (PGD), Masters's degrees (M.Sc, MPH, MEng, MBA, etc), and Doctorate (Ph.D.) courses offered presently in the Federal University Dutse (FUD) to enable prospective candidates to have knowledge of the various accredited Postgraduate Programmes available in this University.
Federal University Dutse has been officially accredited and/or recognized by the National Universities Commission (NUC), Nigeria.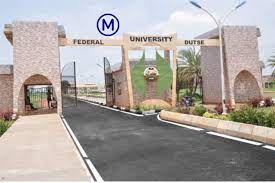 | | |
| --- | --- |
| 🎓 Institution | Federal University Dutse (FUD) |
| 📜 Admission Year | 2022/2023 academic session |
| 🎓 Ph.D. Programs | Agric Economics, Agric Extension, Agribusiness, Microbiology, Botany, Zoology, Physics, etc. |
| 🎓 Masters Programmes | M.Sc. in Agric Economics, Fisheries & Aquaculture, Zoology, Criminology & Security Studies, MA in English Language, etc. |
| 📚 Professional Masters | Masters in Public Policy & Administration, Masters in Development Studies |
| 📄 PGD Programmes | PGD in Microbiology, Applied Mathematics, Agribusiness, Public Policy and Administration, Criminology, etc. |
| 🎉 Announcement | Management of FUD has announced postgraduate programs for 2022/2023 admission |
Recommended: SINGAPORE INTERNATIONAL GRADUATE AWARD (SINGA)
Available Postgraduate Courses at FUD
Doctorate (Ph.D) Programmes:
Agric Economics
Agric Extension
Agribusiness
Microbiology
Botany
Zoology
Physics
YOU MAY ALSO LIKE: NEF Africa Energy Innovation Challenge 
Masters (M.Sc. & MA) Programmes:
Agric. Economics
Agric Extension
Agribusiness
Fisheries & Aquaculture
Crop Science
Animal Science
Zoology
Botany
Microbiology
Applied Mathematics
Chemistry
Physics
Computer Science
Economics
Criminology and Security Studies
Political Science
Development Economics
English Language
Professional Masters Programmes:
Public Policy & Administration
Development Studies
Postgraduate Diploma (PGD) Programmes:
Microbiology
Applied Mathematics
Agribusiness
Public Policy and Administration
Development Studies
Development Economics
Criminology & Security Studies
Prospective students are encouraged to consider these programs, assess their passions and career aspirations, and select the course that best aligns with their goals.
For those keen to embark on this academic journey at FUD, this announcement marks the commencement of a transformative phase in their careers. The Federal University Dutse's reputation for rigorous programs and distinguished faculty ensures that every graduate is equipped with the knowledge and skills needed to make significant contributions to their chosen field.
I hope you find this article helpful.