The Fully Funded Canon Foundation Fellowship bestows a maximum of 15 Fellowships to exceptionally qualified researchers from Europe and Japan every year. European awardees are expected to conduct research in Japan, while Japanese recipients are anticipated to carry out their research in Europe.
Canon Foundation Fellowships span from a minimum of three months to a maximum of one year, encompassing all fields of research without any limitations. Applicants need not be currently affiliated or employed at the time of application.
European Canon Fellows have the liberty to select their host institutes and hosts in Japan, and the same autonomy is granted to Japanese Canon Fellows who choose to research in Europe.
Research Fellowships can be sought once there's a mutual agreement on collaboration and a research plan between the visiting researcher and the potential host institution.
READ ALSO: UNILAG MASTERS IN URBAN MANAGEMENT PROGRAM
Fully Funded Canon Foundation Fellowship 2024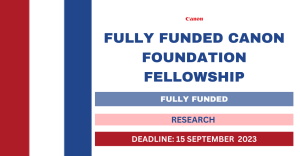 DEADLINE
15 September 2023
STUDY LEVEL
Fellowship, Research Program
SUBJECTS
Subjects offered by the university
FUNDING TYPE
Fully Funded Scholarships
-Scholarship Eligibility
The eligibility criteria for the Fully Funded Canon Foundation Fellowship are stated below:
1. Individuals from all over Europe, including the UK, Israel, Turkey, Balkan, and Baltic countries, are eligible to submit applications.
2. Applicants are required to have achieved at least a Master's or Ph.D. degree in the decade leading up to their application to the Canon Foundation.
3.  Candidates with qualifications obtained more than ten years ago can also be considered if they furnish additional supporting details in their application.
It's important to be aware that applicants embarking on their first research trip to Europe or Japan are given preference in the selection process.
Scholarship Benefits
The Fully Funded Canon Foundation Fellowship will provide up to up to 30,000 Euros per year and pro-rata for different periods. The Research Fellow can decide what costs the grant can be used for. Examples are living costs, travel, insurance, research costs, books, etc. There are no restrictions.
I hope you find this article helpful.