The Fully Funded Miami University Fellowship in the USA is available for international students who aspire to pursue their undergraduate degrees in the USA. Miami University is one of the best universities in the USA, famous for its commitment to undergraduate teaching and delivering immersive, transformative, and robust learning experiences. It is an excellent opportunity for bright scholars and leaders of the twenty-first century to gain an exceptional college experience.
Fully Funded Miami University Fellowship In USA 2024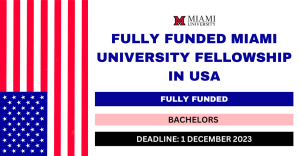 DEADLINE
1 December 2023
STUDY IN
United States Of America
PROVIDER
Miami University
STUDY LEVEL
Fellowship, Bachelor, Undergraduate
SUBJECTS
Subjects offered by the university
FUNDING TYPE
Fully Funded Scholarships
Scholarship Eligibility
The eligibility criteria for the Fully Funded Miami University Fellowship in the USA are stated below:
1. International students from all countries can apply.
2. US citizens can also apply.
3. Applicants must be first-year bachelor's program applicants.
4. Furthermore, applicants must possess a strong academic history.
5. Students must have leadership potential.
6. They must apply through the common application first and then for the Honors program.
7. Moreover, students must meet all the requirements and criteria of the selected course.
8. Applicants must maintain a 3.50 CGPA each year to continue the scholarship.
Scholarship Benefits
The benefits of the Fully Funded Miami University Fellowship in the USA are:
1. This fellowship is fully funded.
2. A 4-year long scholarship that will cover tuition fees for the undergraduate program.
3. In addition, students will get accommodation and meals during the fellowship tenure.
4. Tailored programming for Presidential fellows specifically.
5. An academic enrichment stipend of $5,000 (one-time).
6. Opportunity to connect and learn from the top universities and experts in the USA.
7. The scholars will get an opportunity to study in the USA for free.
8. Meet like-minded people and broaden your horizons.
Others
Required Documents:
1. High-school transcripts.
2. Portfolio or concept documents.
3. ACT or SAT scores (optional).
3. One recommendation letter from an academic teacher or school counselor.
4. Confirmation of interest in the Miami Honors program.
Application Process:
To apply for the Miami University Presidential Fellowship in the USA, follow the instructions:
1. Keeping the application instructions in mind, fill out the Honors Program application. When showing interest in the Presidential Fellow Program, indicate your interest in the Prodesse Scholars Program or the Honors College of Miami University.
2. Complete the supplementary essay.
3. The selection committee will review applicants based on their overall admission application and supplementary essay.
4. Finalists will be called to visit the campus for the President's fellow program showcase, and scholarship recipients will be selected on the basis of their participation in this competition.
I hope you find this article helpful.