The Fully Funded OIST Internship in Japan is an exciting opportunity for international students who want to become a part of research in advanced labs with cutting-edge technology. This fully funded internship will be held at the Okinawa Institute of Science and Technology, hence, providing a chance to explore and learn more about Japanese culture. Worrying about expenses? Do not worry; all expenses related to the internship will be covered, including accommodation and travel. Furthermore, IELTS/TOEFL is not mandatory for this research internship program.
The duration of the OIST fall internship program will be between 2 and 6 months, usually 10 to 12 weeks. There will be no extension. Undergraduate, graduate, and postgraduate students from all over the world are eligible to apply for the international internship program in Japan. Enjoy your internship program in Japan and experience working under world-class supervisors and contributing to research.
Fully Funded OIST Internship in Japan 2024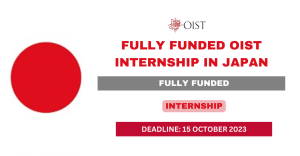 DEADLINE
15 October 2023
STUDY IN
Japan
PROVIDER
Okinawa Institute Of Science And Technology
STUDY LEVEL
Internship
SUBJECTS
Subjects offered by the university
FUNDING TYPE
Fully Funded Scholarships
Scholarship Eligibility
The eligibility criteria for the Fully Funded OIST Internship in Japan are stated below:
1. Students enrolled in an undergraduate program at universities, colleges, university colleges, and vocational schools are eligible to apply.
2. Furthermore, recent graduates of such institutions are also eligible to apply.
3. Currently, enrolled students must have the approval of their home institution. If you are currently a student, confirm with your institution.
4. Students enrolled in the undergraduate program 3rd and 4th year and those of master's 1 and 2 years are encouraged to apply.
Scholarship Benefits
The benefits of the Fully Funded OIST Internship in Japan are:
1. Interns will receive round-trip tickets.
2. OIST will also provide support to gain a visa for this internship
3. Provision of accommodation on or off campus.
4. Moreover, interns will receive a stipend of 2,400 JPY per day (taxable).
5. Opportunity to work in top international labs.
6. Explore Japanese culture.
7. Visit Japan and work with top researchers.
8. Gain valuable experience.
Others
Requirements of OIST Internship Application:
1. ID Photo
2. Curriculum Vitae
3. Statement of Purpose
4. A letter of Recommendation
I hope you find this article helpful.