The Fully Funded Open Society Fellowship in the USA is open to all internationals. is designed to support individuals pursuing innovative and unconventional approaches to fundamental open society challenges.
Open Society Foundations aim to create societies characterized by fairness, tolerance, and equality, where individuals are empowered to participate in the decision-making process and where institutions serve the common good. The foundations' endeavors span diverse areas including human rights, public health, education, and justice reform, reflecting a commitment to shaping a world where all individuals can live dignified lives free from discrimination and oppression.
Fully Funded Open Society Fellowship In USA 2024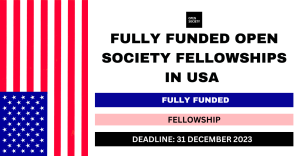 DEADLINE
31 December 2023
STUDY IN
United States Of America
PROVIDER
Open Society Foundation
SUBJECTS
Subjects offered by the university
FUNDING TYPE
Partial Scholarships, Fully Funded Scholarships
Scholarship Eligibility
The eligibility criteria for the Fully Funded Open Society Fellowship in the USA are stated below:
1. Ideal candidates are specialists characterized by their ability to transcend the narrow boundaries of their field, coupled with the determination to accomplish projects of extraordinary significance.
2. Proposals are welcomed from individuals worldwide, with the stipulation of a strong command of spoken and written English.
3. Applicants are expected to exhibit a profound comprehension of the central concepts embedded within the proposition. They should also be open to collaborating with a group of fellows representing diverse occupational, geographical, and ideological backgrounds.
4. Successful candidates should demonstrate enthusiasm for leveraging the extensive resources made available by the Open Society Foundations. Additionally, they should be ready to engage in meaningful interactions within our global network.
READ ALSO: ANCHOR UNIVERSITY POST-UTME FORM
Scholarship Benefits
The benefits of the Fully Funded Open Society Fellowship in the USA are:
1. Stipends for fellows vary, with amounts of $80,000 or $100,000, taking into account factors like work experience, seniority, and present income. This stipend isn't necessarily aligned with the applicant's current salary.
2. The program often guides fellows on effective communication of their work to wider audiences and shaping ongoing discussions. Efforts are made to integrate fellows into networks of OSF's partners, grantees, and the fellowship cohort.
3. In addition to the stipend, fellows are provided a project budget covering costs like travel, visa expenses, research assistance, conference fees, and health insurance. However, operational and programmatic expenses, such as employee wages and infrastructure, aren't covered.
4. The fellowship does not sponsor academic enrollment, whether for degrees or non-degree studies, including dissertation research.
5. Notably, the fellowship cannot fund projects involving lobbying activities due to U.S. private foundation tax regulations.
6. Application consideration is subject to funding availability within the fellowship program.
Others
Ineligibility Criteria
1. The fellowship does not fund enrollment for degree or nondegree study at academic institutions, including dissertation research.
2. This is a fellowship for individuals only; proposals from organizations or individuals acting on behalf of organizations will not be accepted.
I hope you find this article helpful as well as interesting.