The Fully Funded Tesla Internship is open to all internationals.  At Tesla, interns will perform meaningful work from day one. The Internships are open to undergraduates, graduates, and enrolled students.
Tesla Internships are exceptional because you are treated as a full‑time employee for three months. The minimum duration is 3 months and it can go for 6 to 12 months as well. At Tesla applicants from all countries can apply online.
Fully Funded Tesla Internship 2024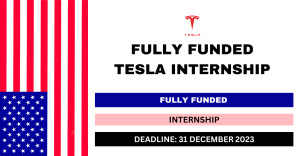 DEADLINE
31 December 2023
STUDY IN
United States Of America
STUDY LEVEL
Internship, Training
SUBJECTS
Subjects offered by the university
FUNDING TYPE
Fully Funded Scholarships
Scholarship Eligibility
The eligibility criteria for the Fully Funded Tesla Internship are stated below:
1. All internationals are eligible to apply
2. Graduate, undergraduate, and enrolled students can apply.
3. Make sure to submit an updated CV/Resume
4. Internship Location: US, Canada, Europe, and the Asia-Pacific
Scholarship Benefits
The Fully Funded Tesla Internship will provide $22.84 – $31.97/hour for US-based citizens. At Tesla, Interns receive competitive compensation, one-on-one mentorship, and comprehensive healthcare.
Internships also include transportation support, the ability to participate in employee stock purchase programs (when eligible), discounted merchandise, fitness programs, and more. Tesla provides relocation stipends for interns located 50 miles or more from their work site. They also offer housing for select interns at Gigafactory Nevada.
Others
Internship Fields
Diverse Range of Internship Roles at Tesla.
Autopilot & Robotics
Charging
Construction & Facilities
Design
Energy – Solar & Storage
Engineering & Information Technology
Environmental, Health, Safety & Security
External Relations & Employee Experience
Finance
Legal & Government Affairs
Manufacturing
Operations & Business Support
People
Sales & Customer Support
Supply Chain
Vehicle Service
Vehicle Software
I hope you find this article helpful.