The Fully Funded TGGS DAAD Scholarship in Thailand is open now. The scholarship is fully funded to study for Masters degree programs in Thailand. This scholarship aims to help South-East Asian students at the graduate level at TGGS. Students will also have the opportunity to spend the second year at RWTH Aachen University as a research stay.
Fully Funded TGGS DAAD Scholarship In Thailand 2024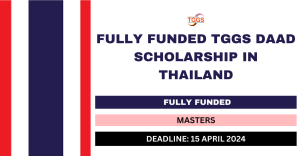 DEADLINE
15 April 2024
STUDY IN
Thailand
PROVIDER
Thai-German Graduate School Of Engineering
STUDY LEVEL
Masters, Postgraduate
SUBJECTS
Subjects offered by the university
FUNDING TYPE
Fully Funded Scholarships
Scholarship Eligibility
The eligibility criteria for the Fully Funded TGGS DAAD Scholarship in Thailand are stated below:
1. Applications are open for International Students from South-East Asia countries.
2. You must apply for the Master's degree program in the field of engineering.
3. You must have accepted a scholarship offer to attend TGGS's master's program.
Scholarship Benefits
The Fully Funded TGGS DAAD Scholarship in Thailand is awarded for the academic year starting from August 2024. According to students' performance during the first year, an extension to the second year will be awarded.
The scholarship includes a monthly rate of 437 Euros to help with living expenses in addition to covering the tuition costs (partially funded by KMUTNB).
Others
Available Study Programs
Electrical and Computer Engineering (ECE)
Chemical and Process Engineering (CPE)
Mechanical Engineering Simulation and Design (MESD)
Automotive Safety and Assessment Engineering (ASAE)
Materials and Production Engineering (MPE)
Required Documents for TGGS DAAD Scholarship
A complete application form with 1?x1? photo
Letters of recommendation (Two)
Motivation letter (One page)
Resume or curriculum vitae (CV)
Bank certification or financial statement
An official copy of the final transcript
Official copy of the English language proficiency test result
Passport (for international applicants)
For international students, the roof of application fee payment (1,000 thb).
I hope you find this article helpful.