The Partially Funded Scholarship by La Trobe University is open now for international students. The value of this scholarship for the duration of study is between a 15%, 20%, and 25% deduction on annual tuition fees.
Partially Funded Scholarship By La Trobe University In Australia 2024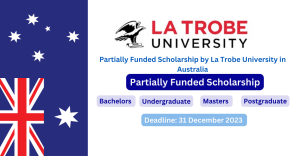 DEADLINE
31 December 2023
STUDY IN
Australia
PROVIDER
La Trobe University
STUDY LEVEL
Bachelor, Masters, Undergraduate , Postgraduate
SUBJECTS
Subjects offered by the university
FUNDING TYPE
Partial Scholarships
Scholarship Eligibility
Requirements for Partially Funded Scholarship by La Trobe University in Australia are stated below:
English is the required language.
Applicants must be International students.
To be eligible for this scholarship, you must be a citizen of a country other than New Zealand or Australia.
Applicants must meet the academic entry and English language requirements.
You must be a full-fee-paying student.
You must apply for an undergraduate or postgraduate program at all La Trobe campuses.
Applicants must have an equivalent to a weighted average mark (WAM) of at least 55 percent or higher (Australian Equivalency)
You are not currently enrolled in a La Trobe program
Scholarship Benefits
The benefits of taking the Partially Funded Scholarship by La Trobe University are:
The recipients of the La Trobe University Scholarships will receive the following benefits:
For the duration of the program, the scholarship will cover up to 25% of the student's tuition fees.
Based on total course eligibility and WAM, a percentage is given.
| WAM | Scholarship | Amount |
| --- | --- | --- |
| 55-69.9 | La Trobe University International Academic Scholarship | 15% scholarship on annual Fees |
| 70-74.9 | La Trobe University International Merit Scholarship | 20% scholarship on annual Fees |
| 75+ | La Trobe University International Excellence Scholarship | 25% scholarship on annual Fees |
*A WAM is an average mark considering how many credits each finished subject is worth. It is based on the current course grade in all subjects successfully finished by the candidate.
Others
How to Apply!
The application process is online for the La Trobe University Scholarship in Australia. To apply for the scholarship at La Trobe University, you must follow the steps below;
You can find all the eligible courses Here, and apply for the courses in which you are interested.
You should completely fill out the application form and then submit it online.

Your course application will be evaluated, and the award Team will let you know if you have been successful in receiving a La Trobe Excellence Scholarship if your selected course is eligible for the award and you meet the course entry requirements.

It is crucial that you meet any conditions in your offer (if any) and accept your offer as soon as you receive your scholarship award letter (by email) in order to keep your scholarship.
I hope you find this article helpful.