Applications are invited from suitably qualified candidates for admission into the Federal University of Technology Ikot Abasi, ND full-time and ND part-time programs for the 2023/2024 academic session. If you seek to join the ranks of Nigeria's future scientists, engineers, and technologists, this application might be for you.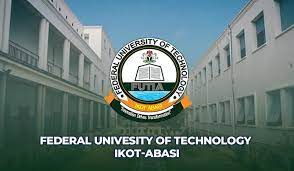 | | |
| --- | --- |
| 📆 Academic Session | 2023/2024 |
| 📍 University Location | Ikot-Abasi, Akwa Ibom State |
| 🎓 University Focus | Science and Technology research & courses |
| 🖥️ Computing Courses | B.Sc. Computer Science, Cyber Security, Library IT, Software Eng. |
| 🏗️ Engineering Courses | B.Eng. Aerospace, Civil, Electrical/Electronics, Mechanical Eng. |
| 🔬 Science Courses | B.Sc. Biochemistry, Mathematics/Statistics, Microbiology, Physics |
| ✔️ Eligibility | 5 SSCE credits, incl. English & Maths, JAMB score of 140+ |
| 📝 Registration | Visit https://futia.edu.ng, login, update details, pay & complete registration |
About Federal University of Technology, Ikot Abasi (FUTIA)
Nestled in the Ikot-Abasi Local Government Area in Akwa Ibom State, FUTIA stands as a beacon of scientific and technological prowess. As one of Nigeria's newly established Federal Universities, it emphasizes research in Science and Technology, aiming to cultivate the talents that will propel the nation forward.
Courses Offered at FUTIA
1. School of Computing and Information Technology
B.Sc. Computer Science: An exploration into the world of computing.
B.Sc. Cyber Security: Safeguarding the digital realm.
B.Sc. Library Information Technology: Managing information efficiently.
B.Sc. Software Engineering: Creating the future of software.
2. School of Engineering and Technology
B. Eng. Aerospace Engineering: Soaring into aerospace technologies.
B. Eng. Civil Engineering: Constructing the foundations of modern life.
B. Eng. Electrical/Electronics Engineering: Innovating electrical solutions.
B. Eng. Mechanical Engineering: Engaging with mechanical marvels.
3. School of Pure and Applied Sciences
B.Sc. Biochemistry: Unravelling the secrets of living chemistry.
B. Sc. Mathematics/Statistics: Finding patterns in chaos.
B.Sc. Microbiology: Investigating the unseen life around us.
B.Sc. Physics: Understanding the fundamental forces.
Eligibility for the Screening
The path to success has its requirements. To be eligible for the Post-UTME screening, candidates MUST:
Have passed a minimum of 5 relevant subjects at credit level in the Secondary School Certificate Examination (SSCE) or equivalent at not more than two (2) sittings, including English and Mathematics.
Have scored a minimum of 140 and above in the 2023/2024 JAMB Examination.
Registration Procedures: A Step-by-Step Guide
Navigating the registration process is a breeze with this simple guide:
Visit FUTIA's Official Website.
Log in using your UTME Number and UTME Score.
Update your contact details for generating Remita Payment.
A Remita Retrieval Reference (RRR) will automatically be generated for you.
Choose from the Remita Payment options, either clicking "Pay Now" to open the payment dialogue or "Generate Payment Schedule" to download and print a payment schedule.
After successful payment, update your UTME details.
Generate, download, and print the acknowledgment slip to complete registration details.
CHECK ALSO: BABA-AHMED UNIVERSITY POST-UTME FORM
Note:
There will be a grace period of four (4) weeks within which all approved admissions must be accepted by candidates.
If you encounter any difficulty or have inquiries, email enquiries@futia.edu.ng.
Conclusion: Seize the Opportunity at FUTIA
The Federal University of Technology, Ikot Abasi (FUTIA) is not just a place of learning; it's a launchpad for your dreams. With an unflinching focus on Science and Technology, the university is poised to mold the innovators of tomorrow.
Register now for the Post-UTME screening and take the first step towards a fulfilling and dynamic academic journey at FUTIA. The future is bright, and it begins with a single click. Don't miss out on this chance to be part of something extraordinary. The 2023/2024 Academic Session awaits you.
I hope you find this article helpful.