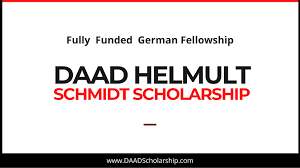 DAAD's Helmut-Schmidt-Programme is back with its Master's Scholarships for Public Policy and Good Governance for the year 2024. The program is tailored for promising leaders from developing countries who are driven to champion democracy and social justice in their respective nations.
Objectives of the Helmut-Schmidt Programme
The aim of the program is to further qualify future leaders from the areas of politics, law, business, and administration based on the principles of good governance, and to prepare them for their future professional activities in a practice-oriented manner. Highly qualified graduates who have obtained a first higher education degree are offered the opportunity to obtain a master's degree in subjects that are particularly significant with regard to social, political, and economic development in their countries of origin. The skills and experiences gained in Germany will enable the funded individuals to contribute to establishing economic and social forms that are democratically oriented and designed to overcome social inequalities in their home countries. With the Helmut-Schmidt-Programme, the DAAD strives to contribute to promoting good governance and civil society structures in developing and emerging countries.
Scholarship Benefits
Recipients of the scholarship will be provided with:
A monthly scholarship of €934 for Master's courses at German higher education institutions.
Health insurance coverage in Germany.
Appropriate travel allowances for trips between Germany and the scholars' developing/emerging countries.
A study and research grant.
Rent subsidies and family supplements, where applicable.
A mandatory German language course in Germany, lasting up to 6 months.
For the "Social Protection" Master's course, owing to its blended learning concept, a sur-place rate of €500 per month is paid in the 4th semester when students study online in their country of origin or another developing/emerging country.
Eligibility Criteria
The program is open to graduates from developing and emerging countries who possess:
A high-quality first university degree and above-average grades (upper third) in Social and Political Sciences, Law, Economics, Public Policy, and Administration.
An aspiration to contribute actively to the social, political, and economic development of their home countries/regions.
Practical experience relevant to the program (professional experience, internships, political/social commitment).
How to Apply
Candidates are required to submit the following application documents:
A hand-signed and ticked-off checklist and list of criteria, indicating the place and date of issue.
The DAAD application form is "Application for a research/study scholarship".
A letter of motivation, explaining academic, professional, and personal reasons for participating in the Helmut Schmidt-Programme and detailing the choice of master's courses, a maximum of two pages.
A chronological curriculum vitae without any unexplained gaps.
Copies of higher education degree certificates.
A full set of transcripts of records with an explanation of the grading system.
Confirmation of relevant professional experience or internships and/or proof of relevant political activities or service to your community.
Proof of English language skills.
A current written reference from your current employer or a university lecturer.
All application documents for both the master's course(s) and the DAAD scholarship should be submitted directly to the master's course(s) of your choice, and not to the DAAD.
In summary, the Helmut-Schmidt-Programme Master's Scholarships present a unique chance for emerging leaders from developing and emerging countries to further their education and contribute meaningfully to their nations' development. For more details, visit the Helmut-Schmidt-Programme Master's Scholarships page.
I hope you find this article helpful as well as interesting.