The pursuit of a career in medicine has long been considered a noble and challenging endeavour. Aspiring doctors are not only tasked with the responsibility of safeguarding lives but also face an arduous journey to reach that point. Furthermore, we scrutinize the rigorous path that lies ahead for those who aspire to become medical professionals in the United Kingdom.
How hard is it to get into medical school in the UK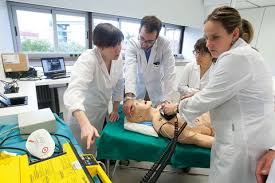 Is Medicine Hard?
Medicine is often considered to be a challenging field of study. It requires a deep understanding of complex scientific concepts, extensive memorization of medical knowledge, and the development of clinical skills. Additionally, medical school involves a rigorous curriculum and a demanding workload. However, many individuals find the field rewarding due to its potential to make a significant impact on people's health and well-being. Success in medicine often requires dedication, resilience, and a genuine passion for the subject.
What Are The Academic Requirements For Getting Into Medical School In The UK?
Getting into medical school in the UK is highly competitive and requires meeting specific academic requirements. These requirements may vary slightly between different medical schools, but there are common elements that aspiring medical students should be aware of. Here's an extensive overview of the academic requirements for gaining admission to medical school in the UK:
Educational Qualifications:
Most UK medical schools require applicants to have completed their A-levels (or equivalent qualifications) in specific subjects. Chemistry is typically a mandatory subject, and many schools also require Biology and one more science or mathematics subject.
International Baccalaureate (IB) and Scottish Highers are also accepted by some medical schools.
Grades and Achievements:
The specific A-level or equivalent grades required can vary from one institution to another. Typically, competitive applicants will have high grades, often AAA or higher.
Achievements in science-related subjects, such as Chemistry and Biology, can boost your application. Some schools may also consider additional qualifications like the Extended Project Qualification (EPQ).
UK Clinical Aptitude Test (UKCAT) or Biomedical Admissions Test (BMAT):
Most medical schools require applicants to take either the UKCAT or BMAT. These standardized tests assess cognitive skills, critical thinking, and problem-solving abilities.
The scores obtained in these tests play a crucial role in the selection process. Different schools may emphasize different aspects of the test results.
Work Experience:
Gaining relevant work experience in healthcare settings is highly recommended. This can include volunteering in hospitals, clinics, or care homes, as well as shadowing healthcare professionals.
Demonstrating your understanding of the medical field through work experience can strengthen your application.
Personal Statement:
Applicants are required to submit a personal statement outlining their motivation for studying medicine, relevant experiences, and personal qualities that make them suitable candidates.
Effective communication and a clear passion for medicine should be evident in the personal statement.
References:
You'll need to provide references from teachers or mentors who can speak to your academic abilities and suitability for a medical career.
Interview Performance:
If you meet the initial academic requirements and pass the UKCAT or BMAT, you may be invited for an interview. Interview performance is crucial and assesses your interpersonal skills, ethical awareness, and ability to handle challenging situations.
Contextual Admissions:
Some medical schools take into account an applicant's socioeconomic background and educational circumstances through contextual admissions. This is aimed at promoting diversity and equal opportunities.
International Applicants:
International applicants, including those from outside the EU, may need to meet additional requirements, such as English language proficiency tests like the IELTS.
What Is The Duration For Medical School In The UK?
In the United Kingdom, the duration of medical school typically spans five to six years for undergraduate programs. However, it's essential to note that there are variations in the structure and length of medical programs in the UK, depending on the university and the specific pathway chosen by the student.
Standard Five-Year Programs: Many medical schools in the UK offer a five-year Bachelor of Medicine, Bachelor of Surgery (MBBS) program for undergraduate students. These programs are often referred to as "5-year MBBS."
Six-Year Programs with Foundation Year: Some medical schools offer a six-year MBBS program that includes a foundation year. This is designed for students who may not meet the standard entry requirements but show potential to excel in medical studies after an additional preparatory year.
Graduate Entry Programs: Graduate entry medical programs are typically four years in duration. These programs are for students who already hold a bachelor's degree in a relevant field and wish to pursue medicine as a second degree.
Integrated Programs: A few medical schools offer integrated programs that combine undergraduate and postgraduate study. These programs can take six years or longer to complete and often lead to a Master of Medicine (MMed) or equivalent degree.
Foundation Year 1 (F1) and Foundation Year 2 (F2): After completing medical school, graduates in the UK are required to undertake two years of supervised practice as Foundation Doctors. These years, known as F1 and F2, are part of the postgraduate training required to become fully registered medical practitioners.
Challenges Students Face During Medical School
Medical school is a demanding and rigorous educational journey that prepares students for careers as healthcare professionals. While it can be immensely rewarding, it also comes with a unique set of challenges. Here are some of the common challenges students face during medical school:
Heavy Workload: Medical school is known for its intensive workload. Students often have to study for long hours, both in and out of the classroom. The sheer volume of information to be learned can be overwhelming.
Time Management: Balancing coursework, clinical rotations, and personal life can be challenging. Effective time management becomes essential to meet academic and clinical requirements.
Stress and Pressure: The high-stakes nature of medicine, where lives may depend on decisions, leads to significant stress. Medical students may experience anxiety and pressure to perform at a consistently high level.
Limited Free Time: The demands of medical school often leave students with limited free time. Maintaining a healthy work-life balance can be difficult.
Financial Burden: Medical education can be expensive, leading to significant student loans. The financial burden can be a source of stress for many medical students.
Emotional Toll: Dealing with illness, suffering, and death as part of clinical training can be emotionally challenging. Medical students may need to develop coping mechanisms to manage these experiences.
Competitive Environment: Medical school admissions are highly competitive, and this sense of competition can continue throughout medical school. The pressure to outperform peers can be stressful.
Continuous Assessment: Medical students are continuously assessed through exams, practical assessments, and clinical evaluations. This continuous evaluation can be stressful and demanding.
Lack of Sleep: Irregular and long working hours during clinical rotations can lead to sleep deprivation, which can affect both physical and mental health.
Maintaining Compassion: Medical students must learn to balance their scientific knowledge with compassion and empathy for patients. This can be challenging, especially when faced with difficult cases.
Ethical Dilemmas: Medical students encounter ethical dilemmas that require thoughtful consideration. These dilemmas can be emotionally taxing.
Clinical Competency: Developing clinical skills, including patient communication and physical examinations, can be challenging and requires practice and mentorship.
Board Exams: Preparing for and passing medical licensing board exams is a significant milestone, and the pressure to perform well can be intense.
ALSO READ: LEVEL 5 APPRENTICESHIP EQUIVALENT
How Hard Is It To Get Into Medical School In The UK?
Getting into medical school in the United Kingdom is known to be highly competitive and challenging. Several factors contribute to the difficulty of gaining admission to medical school in the UK:
High Academic Standards: UK medical schools have stringent academic entry requirements. Applicants are typically expected to have high grades in subjects like Chemistry, Biology, and another science or mathematics subject at A-levels (or equivalent qualifications).
Competitive Entry Exams: Most UK medical schools require applicants to take the UK Clinical Aptitude Test (UKCAT) or Biomedical Admissions Test (BMAT). These standardized tests assess cognitive skills, critical thinking, and problem-solving abilities. Scoring well on these exams is crucial.
Limited Seats: The number of available seats in medical programs is limited, and the demand for these programs often exceeds the supply. This limited capacity contributes to the competitiveness of medical school admissions.
Interview Selection: After meeting academic and test score requirements, applicants may face interviews. These interviews assess not only academic knowledge but also qualities like communication skills, empathy, and ethical awareness.
Extracurriculars and Work Experience: Medical schools often look for well-rounded applicants who have relevant work experience in healthcare settings and extracurricular activities that demonstrate a commitment to the field.
Personal Statement: Crafting a compelling personal statement that demonstrates a genuine interest in medicine and relevant experiences is crucial.
Contextual Admissions: Some medical schools practice contextual admissions, taking into account an applicant's socioeconomic background and educational circumstances to promote diversity and equal opportunities.
International Applicants: International applicants, including those from outside the EU, may face additional challenges related to immigration requirements, English language proficiency tests, and eligibility for funding.
Interview Performance: Performing well in the interview phase is essential. The interview assesses interpersonal skills, ethical judgment, and suitability for a career in medicine.
Reapplication: Many successful medical school applicants reapply multiple times, indicating that gaining admission can be a multi-year endeavour.
I hope you find this article helpful.