Freelance web designers are self-employed individuals who can earn an income by creating websites for clients. Enhancing certain skill sets and learning about important resources can help an aspiring professional succeed in a freelance career. By studying some critical techniques to become a freelance web designer, you can determine how best to pursue this career.
In this article, we discuss what a freelance web designer is and how to become a freelance web designer, and we list the benefits of freelancing.
Key takeaways:
A freelance web designer is a contractor who creates websites for clients by generating page layouts and incorporating branded elements.

Skills relevant to freelance web design include accounting, project organization, client management and knowledge of programming languages, design principles and photo-editing software.

You can become a freelance web designer by choosing a specialization, building a portfolio, setting prices, and marketing your services.
What is a freelance web designer?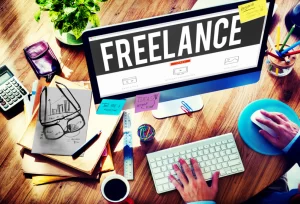 A freelance web designer is a professional who creates websites for independent clients. They typically generate a page's layout, select visual elements and incorporate a client's brand specifications. Some designers specialize in a particular industry, like food service or entertainment, while others prefer to build a diverse portfolio of work. They manage their clientele using their administrative resources and market their services using a wide variety of networking techniques.
How to become a freelance web designer
Here are some key steps to becoming a freelance web designer:
1. Develop skills
Working as a freelance web designer requires a variety of important skills. It may be helpful to make a list of capabilities you already have so you can determine some strategies for expanding your repertoire. You can also consider which nontechnical capabilities can help you succeed, like communication and collaboration abilities for discussing jobs with clients. To increase your knowledge of website design before establishing a freelance career, consider taking a relevant certification course or studying key trends through other professionals you admire.
Here are some important website design skills to consider for freelancers:
Programming languages: Hypertext Markup Language (HTML) and Cascading Style Sheets (CSS) are both coding languages that allow individuals to arrange and develop content for a website. Learning how to write these codes can help you optimize website content and create more practical features that prospective clients may value.

Photo-editing software: Creating a comprehensive website design for a client may require you to develop icons, graphics and web page outlines. You can learn how to use photo-editing software to develop high-quality content, and then export these items efficiently to use them for design plans.

Design principles: It may be helpful to study key design theories to increase the aesthetic quality of your work. For example, typography involves arranging letters and choosing a font to evoke a certain mood, while composition involves placing all text and visual items on a webpage in a logical flow of information.

Project organization: As freelance web designers can work on multiple projects at the same time, it's helpful to have organizational skills in project development. Understanding the steps of a project can help you determine a viable timeline and meet important deadlines for clients.

Accounting: Freelancers handle their tax information and manage payment procedures for their clients, so it may be helpful to learn basic accounting and bookkeeping techniques to optimize your business practice.

Client management: Freelancers need to know how to establish positive boundaries with clients to maintain a beneficial working relationship. Freelance web designers may also benefit from knowing how to collaborate with clients, as creative projects can benefit from two or more perspectives.
2. Choose a specialization
Use your skill sets and overall interests to determine which type of website content you prefer to design. It may be helpful to select a certain category, like professional entertainer portfolios, wedding itinerary pages or websites for law firms. Consider studying current design trends on popular websites to see if certain content inspires you more than others. You can also focus on a particular website design tool that allows you to build templates for web pages.

3. Gather office resources
Prepare the environment and tools you need to start a freelance career. Depending on your financial resources, it may be helpful to rent office space so you can store all your materials in one location. You can also establish an office environment in a dedicated place in your dwelling. Consider purchasing a computer with high-speed processing capabilities and a lot of storage space, as your primary responsibilities require using design software and internet applications. You can also purchase ergonomic office supplies that help you stay focused and comfortable while working at a desk for long periods.
4. Build a portfolio website
Create a website to host examples of your skills and provide your background information. It's important to create a high-quality portfolio website that uses your design capabilities and brand identity, as it's often a client's first impression of your professional work and image. To show clients a wide range of capabilities, consider including sample work of projects you prefer and any past work you completed for yourself or another individual. It's also important to provide contact information in an easily locatable place on your portfolio website, so clients can know how to schedule an appointment for a consult.
It may be helpful to include your background information in a dedicated section on a portfolio website. You can describe your creative sensibilities and preferred working style, which also can allow you to express your personality to prospective clients. Consider including lines about your educational background and professional work history or include a resume that highlights your relevant qualifications. To create a well-formatted resume, you can research templates for freelancer web designers online.
5. Determine your prices
Decide how you're going to price your web design services to clients. First, calculate your freelancing personal expenses, including tax information, to learn the amount of income you need to generate every month, then measure how much additional money you may need for other ventures. It may be helpful to research the pricing systems of other entry-level freelance designers and learn how much money salaried individuals make on average in your location. Afterward, you can set how many hours you plan to work on individual projects versus administrative duties.
Depending on your preferences, you can bill clients per hour you work on their assignment or base the price on the overall project cost. For example, if you determine you need $7,500 per month for your expenses, you might add another $1,000 to cover costs like health insurance and ensure you can save some money. Using $8,500 as a minimum number, you can charge $53 per hour to cover costs for a 40-hour workweek or add up how many hours you plan to work on a project and deliver that estimate to clients as a price for a project.
6. Create legal documents
Each legal contract may differ depending on a client's requirements and your preferences, but it may be helpful to develop a template you can adapt for all transactions. Consider implementing sections for the project details, terms and conditions for your services and a payment arrangement, including deadlines for wages. It's important to provide a cancelation policy so a client can understand their responsibilities when they sign the contract. You can also include copyright information, like when a client can use the work you produce after it's complete.
7. Market your services
Advertise your freelance web designer services in multiple areas to find an initial clientele. It may be helpful to accomplish discounted tasks for peers or volunteer your services for a nonprofit organization to build a positive reputation and add more examples to a portfolio. You can also purchase an advertisement slot, create a social media page to promote your website designs or post some fliers in your local area. Consider selling website templates that people can use for their designs to supplement your income while looking for clients.
You can also host a webinar on how to design websites or teach a class in a community center, as this can show prospective clients your expertise. Try connecting with an established freelancer to see if they can provide some mentorship or ask if they can partner with you on a project. If you attend any events for designers, consider ordering business cards that display your contact information.
8. Find job opportunities and build a clientele
List your web designer services on job boards for freelancers, including a link to your website portfolio, pricing system and professional headshot. You can also respond to job listings that specify applicants who are freelance website designers. Consider searching for opportunities that align with your unique skills, as clients may appreciate a freelancer who can address their needs immediately. Be mindful to update your portfolio website and proofread your application materials before you submit them.
Freelance vs. non-freelance web designer
A freelance web designer is self-employed, while a non-freelancer web designer typically creates content for a company in a part- or full-time capacity. They use a company's protocols and style guide to develop website content that provides information to customers and promotes brand identity. A freelance designer often works separately from a website developer, whose job involves incorporating layout elements into a publishable format. Non-freelance web designers, though, often collaborate with developers to produce content.
Benefits of a freelance web designer career
Here are some benefits of starting a freelance web designer career:
Balance work and life responsibilities: By entering a freelance career, you can determine how much time to dedicate to job tasks versus outside obligations. You can also reserve time for rest and leisure activities.

Determine your business practices: You can manage your daily tasks, set a daily schedule and create a payment policy. As a result, you can also establish best practices for freelancer and customer working relationships.

Learn new techniques regularly: Each work project may require a different creative approach and resources to complete, which can help you develop your freelance web designer capabilities. You can also use every project to practice your communication and collaboration techniques.

Use your hobby to generate income: If you're an artist or otherwise enjoy expressing yourself creatively, you may find lifelong fulfillment in a freelance web designer career.
Tips for becoming a freelance web designer
Consider the following tips for becoming a freelance web designer:
Use a financial application: Try a computer or mobile application to manage your business finances, including a monthly budget and invoices for clients. You can use it to track how many hours you spend working on individual projects and manage your federal and state taxes.

Create a business plan: Consider creating a document that outlines your freelancing goals and budgeting information. You can use a business plan to measure your monthly objectives and determine strategies for improving your conduct in the future.

Network with other freelancers: Follow the social media profiles of other freelance web designers or join a specialized forum to network with similar individuals. You can provide and receive support, share helpful resources, and gain more referrals for prospective clients.

Write on a blogging platform: Consider maintaining a blog about website design trends to engage prospective clients and become a leader in the industry. Examples of topics may include creative advice, technical tutorials or reviews of design tools.
I hope you find this article helpful.