The Fully Funded IAEA Marie Sklodowska-Curie Fellowship in Austria is open to all female internationals. It aims to encourage and assist young women in their pursuit of a career in the nuclear field. To achieve this goal, the MSCFP offers scholarships to eligible students who are enrolled in Master's degree programs focused on nuclear-related subjects. Additionally, the program facilitates internship opportunities through the IAEA, providing practical experience and support to the selected scholars.
DEADLINE
30 September 2023
STUDY LEVEL
Fellowship, Masters, Postgraduate
SUBJECTS
Subjects offered by the university
FUNDING TYPE
Fully Funded Scholarships
IAEA Marie Sklodowska-Curie Fellowship In Austria 2024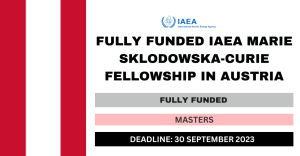 -Scholarship Eligibility
The eligibility criteria for the Fully Funded IAEA Marie Sklodowska-Curie Fellowship in Austria are stated below:
1. Female candidates;
2. Accepted by or enrolled in an accredited university in a Master's program in a nuclear-related field.
Preference will be given to applicants with above-average academic credentials (75% or above or GPA > 3.0 out of 4.0).
Scholarship Benefits
The Fully Funded IAEA Marie Sklodowska-Curie Fellowship in Austria will provide up to €20,000 for tuition costs and up to €20,000 for living costs for the Master's program.
Others
The documents required in addition to the completed online application form are:
1. Copy of the Passport/National ID
2. Official acceptance/admission letter from the university into the Master's program indicating the nuclear-related field of study and duration of the program
3. Statement of tuition fees/confirmation of tuition costs
4. Completed reference forms sent directly to MSCFP@iaea.org by TWO referees (download the form here).
NOTE: All application documents must be submitted in English using the MSCFP online application form. If documents are submitted in the original language please also include an official translation in English. Incomplete applications will not be considered.
I hope you find this article helpful.