If you are looking for an opportunity that allows you to do research and teach at the same time, Aalborg University is announcing the International PhD Stipend in Wireless Access for Heterogeneous Internet of Things (IoT) for 2023-2024. The main purpose of this educational award is to attract domestic and international students to take the PhD degree program at the Department of Electronic Systems.
International PhD Stipend for IoT 2023/2024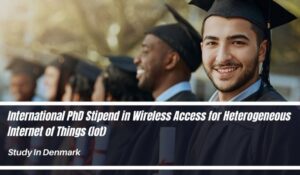 Enrolling at Aalborg University promises a distinctive and enriching educational journey. The institution is celebrated for its problem-based learning methodology, which centres on addressing real-world issues and nurturing critical thinking and teamwork. Aalborg University places a significant emphasis on research and innovation, encouraging students to participate in cutting-edge projects that equip them with practical skills highly valued by prospective employers.
Application Deadline: 1 November 2023
Brief Description
University or Organization: Aalborg University
Department: Department of Electronic Systems
Course Level: PhD Program
Award: NA
Access Mode: Online
Number of Awards: NA
Nationality: International
The award can be taken in Denmark
Eligibility
Eligible Countries: Applicants from all nations are eligible to apply.
Acceptable Course or Subjects: The scholarship will be awarded in clinical Science, Laboratory, and Translational Medicine.
Admissible Criteria: To be eligible, the applicants must meet all the given criteria:
PhD stipends are allocated to individuals who hold a Master's degree. PhD stipends are normally for 3 years.
How to Apply
How to Apply: Applicants are required to apply through the online application form.
Supporting Documents: Applicants must provide the given supporting documents:
Letter of motivation
Curriculum vitae
Diplomas confirming academic degrees(Master's degree), including academic transcripts
A short project description
References/recommendations
Admission Requirements: Applicants must fulfil the following admission requirements:
Must have empathy and the capacity to interact in Danish with a diverse group of diabetics and members of research teams.
Must have experience with novel fundamental science approaches for studying diabetic neuropathy, such as skin biopsies, is preferred.
Must have previous research efforts in the described field, including clinical and lab work, must be demonstrated.
Language Requirement: Applicants must fulfil one of the following language requirements: Must have excellent verbal and written skills in English, as well as outstanding communication abilities.
Benefits
The successful candidates will be provided with a particular stipend for 3 years.
I hope you find this article helpful.