The administration of the Kogi State College of Nursing and Midwifery, Obangede (KGSCNMOBANGEDE), is pleased to formally extend an invitation to eligible candidates for admission into the National Diploma (ND) and Higher National Diploma (HND) Nursing programs for the 2023/2024 academic year.
Kogi College Of Nursing And Midwifery Post UTME Form 2023/2024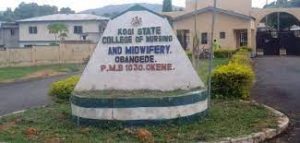 -Essential Admission Requirements & Duration
Academic Qualifications
Minimum Academic Standards: Prospective candidates must secure a minimum of five credits in their O-Level results (WASSCE/GCE, NECO). These credits must encompass the following subjects: English Language, Mathematics, Physics, Chemistry, and Biology. The credits should be attained in no more than two separate sittings.
Age Requirements
Minimum Age Limit: It is imperative that candidates must be at least 17 years old by October 2023 to be considered for the program.
UTME Requirements
Minimum UTME Scores: In addition to the aforementioned criteria, aspirants must have sat for the UTME 2023 examination and achieved a minimum score of 180 marks.
Duration of the Nursing Programmes
The curricula for both the ND and HND Nursing programs are designed to be completed within four years.
How to Apply: Procedure for Obtaining Post-UTME Forms
The Post-UTME forms, which are the first step in the application process, are accessible via the Kogi State College of Nursing and Midwifery's official website. Visit https://www.kgscnmobangede.edu.ng/ to obtain the form, which will be available from 25th August to 23rd September 2023. Candidates are mandated to remit a non-refundable application fee of N15,000.
READ ALSO: MOUNTAIN TOP UNIVERSITY POST-UTME FORM
Post-UTME Screening Dates
The Post-UTME examinations are scheduled to take place between 25th September and 28th September 2023.
Necessary Documents for Post-UTME Screening
Applicants are required to come prepared with the following credentials for the Post-UTME screening process:
O-Level result(s)
Secondary school testimonial
Birth certificate
State/Local Government of Origin documentation
UTME 2023 result
Two (2) passport photographs
Contact Information for Further Inquiries
For any further queries, interested candidates may reach out to the college through the following phone numbers: 09060060556, 08061247351.
Candidates should note that the college has not authorized any individual or entity to act as an admission agent. Engaging with any agents not listed above is strictly at one's own risk.
Begin your journey to a rewarding career in nursing or midwifery by meeting these eligibility criteria and deadlines. Apply now for your chance at an esteemed academic experience.
I hope you find this article helpful.