The Management of Kogi State College of Education Ankpa has reported the beginning of confirmation practice into NCE and Degree programs for the 2023/2024 scholarly meeting.
The Kogi State College of Education Ankpa Portal has been open for admission since Tuesday 21st July 2023. All candidates are required to register online via the College Portal for the screening exercise.
      Kogi State College Of Education, Ankpa Post UTME Form 2023/2024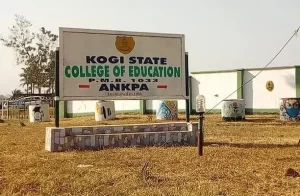 | | |
| --- | --- |
| 🎓 Institution | Kogi State College of Education (KSCOE), Ankpa |
| 📅 Academic Session | 2023/2024 |
| 📜 Programme Type | Post UTME Screening for NCE Full-Time |
| 💯 Eligibility | Scored 100+ in UTME & Chose KSCOE Ankpa as first choice |
| 📚 Courses Offered | Various under Schools of Languages, Education, Vocational & Technical Education, Arts & Social Sciences, Sciences |
| 🔗 Application Steps | Visit Edu-Portal, Create an Account, Generate RRR (N2,000), Pay the fee, Complete the online form |
| 🗓 Screening Schedule | Date: 30th & 31st August 2023, Venue: College CBT Centre, Time: 10 am daily |
| 📞 Contacts | Admission officer: 08035188296, Others include: Ogohi Cafe, Anyigba; Seagate CBT Centre, Idah; Major Computers, Ankpa |
READ ALSO: CROWN POLYTECHNIC POST-UTME FORM
For the academic year 2023/2024, KSCOE, Ankpa is thrilled to invite applications from eligible and passionate candidates for its full-time NCE programs. The line-up of courses promises diversity and depth.
Note to Applicants: Aspiring candidates must have scored a minimum of 100 in the UTME. Moreover, Kogi State College of Education, Ankpa should be their top-choice institution.
A Glimpse into the Programs
From the vast tapestry of languages to the intricate nuances of the sciences, KSCOE, Ankpa boasts a wide range of courses:
SCHOOL OF LANGUAGES
Arabic/ English
Arabic/Islamic Studies
English/CRS
English/Economics
English/Political Science
English/Social Studies
English/French
English/Theatre Arts
English/History
English/Islamic Studies
French/Political Science
French/Social Studies
English/Igala
English/Yoruba
English/Hausa
Igala/Social Studies
Igala/CRS
Igala/Political Science
Igbo/English
Igbo/Social Studies
Igbo/Political Science
Igbo/ CRS
Hausa/Social Studies
Hausa/Islamic Studies
Yoruba/Social Studies
SCHOOL OF EDUCATION
Adult and Nonformal Education/ English
Adult and Nonformal Education/Mathematics
Adult and Nonformal Education/Political Science
Adult and Nonformal Education/Islamic Studies
Adult and Nonformal Education/Social Studies
Adult and Nonformal Education/ CRS
Adult and Nonformal Education/Economics
Adult and Nonformal Education/Arabic
Adult and Nonformal Education/Social Studies
Adult and Nonformal Education/Theater Arts
Primary Education/ Economics
Primary Education/ English
Primary Education/Mathematics
Primary Education/History
Primary Education/Social Studies
Primary Education/Political Science
Primary Education/Islamic Studies
Primary Education/ Christian Religious Studies
Primary Education/Arabic
Primary Education/Fine and Applied Arts
SCHOOL OF VOCATIONAL AND TECHNICAL EDUCATION
Agricultural Education
Business Education
Fine and Applied Arts
Home Economics
Technical Education
SCHOOL OF ARTS AND SOCIAL SCIENCES
Christian Religious Studies/Economics
Christian Religious Studies/ History
Christian Religious Studies/ Political Science
Christian Religious Studies/ Social Studies
Islamic Studies/Economics
Islamic Studies/Political Science
Islamic Studies/Social Studies
Islamic Studies/Geography
Social Studies/Economics
Social Studies/History
Social Studies/Geography
Social Studies/Political Science
Social Studies/Theatre Arts
SCHOOL OF SCIENCES
Integrated Science/Chemistry
Integrated Science/Physics
Integrated Science/Mathematics
Integrated Science/Biology
Physical and Health Education (Double Major)
Computer Science Education/Integrated Science
Computer Science Education/Chemistry
Computer Science Education/ Biology
Computer Science Education/Physics
Computer Science Education/ Mathematics
Mathematics/Chemistry
Mathematics/Physics
Mathematics/ Biology
Embarking on Your Application Journey 💼
Embarking on this exciting journey is as easy as following a structured path:
Visit the official College Edu Portal: KSCOE Ankpa Portal.
Navigate to Prospective Students and choose 'New Applicant'.
Create an account with your JAMB Registration Number, a valid email address, and a phone number.
Generate a Remita Retrieval Reference (RRR) for a fee of N2,000.
Make the payment either directly online or at a commercial bank.
Complete the application, upload the necessary documents, and submit.
Remember to print out the completed form for future reference.
Screening Details:

Date: 30th and 31st August, 2023
Venue: College CBT Centre
Time: 10am daily
For any queries or assistance, feel free to reach out to:
Admission Officer: 08035188296
Ogohi Cafe, Anyigba: 08032866542
Seagate CBT Centre, Idah: 08147876001
Major Computers, Ankpa: 08067862594
With KSCOE, Ankpa, your dreams of becoming an impactful educator are just an application away. Dive into this transformative experience and steer your future toward academic brilliance.
I hope you find this article helpful.