The Fully Funded Konrad Adenauer Stiftung Scholarship in Uganda launches its annual call for applications for Ugandan students pursuing Master's degrees in Uganda.  Having supported thousands of students in their studies in numerous scholarship programs around the world, The Konrad Adenauer Stiftung (KAS) is expanding its international network of scholars by inviting new candidates into the program.
Fully Funded Konrad Adenauer Stiftung Scholarship In Uganda 2024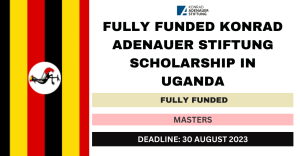 DEADLINE
30 August 2023
PROVIDER
Konrad Adenauer Stiftung
STUDY LEVEL
Masters, Postgraduate
SUBJECTS
Subjects offered by the university
FUNDING TYPE
Fully Funded Scholarships
Scholarship Eligibility
The eligibility criteria for the Fully Funded Konrad Adenauer Stiftung Scholarship in Uganda are stated below:
1. Applicants must be citizens of Uganda and should not be older than 35 years;
2. Applicants must show a record of commitment to and engagement in the broader KAS network;
3. Applicants must have completed a Bachelor's degree and provide proof of academic excellence in previous levels of education;
4. Applicants must show their motivation to undertake the particular course;
5. Applicants holding leadership positions or portraying potential for future leadership have an added advantage;
6. Applicants with current or past employment in relevant program areas and/or engagement in social, developmental, and/or political sphere(s) have an additional advantage;
7. Priority will be given to applicants with genuine financial needs.
Scholarship Benefits
The benefits of the Fully Funded Konrad Adenauer Stiftung Scholarship in Uganda are:
1. For successful candidates, the scholarship will cover the cost of tuition as charged by the university for the duration of one year.
2. Scholars have the possibility of extending their scholarships if they have met all the deadlines and requirements for submissions.
3. Additionally, KAS will provide a stipend for learning materials and books amounting to 1,000,000 UGX per term.
4. The student is expected to meet further costs, such as transport, research, and other study expenses, on their own or through other sources.
5. Scholars have access to the KAS networks and are presented with unique learning opportunities through networking events and further resources. They are expected to regularly contribute to these networking opportunities and to submit term reports on their personal and professional progress as well as contributions to KAS.
READ ALSO: HARVARD UNIVERSITY MBA SCHOLARSHIP PROGRAM
Others
How to Apply:
1. A motivation letter (maximum 2 pages) providing the following information:
a) An explanation of the reason for applying for support from KAS;
b) A statement of the applicant's academic goals and interests;
c) An outline of the applicant's past engagements with KAS;
d) A description of the relevant work experience (or social-political engagements) related to the chosen program of study;
e) An outline of the applicant's career objectives and how the study program will help in the achievement of these goals;
Complete and up-to-date curriculum vitae (maximum 2 pages);
a) Copies of relevant transcripts from schools or universities;
b) Proof of admission to your institution or evidence of having applied for any of the programs under the scholarship scheme;
c) Two letters from referees (professional or academic), signed and sealed.
Applications may be turned in as follows: Via email: kas.scholarship@gmail.comOr via post: Konrad-Adenauer-Stiftung, P.O. Box 647, KampalaOr delivered: Plot 51A, Prince Charles Drive, KololoOnly shortlisted candidates will be contacted.
For further information, please refer to our website www.kas.de/uganda, or contact Ms. Rhona Rugambwa on Tel. +256-(0)393-262011/2 or email: kas.scholarship@gmail.com
I hope you find this article helpful.