The Fully Funded Korean Embassy Scholarship in Nigeria invites applications to pursue a Master's degree or Ph.D. degree in Nigeria. The South Korean government is giving a special chance to students from around the world to study at some of the best universities. South Korea is well-known for its great education, and now they have various degree programs for international students. They are also providing lots of scholarships in 2023.
Fully Funded Korean Embassy Scholarship In Nigeria 2024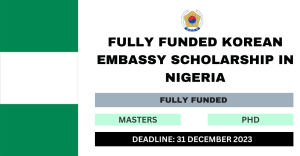 DEADLINE
31 December 2023
PROVIDER
Korean Government
STUDY LEVEL
Masters, PhD, Postgraduate
SUBJECTS
Subjects offered by the university
FUNDING TYPE
Government Scholarships, Fully Funded Scholarships
Scholarship Eligibility
The eligibility criteria for the Fully Funded Korean Embassy Scholarship in Nigeria are stated below:
1. Citizenship: You need to come from a country specified by the Korean government for the GKS program.
2. Age: If you're applying for undergraduate studies, you should be under 25 years old. For graduate studies, the age limit is under 40 years.
3. Academic Record: A good academic track record is required, along with meeting language proficiency standards.
4. Korean Citizenship: You should not hold Korean citizenship.
5. Statement and Plan: Your personal statement and study plan should show your dedication to your chosen field of study.
6. Diplomatic Relationship: If your country has diplomatic ties with North Korea or if you've previously received a Korean government scholarship, you may not be eligible.
Scholarship Benefits
The Benefits of the Fully Funded Korean Embassy Scholarship in Nigeria are:
Full Tuition Fee: The scholarship takes care of the entire cost of your tuition fees while you're studying in Korea.
Monthly Allowance: If you're chosen, you'll receive a monthly allowance of KRW 900,000 (which is around USD 800) to help you with your living expenses.
Airfare: The scholarship also includes round-trip airfare, covering the cost of your flights to and from Korea.
Settling-in Allowance: When you start, you'll get a settling-in allowance of KRW 200,000 (about USD 180) to assist with your initial costs as you get situated.
Medical Insurance: Your medical insurance expenses will be covered for the entire duration of your degree program.
Language Training: If you need to improve your Korean language skills, the scholarship offers language training to help you become more proficient.
In simple terms, if you receive this scholarship, you won't have to worry about paying for your tuition, you'll get money each month for your expenses, your flights will be covered, you'll have some money when you arrive, your medical insurance will be taken care of, and if you need to learn Korean, they'll help you with that too. It's a really good deal!
Others
Required Documents:

1. Completed Application form.

2. Educational degrees, transcripts, and mark sheets.

3. Two recommendation letters.

4. Proof of language proficiency.

5. Copy of your passport.

6. Curriculum Vitae (CV).

7. Photographs for your profile.

8. Statement of Purpose (SOP).

9. GKS Applicants Agreement.

10. Personal Medical Assessment.

11. Any other documents required by the embassy or university.

RECOMMENDED: FRIEDRICH EBERT SCHOLARSHIP FOR FOREIGN STUDENTS

If you're applying through the embassy track:

Submit one original set of application documents along with three photocopies.

If you're applying through the university track:

Contact the university to find out their specific document requirements and submit accordingly.

To apply for the Korean Embassy in Nigeria Scholarship 2023, you have two options:

1. Home Embassy Track: Apply through your home embassy or any participating Korean university track.

2. Participating in the Korean University Track: Get in touch with the university, learn about their application requirements, and submit your documents according to their guidelines.

I hope you find this article helpful.