Notice is hereby given to all candidates who chose LAUTECH as their Institution of first choice in the 2023/2024 Joint Admissions and Matriculation Board Unified Tertiary Matriculation Examination (UTME) and Direct Entry that the portal for registration for admission to the various programs in the University will be open on Tuesday, August 29, 2023, and close on Friday, October 20, 2023. Oral and written interviews will be conducted for Direct Entry candidates on Monday, October 23, and Tuesday, October 24, 2023.
Applicants are to note that before admission can be offered by the university, they must have uploaded their O'Level results on CAPS and once admission is offered, the candidates must either accept or reject the offer on CAPS before JAMB's closure of CAPS for the exercise in order to be on JAMB National Matriculation list. For UTME candidates to be eligible for the exercise, they must have scored 180 marks and above in the 2023/2024 tertiary matriculation examination.
CHECK ALSO: SKYLINE UNIVERSITY NIGERIA POST-UTME SCREENING
Screening Eligibility:
LAUTECH will admit only applicants who have Credit in at least five (5) relevant subjects at not more than two (2) sittings in SSCE/NECO/NABTEB for UTME. The university accepts a minimum of Upper Credit for National Diploma candidates, NCE, HND, RNS, and JUPEB for Direct Entry candidates with five (5) Credit passes in SSCE/NECO/NABTEB in relevant subjects.
However, applicants to Medicine, Nursing, and Medical Laboratory Science are expected to have at least a Credit pass in five (5) relevant O-level subjects at one sitting to be qualified for admission. Applicants should be at least sixteen (16) years of age to qualify for admission to any program in the university.
Applicants are also advised to carefully study the university brochure as provided on the university admissions portal page to guide them in the completion of their application forms.
How to Apply for LAUTECH Post UTME Screening
Applicants are to proceed to the admission portal of the university at "apply.lautech.edu.ng" to make a payment of Two Thousand Naira (N2,000.00) only for the purpose of registration for the post-UTME exercise using Inter-Switch Enabled Debit Card (ATM card). Applicants are also advised to familiarize themselves with the available programs in the university, the O'Level entry requirements, and the UTME subject combination for each of the programs.
Any applicant with blurred picture on the acknowledgment page will not be admitted into the screening centre as the photograph will be used as a means of identification. The acknowledgment page should be presented by all candidates at the screening venue before admittance to participate in the exercise. Candidates should note that satisfaction of this requirement is mandatory. For ease of communication, applicants are to provide valid and active e-mail addresses and phone numbers.
Applicants are expected to carefully complete and submit online application forms by uploading a clear digital copy of their passport photographs on a white background, which must be in JPEG and must not be more than 20kb.
Applicants who are awaiting results of NABTEB, NECO, and WASC are also eligible to apply. However, the results when released must be uploaded on JAMB CAPS after the release of such results. Results uploaded after the prescribed timeline may not be processed. Also, inconsistency in names on any results and state of origin shall not be acceptable to the university and may lead to disqualification. Candidates' names on their O'level results, other registration documents, as well as state of origin must be the same.
Any applicant for Direct Entry admission who fails to present himself/herself for the oral and written interview as scheduled will automatically forfeit being considered for admission.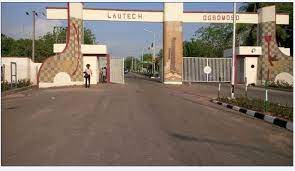 NOTE: Applicants who provide false information to secure admission to any of the university programs and upon discovery at any point in time will be handed over to law enforcement agencies for prosecution and the admission of such candidates shall be withdrawn. Applicants are also advised to BEWARE OF FRAUDSTERS as the University will not be liable for any transaction with any unauthorized person(s).
All inquiries on admission matters should be sent to registrar@lautech.edu.ng or admissions@lautech.edu.ng.
About LAUTECH
Ladoke Akintola University of Technology (LAUTECH) is an autonomous public institution with the general function of providing liberal higher education and encouragement to the rapid advancement of learning throughout Nigeria. The legal basis of the University is the Ladoke Akintola University of Technology Act which transferred to the University, the property to the former Ogbomoso Girls High School, Ogbomoso, under the Act; – The University consists of Chancellor, Pro-Chancellor, Vice-Chancellor, Council Senate, Congregation, all Graduates and Undergraduates of the University in accordance with the provisions of the Ladoke Akintola University of Technology Edict No.
I hope you find this article helpful.