The Fully Funded Maria Goeppert Mayer Fellowship in the USA is open to international students from all over the world who intend to pursue doctoral studies at Argonne National Laboratory USA. This fellowship is given globally to excellent doctoral researchers and engineers.
Applicants for fellowships must demonstrate excellent skills in science or engineering studies and must make a clear commitment to becoming excellent leaders in the studies, they pursue. Fellows work closely with the sponsor of Argonne to pursue their study interests.
Fully Funded Maria Goeppert Mayer Fellowship In USA 2024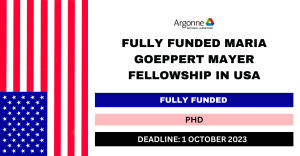 DEADLINE
1 October 2023
STUDY IN
United States Of America
PROVIDER
Argonne National Laboratory
STUDY LEVEL
Fellowship, PhD
SUBJECTS
Subjects offered by the university
FUNDING TYPE
Fully Funded Scholarships
Scholarship Eligibility
The eligibility criteria for the Fully Funded Maria Goeppert Mayer Fellowship in USA are stated below:
1. Required Language: English
2. Eligible Countries: All world countries
3. Ph.D. conferred within three years at the time of application or completion of Ph.D. requirements by the commencement of appointment
4. Evidence of academic achievement with potential for technical and research leadership
5. Research in areas that align with Argonne's mission
READ ALSO: BABA-AHMED UNIVERSITY POST-UTME FORM
Scholarship Benefits
The benefits of the Fully Funded Maria Goeppert Mayer Fellowship in the USA are:
1. A highly competitive salary
2. A stipend for research support.
3. 100% funded fellowship
Others
Courses Offered
1. Artificial Intelligence (AI) for Science
2. Autonomous Discovery
3. Climate Action
4. Clean Energy and Sustainability
5. Hard X-ray Science
6. Microelectronics
7. Quantum Information Science
8. Detection of Imaging Signatures (For the national security portion of this initiative only, the selected candidate will be required to obtain and maintain a clearance and must be a U.S. citizen)
I hope you find this article helpful.