The Mbara Ozioma College of Technology (MOCTECH) in Ehime Mbano, Imo State is delighted to announce the commencement of its Post UTME Application for the academic session of 2023/2024. If you have a flair for technology, a passion for learning, and an urge to be at the forefront of industry-relevant education, then this might just be your golden ticket.
    Mbara Ozioma College Of Technology Post UTME Form 2023/2024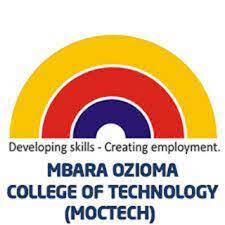 | | |
| --- | --- |
| 🎓 College Announcement | MOCTECH Post UTME Form 2023/2024 |
| 📍 Location | Ehime Mbano, Imo State |
| 📚 Available Courses | Computer Eng., Electrical Eng., Banking & Finance, Tourism Studies, Building Construction, etc. |
| 📋 Admission Criteria | 5 O'Level credit passes & JAMB/UTME Result |
| 📎 Application Link | moctech.edu.ng/application-form/ |
| 📞 Contact Numbers | 08161657079, 07014813156 |
| 📧 Email Address | admissions@moctech.edu.ng |
| 🌐 Official Website | www.moctech.edu.ng |
Explore Our Diverse Range of ND Programmes
MOCTECH is proud of its varied and modern range of National Diploma (ND) programs tailored to cater to the industry's growing demands. We offer courses that are not just in tune with the times, but also ensure our students are well-prepared for the challenges ahead. The courses available for this academic session include:
Computer Software Engineering: Dive deep into the world of coding, software development, and app creation.
Computer Hardware Engineering: Get hands-on with computer components, understanding the intricacies of the digital world's backbone.
Electrical/Electronic Engineering: Unearth the wonders of circuits, devices, and the digital revolution.
Banking & Finance: Grasp the complex world of financial systems, banking protocols, and economic strategies.
Hospitality & Tourism Studies & Business Management: Explore the booming sectors of travel, leisure, and efficient business management.
IT: Stay ahead in the fast-evolving digital landscape and master the art of information technology.
Mechanical Fabrication Engineering (Welding & Fabrication Technology): Shape metals and materials, bringing ideas to life through welding and fabrication.
Building Construction Technology: Build the future with knowledge of modern construction techniques, materials, and design paradigms.
Admission Criteria: What Do You Need?
Potential candidates must ensure they meet the following requirements to be considered for the ND programs:
Educational Credentials: A minimum of 5 O'Level credit passes.
Examination Results: A valid JAMB/UTME Result that reflects your academic prowess.
Ready to Join the MOCTECH Family?
It's simple! Begin your application journey by clicking here. Follow the prompts, fill in the required details, and embark on an academic journey like no other.
For any uncertainties, questions, or information, please don't hesitate to get in touch. Our dedicated admissions officer is just a call away. Reach out on 08161657079 or 07014813156.
For those who prefer written communication, drop us an email at admissions@moctech.edu.ng. For more insights about MOCTECH and what we offer, please visit our official website, www.moctech.edu.ng.
READ ALSO: DENNIS OSADEBAY UNIVERSITY POST-UTME FORM
Embarking on a journey with Mbara Ozioma College of Technology means stepping into a realm of boundless opportunities and unparalleled academic excellence. Make that decision today.
I hope you find this article helpful.