Nasarawa State University, Keffi (NSUK), a prestigious institution in the middle belt region of Nigeria, has officially released its cut-off mark for the 2023/2024 academic session. This article is a comprehensive guide to NSUK's admission exercise, focusing on the cut-off mark for the post-UTME screening exercise and the extensive list of degree courses offered.
| | |
| --- | --- |
| 🏫 University Name | Nasarawa State University, Keffi (NSUK) |
| 🎓 Admission Session | 2023/2024 academic year |
| 🎯 Cut-Off Mark | 160 for all degree courses |
| 📝 Eligibility | Chosen NSUK as first choice & scored 160 or above in UTME |
| 📚 Courses Available | Wide range, including ACCOUNTANCY, AGRICULTURE, COMPUTER SCIENCE, LAW, ZOOLOGY, etc. |
| 🌍 Location | Situated in the middle belt region of Nigeria |
| 🎖️ Achievements | Accomplished goals due to determination and diligence in administration |
| 💡 Application | Eligible candidates can apply for the post-UTME screening exercise |
Introduction to Nasarawa State University, Keffi (NSUK)
Situated in the heart of Nigeria, NSUK is a young university that has achieved unparalleled success within a short span. The institution is renowned for its determination and diligence in administration, always striving to produce top-notch undergraduates. At NSUK, time is maximized, and available resources are leveraged to yield the best results.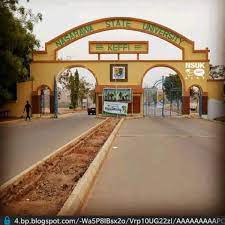 SEE ALSO: NILE UNIVERSITY OF NIGERIA POST-UTME FORM
Understanding the NSUK Cut-Off Mark
The cut-off mark is a vital aspect of the admission process. Only candidates who have chosen NSUK as their first choice and have scored at or above the cut-off point will be considered for admission via screening.
NSUK's Minimum National Cut-Off Point
For the 2023/2024 academic session, NSUK has set the Minimum National Cut-off Point at 160. This means that candidates who scored 160 or above in the last UTME are eligible for the screening exercise. If a candidate's UTME score is below this prescribed cut-off mark, they will not be considered for the post-UTME screening exercise.
Degree Courses and Eligibility
The cut-off mark applies to an extensive range of under-listed degree courses at NSUK. Candidates must have scored at least 160 in the UTME to apply for these degree courses:
Accountancy/Accounting
Banking and Finance
Business Administration
Economics
Entrepreneurship
Office and Information Management
Taxation
Agric-Economics and Extension
Agricultural Science and Education
Agriculture
Agronomy
Animal Science
Fisheries
Forestry and Wildlife
Home Science and Management
Nutrition and Dietetics
Arabic Studies
Christian Religious Studies
Common and Islamic Law
English Language
French
Hausa
History
Islamic Studies
Languages and Linguistics
Philosophy
Religious Studies
Theatre Arts
Biochemistry
Biochemistry and Molecular Biology
Chemistry
Computer Science
Environmental Resources Management
Geology and Mining
Industrial Chemistry
Mathematics
Microbiology
Physics
Plant Science and Biotechnology
Science Laboratory Technology
Zoology
Geography
Guidance and Counselling
Mass Communication
Political Science
Psychology
Public Administration
Securities and Investment
Sociology
Special Education
Urban and Regional Planning
Statistics
Education and Biology
Education and Chemistry
Education and Christian Religious Studies
Education and Economics
Education and English Language
Education and French
Education and Geography
Education and History
Education and Integrated Science
Education and Islamic Studies
Education and Mathematics
Education and Physics
Education and Social Studies
Educational Management
Home Economics and Education
Library and Information Science
Teacher Education Science
In summary, Nasarawa State University, Keffi (NSUK) has cemented its reputation as an institution committed to academic excellence. By setting clear cut-off marks for the various faculties and courses, NSUK ensures a transparent admission process.
Prospective students who aspire to be part of this esteemed university must meet the set criteria, ensuring they are well-prepared for the post-UTME screening exercise. With the broad range of courses available, NSUK offers opportunities for students from diverse academic backgrounds.
If you are an aspiring candidate and meet the eligibility criteria, take a step forward toward building a promising future at NSUK. Your academic journey awaits, and NSUK welcomes you with open arms.
I hope you find this article helpful.