The Nigerian Army University Biu (NAUB), a leading public institution, has always been renowned for its commitment to academic excellence and innovation. Established under the aegis of the Nigerian Army, the university stands as a testament to the Nigerian Defence System's aim of transitioning into a technology-driven force for the 21st Century.
NAUB Admission Cut-Off Mark 2024/2025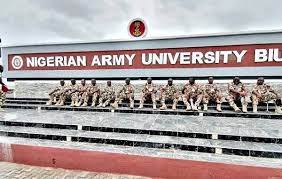 | | |
| --- | --- |
| 🏛️ Institution | Nigerian Army University Biu (NAUB) |
| 🎓 Admission Year | 2024/2025 academic session |
| 📊 Cut-off Mark | 180 in the last UTME |
| 📝 Eligibility | Scored 180 and above in UTME; Upload 'O' Level results on JAMB CAPS |
| ⚠️ Admission Requirement | Uploading of O'Level results on JAMB CAPS |
| 🚫 Fraud Warning | Beware of Fraudsters; NAUB does not have Admission Agents |
| 🌐 Official Site | www.naub.edu.ng |
| 📧 Contact Emails | fraud@naub.edu.ng, info@naub.edu.ng |
About NAUB: A Research-Driven Institution
NAUB isn't just another academic institution. It is a symbol of the Nigerian Army's commitment to research and innovation. The transformation of the Nigerian Defence System into a modern, 21st-century entity requires institutions like NAUB, which emphasise technological advancement and research-intensive learning.
NAUB's Cut-Off Marks for 2024/2025
The Official Announcement:
The management of NAUB has officially set the institutional cut-off marks for the academic session of 2024/2025. Those aspiring to be a part of this esteemed institution should be well-informed of these criteria.
Eligibility Criteria:
For students aiming to participate in NAUB's post-UTME screening exercise, they must achieve a score of 180 or above in the most recent Unified Tertiary Matriculation Examination (UTME).
Furthermore, students who chose NAUB as their first choice institution (this includes both UTME and Direct Entry candidates), as well as those looking to change their institution of choice to NAUB and were awaiting their results during the time of application, are strongly advised to upload their 'O' Level results on the JAMB CAPS portal.
It's essential to emphasise that uploading 'O' Level results on the JAMB CAPS is a non-negotiable prerequisite for admission. Failure to comply would result in ineligibility for admission.
SEE ALSO: EDEPOLY ND FULL-TIME ADMISSION LIST 2023/2024
Prospective candidates must exercise caution! There have been reports of fraudsters and scammers posing as admission agents for the university. It's crucial to note that NAUB does not employ admission agents. All authentic information can be found on the official NAUB website at www.naub.edu.ng.
Should you encounter any suspicious activities or individuals claiming to be agents of NAUB, kindly report them immediately at fraud@naub.edu.ng or for other enquiries, reach out to info@naub.edu.ng.
I hope you find this